This Apple Cake is 7 Smart Points on Weight Watchers Blue, Purple and Freestyle plans. It is 8 SmartPoints per slice on the Green plan.
To find out how many Personal Points this recipe will be for you & to track it in the WW App, click on the blue button in recipe card below!
Eat it warm with a small scoop of Low Point Ice Cream for a decadent dessert.
This Weight Watchers cake recipe is a must if you are looking for a dessert that is light and moist and packed full of flavour.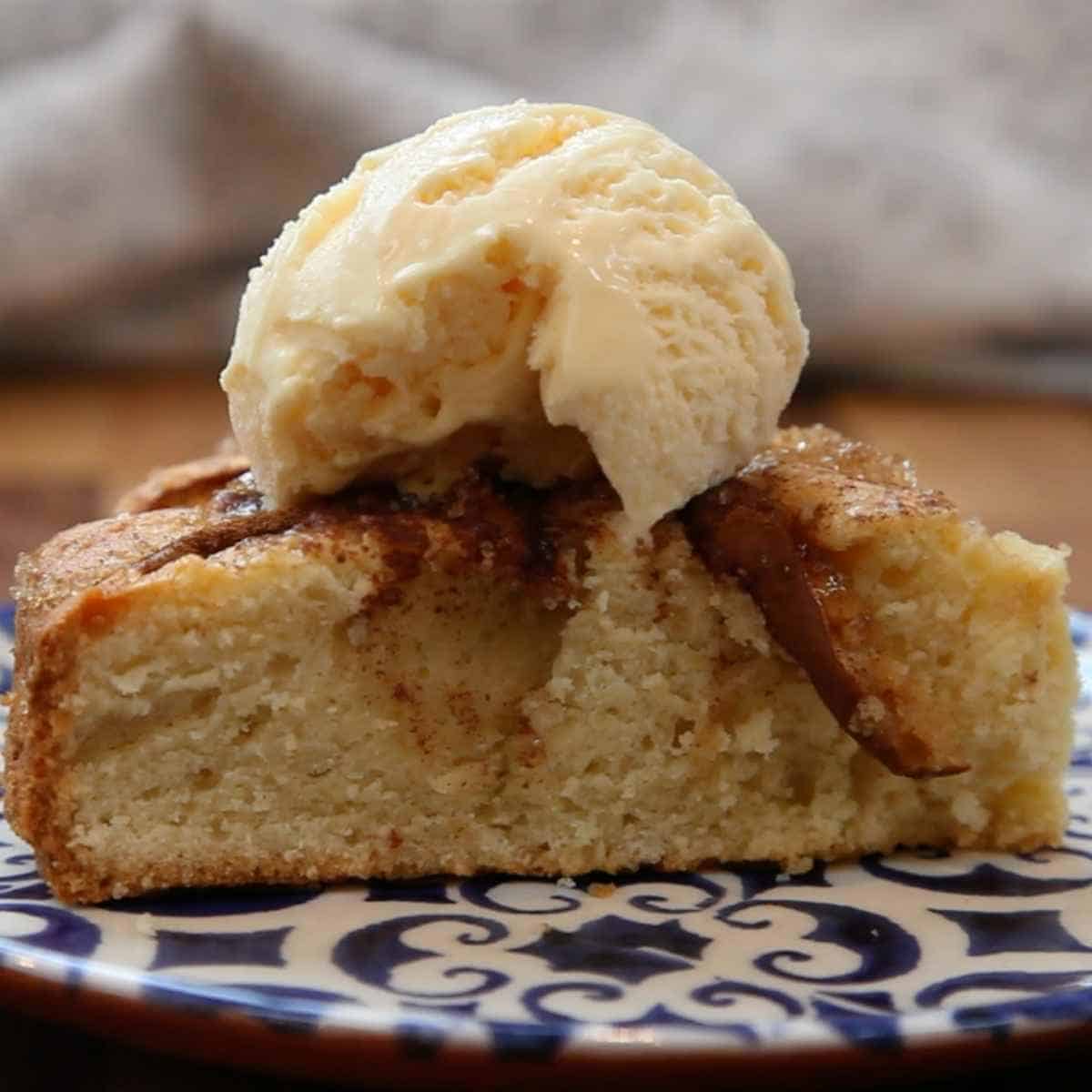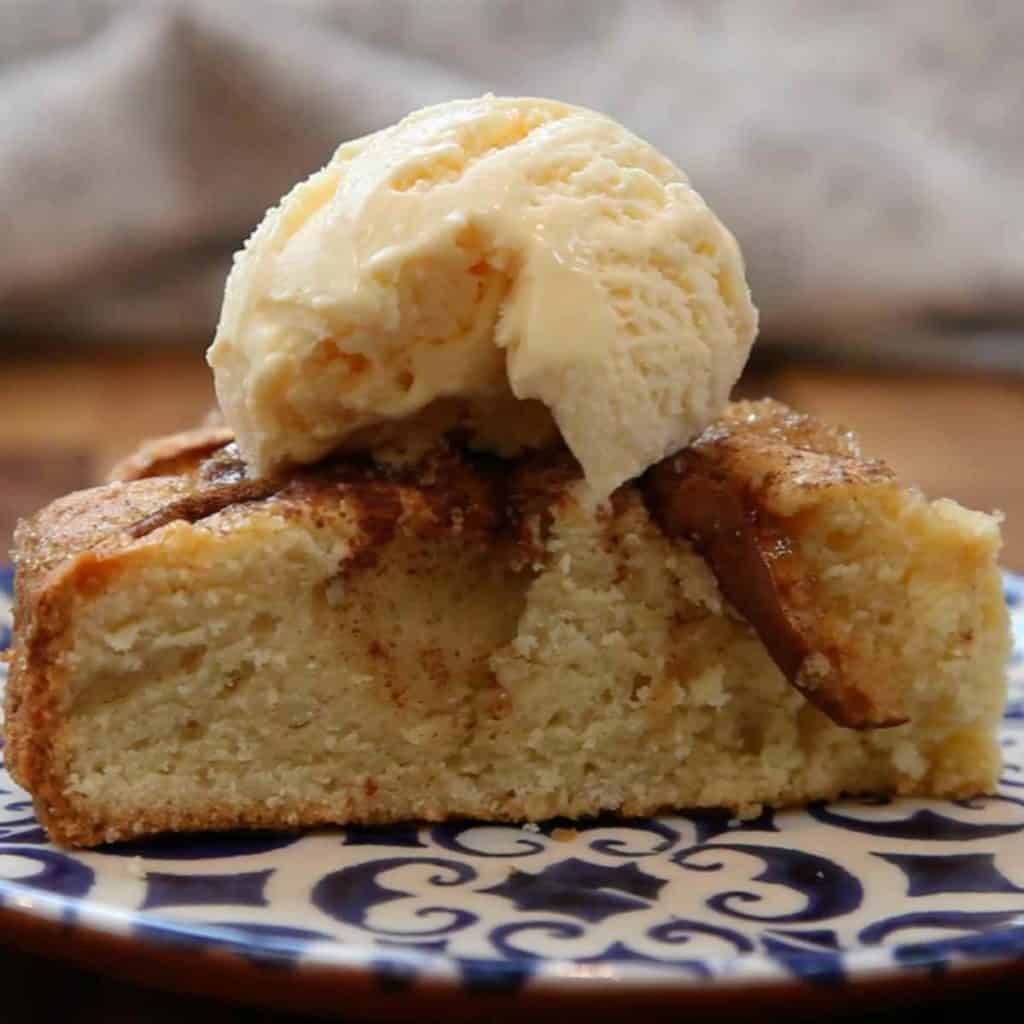 I used to make this cake prior to starting my Weight Watchers journey. With a few tweaks, such as using 0% fat free Greek yogurt instead of full fat yogurt, reducing the amount of sugar that I used and using low fat spread instead of butter I was able to bring the Smart Point down to a reasonable level without compromising on the taste or texture of this wonderful cake.
You'll notice that I used demerara sugar to sprinkle over the top of the cake.
I feel it needs that sweet crunch that demerara sugar gives but omit this if you'd prefer.
It can be eaten both warm and cold.
My preference is warm with a scoop of low SmartPoint ice cream!
You could add a scoop of Halo Top vanilla bean ice cream for an extra 3 SmartPoints but equally (& almost as good!) it can be served with a spoonful of 0% fat thick Greek yogurt.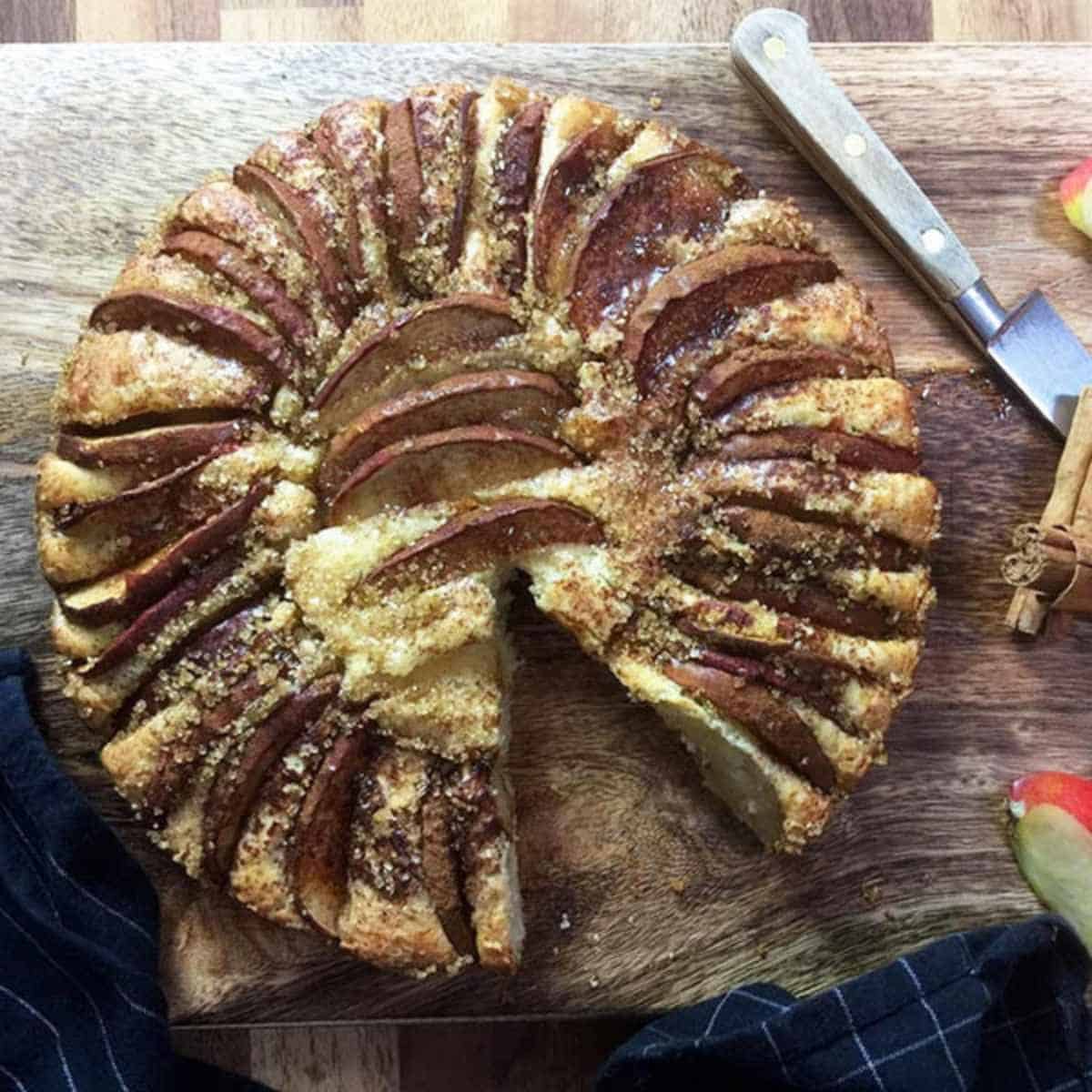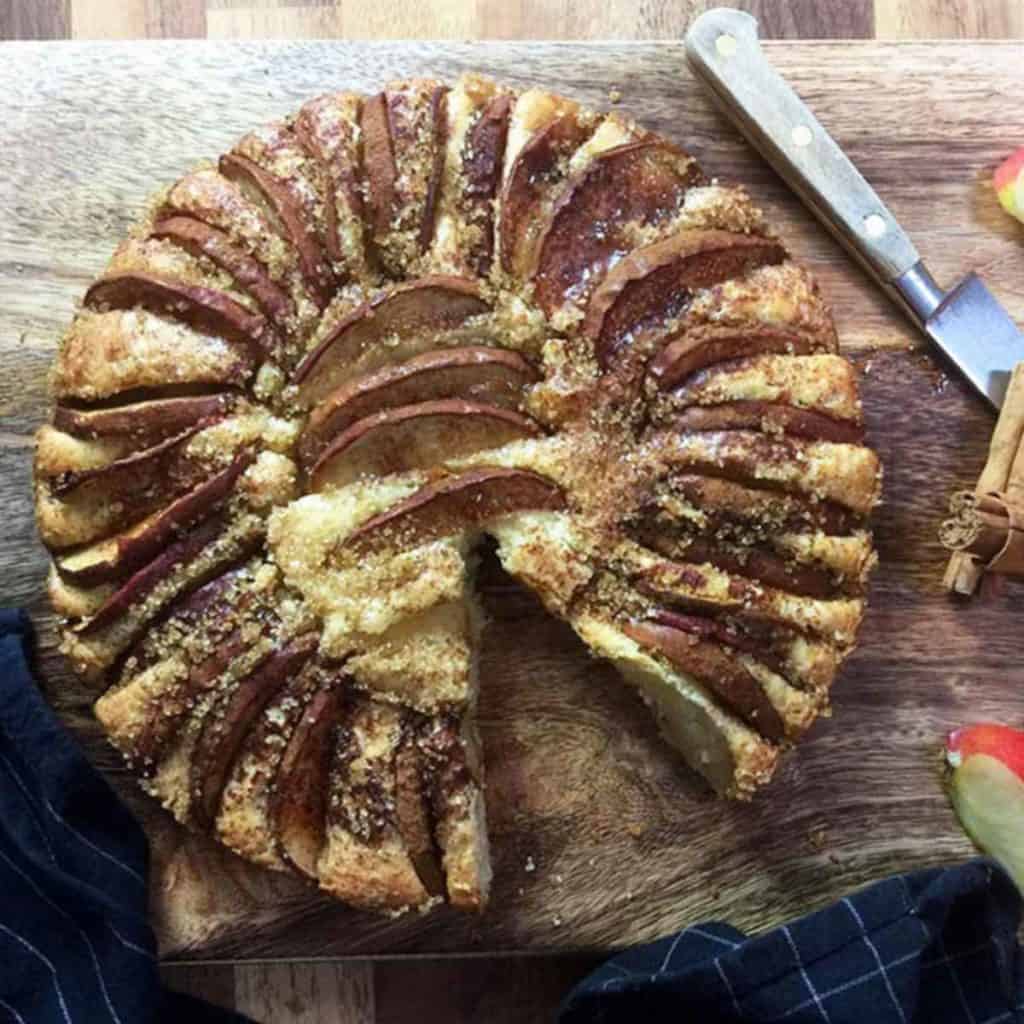 The cake freezes well if you find a whole cake sitting around too much of a temptation.
Slice it up and portion it into freezer bags before freezing for easy access to a tasty low point treat!
Tips on making this Apple Cake
I use sweet eating apples to layer on the top of the cake.
As I mentioned before, I used demerara sugar to sprinkle on top of this cake. I only used 2 tablespooons but it gives the cake extra sweetness and a bit of crunch. If you can' t get hold of demerara sugar then you could use one of these Demerara Sugar Substitutes.
I used Flora light low fat spread. If you are in the US you can use one of the light vegetable oil spreads such as Blue Bonnet or Olivio.
If you are used to baking with butter, you will notice that the low fat spreads don't work the same way. You can't really cream low fat spread and sugar until light & fluffy (like you would with butter). Just whisk it till well combined before adding the eggs.
Alternatives:
You can omit the demerara sugar from the top of the cake and save yourself 1 SmartPoint!
More Weight Watchers Baking Ideas!
If you love to bake but don't love the SmartPoints in 'standard' baked goods then you may be interested in these Weight Watchers friendly baked goods!
These Oat and Raisin Cookies are just 4 SmartPoints per cookie on Blue and Green and 3 SmartPoints on Purple.
These Apple Turnovers are 2 SmartPoints per serving on Blue & Purple plans and 3 SmartPoints on the Green plan.
Or perhaps you'd like this Choc Chip Zucchini Bread at just 5 SmartPoints per slice on Blue and Purple and 6 SmartPoints on Green!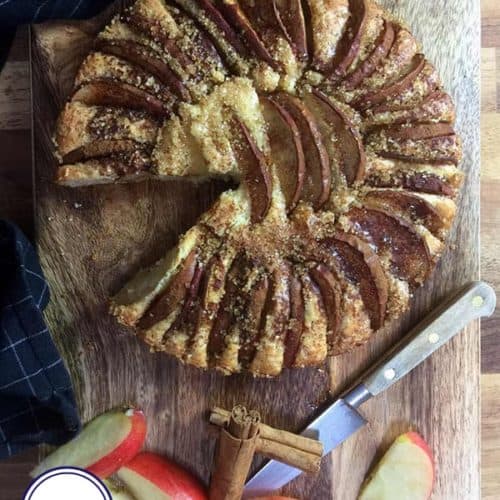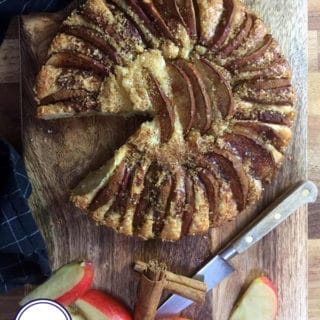 Apple Cake
7 Smart Point per slice on Weight Watchers Flex / Freestyle
Ingredients
2

apples

sliced into wedges about 5mm thick

½

cup

light margarine

3

eggs

⅓

cup

fat free greek yogurt

½

cup

sugar

I used golden caster sugar

1¾

cup

all purpose flour

2

tsp

baking powder

½

tsp

salt

2

tbsp

demerara sugar

optional

1

tsp

cinnamon powder
Instructions
Preheat the oven to 340oF / 180oC / 150oC Fan. Line and grease a 23 cm cake tin.

Core and slice the apples and set aside.

In a large bowl, whisk together the low fat spread and the caster sugar/superfine sugar until it is smooth and pale. Add the egg. Sieve the flour and baking powder and salt into the mix and whisk until smooth.

Add the yogurt and mix to incorporate.

Scrape the mixture into your prepared cake tin and smooth down the top with a spatula. Place the apple slices in a spiral on the top of the cake and sprinkle over the demerara sugar (if using) and cinnamon.

Bake in the preheated oven for 40 - 45 minutes until golden brown and a skewer inserted in the middle of the cake comes out clean.

Remove from the oven and leave to cool for 10 minutes before turning out onto a cooling rack.

This cake is fantastic served warm with a scoop of low fat/ low sugar ice cream such as Halo Top.
Notes
Please be aware that the nutritional information below has been automatically generated and does not account for variations in product brands and types, weights of individual ingredients etc.  It should therefore be considered as an estimate. PointedKitchen.com has calculated Weight Watchers Smart Points based on the individual ingredients used to make this recipe and not from the following nutritional information. PointedKitchen.com is not responsible for any loss or damage relating to your reliance on this nutritional information.
Nutrition
Nutrition Facts
Apple Cake
Amount per Serving
% Daily Value*
* Percent Daily Values are based on a 2000 calorie diet.