This comforting Apple Sponge Pudding is the perfect Weight Watchers dessert!
It's just 5 SmartPoints per portion whether you follow the Blue plan, Green plan or Purple plan.
If you follow the WW Personal Points plan you can find out how many Personal Points this recipe will be for you by clicking on the WW Personal Points button in the recipe card below. You can even track it in the WW App straight from this site! 
Best served warm with either low fat custard or a dollop of fat free yogurt!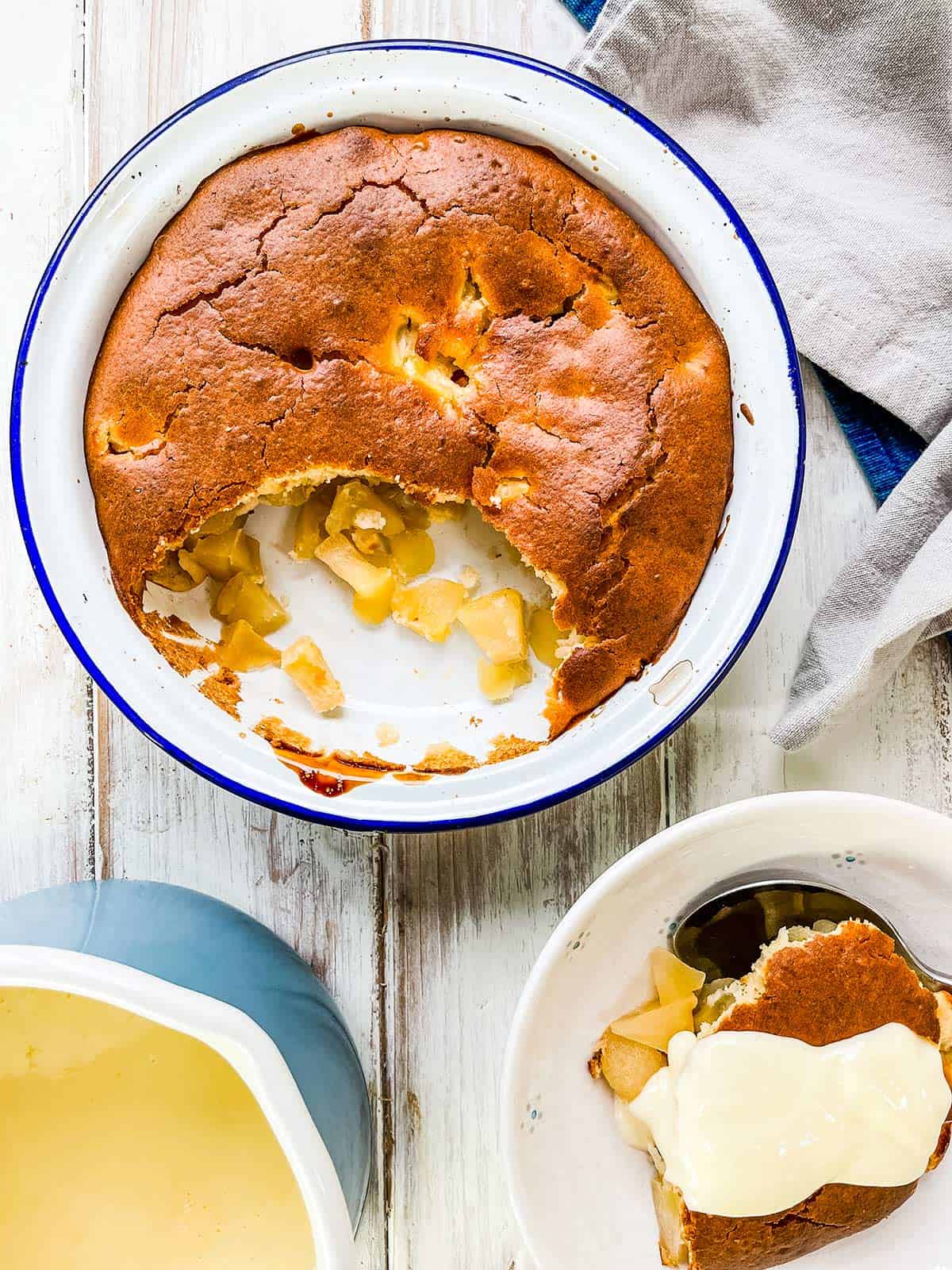 Sponge pudding is one of those comforting Sunday lunch desserts that I remember from my childhood!
It was always served with a pool of Birds custard and was ALWAYS eaten warm, straight from the oven.
I've adapted the recipe to be more WW friendly - the traditional recipe includes a load of butter and quite a bit of sugar.
Not so great for Weight Watchers!
So, I have swapped those out for vegetable oil and sweetener.
If you don't like to use artificial sweetener you can always swap in sugar - see below for how that would change the SmartPoints.
Best Apples to use
I like to use sweet apples in this dessert as I don't add any sweetener into the apple mix - I don't think it is needed when using sweet apples!
Apples such as Pink Lady (Cripps Pink), Gala, Golden delicious and Jazz are all sweet varieties of apple.
I usually use Pink Lady or Jazz apples as they hold their shape well after cooking & I like a bit of crunch in this dessert!
Sweetener or Sugar!
If you don't like using artificial sweetener in your cooking, you can swap it for 3 tablespoons of sugar instead, but this adds 3 SmartPoints per portion to each serving.
If you use sweetener, make sure that you use one that measures spoon to spoon like sugar!
There are some good stevia based non calorie granulated sweetener that do this and also a monkfruit sweetener that is very popular amongst Weight Watchers.
Tips to making this dessert!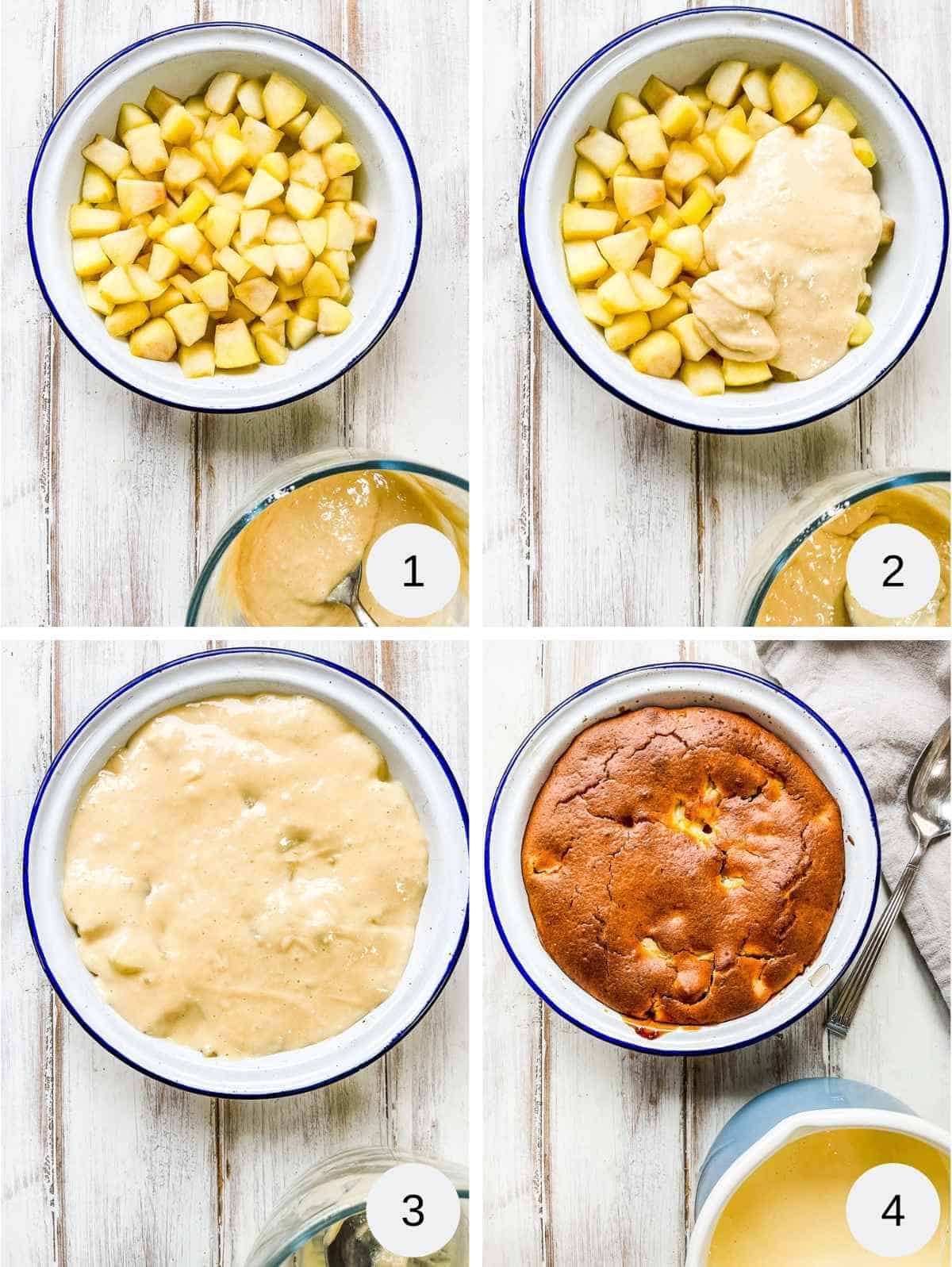 This dessert really is so easy that you can't really go wrong.
Choose a sweet flavoured apple for best results.
Peel, core then chop up the apples into small chunks (about 1cm squared)
Heat the diced apples with a little water over a medium heat until they have started to soften. I like to keep them with a little crunch but cook them down to a mush if you would prefer them that way!
Spread the apples into a small 7 inch pie dish (picture 1)
Make the sponge mixture by whisking the oil and sweetener till it is well combined.
Add a couple of tablespoons of boiling water to the oil and sweetener mixture and whisk again.
Break the egg into the mixture and whisk to a smooth consistency.
Add the flour and then fold it in using a metal spoon. Carry on folding until you have a smooth, lump free mixture.
Rather than just scraping the mixture on to the top of the cooked apples, I tend to spoon it on (picture 2), spreading it bit by bit to make sure that all of the apple is covered (picture 3).
Bake in the centre of your preheated oven until the sponge topping has risen and turned golden brown (picture 4).
Serve with some low fat custard (for extra SmartPoints) or with some fat free natural yogurt (for no extra SmartPoints).
This dessert serves 4 so each serving equates to a quarter of the dish.
Variations!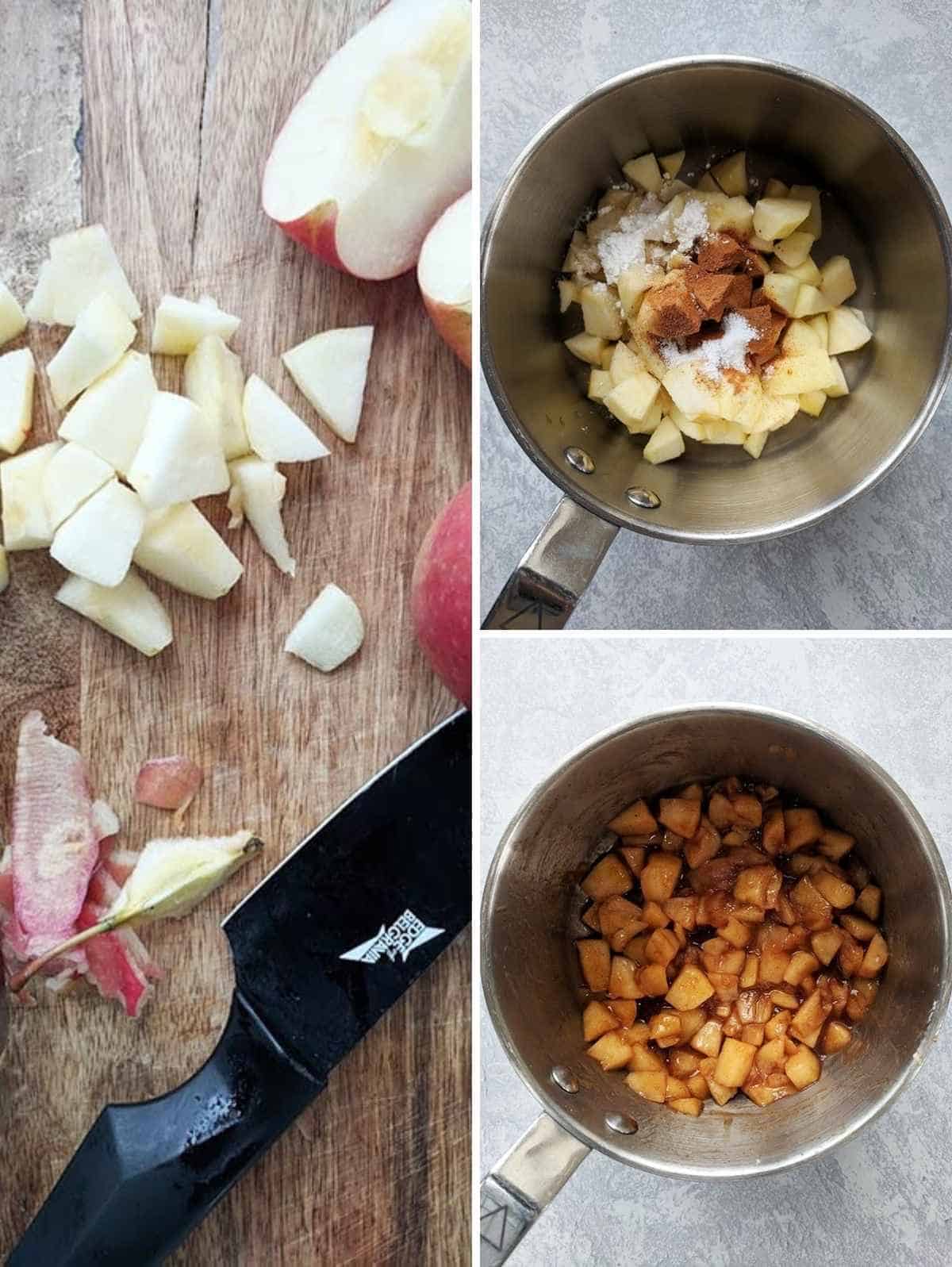 If you want to add a little oomph to this dessert you can add a little cinnamon and nutmeg to the apple mixture.
Chop the apples as directed and place in a saucepan with the water.
Sprinkle over ¾ teaspoon of cinnamon and ¼ teaspoon of nutmeg.
Add a couple of teaspoons of sweetener and a teaspoon of cornflour and mix.
Cook for 10 - 15 minutes until the apples have started to soften.
Continue with the recipe as directed.
SmartPoints in Apple Sponge Pudding
Using the official WW recipe builder I have worked out the SmartPoints for this Apple Sponge Pudding for each of the different plans.
Freestyle Plan - 5 SmartPoint per serving
myWW Blue Plan - 5 SmartPoint per serving
myWW Purple Plan - 5 SmartPoint per serving
myWW Green Plan - 5 SmartPoints per serving
More Weight Watchers Dessert Recipes
If, like me, you are forever on the search for a good WW dessert recipe then take a look at these beauties!
How I worked out the SmartPoints
I calculated the Weight Watchers SmartPoints using the official WW recipe builder.
Please note that the nutritional information in the recipe card below has been automatically generated and will give you an inaccurate SmartPoint value.
This is because it does not account for some ingredients being zero SmartPoints on the WW plan. Nor does it account for variations in product brands and types, weights of individual ingredients etc.
Use the recipe builder on your WW App and you will see that the SmartPoint values that I have given are correct 😀 !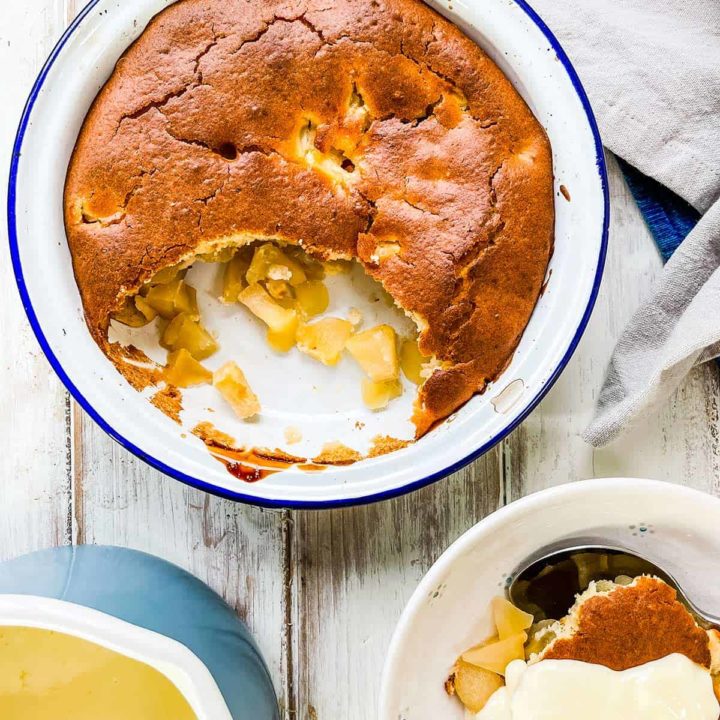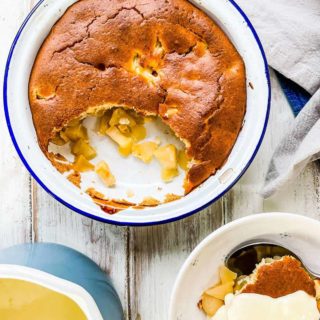 Apple Sponge Pudding | Weight Watchers
A delicious Weight Watchers friendly dessert, Apple Sponge Pudding is just 5 SmartPoints per portion whether you are following the Green, Blue or Purple plan. Easy to make!
Ingredients
3

medium

apples

peeled, cored and chopped

1½

tablespoons

vegetable oil

2

tablespoons

artificial sweetener

I used Lakanto monkfruit sweetener *

7

tablespoons

boiling water

split

1

medium

egg

6

tablespoons

self raising flour

1

pinch

salt
Instructions
Preheat the oven to 200°C / 180°C fan / 400°F / Gas mark 6

Peel, core and chop the apples into little pieces.

Place the apple pieces in a saucepan with 5 tablespoons of the water.

Cook over a medium heat, stirring often till the apples start to break down. I prefer the apples to be soft but not to have lost all of their shape - I like a bit of crunch in this dessert!

Remove from the heat and empty the softened apples into a pie dish - the one I used measures 7 inches.

Set aside whilst you make the topping.

Place the oil and the sweetener in a bowl. Whisk with either a small whisk or a fork until it is combined.

Add the remaining 2 tablespoons of boiling water and whisk again.

Add the egg and and whisk well until you have a nice smooth mixture.

Add the flour and a pinch of salt and fold in well until you have a smooth, lump free mix.

Spoon the sponge mixture over the apples and gently spread it so that it cover the apples.

Bake in the middle of the preheated oven for 18 - 22 minutes or until the top has turned a golden brown.

Serve warm with a dollop of low fat custard or fat free yogurt.
Notes
* If you don't like to use artificial sweetener you can swap it for sugar - see notes above on how this alters the SmartPoints.
Use sweet apples for the best flavour - see suggestions above about the best apples to use.
For variations of this dessert, including a cinnamon apple version, read the post above!
This dessert is lovely served with Birds low fat custard but is equally yummy served with a couple of spoonfuls of fat free yogurt!
Nutrition
Nutrition Facts
Apple Sponge Pudding | Weight Watchers
Amount per Serving
% Daily Value*
* Percent Daily Values are based on a 2000 calorie diet.