So, this week I have been playing around with a few Weight Watchers dessert recipes. And I have come up with this Pineapple Dessert.
Please be aware that this post was written prior to Weight Watchers changing to the WW Personal Points Plan! You can discover exactly how many Personal Points this recipe will be for you by clicking on the blue 'WW Personal Points' button in the recipe card below.
At 5 Smart Points per portion on the Weight Watchers Freestyle plan, Blue plan & Purple plan and 6 SmartPoints on the Green plan, I think that it's pretty damn good! What do you think?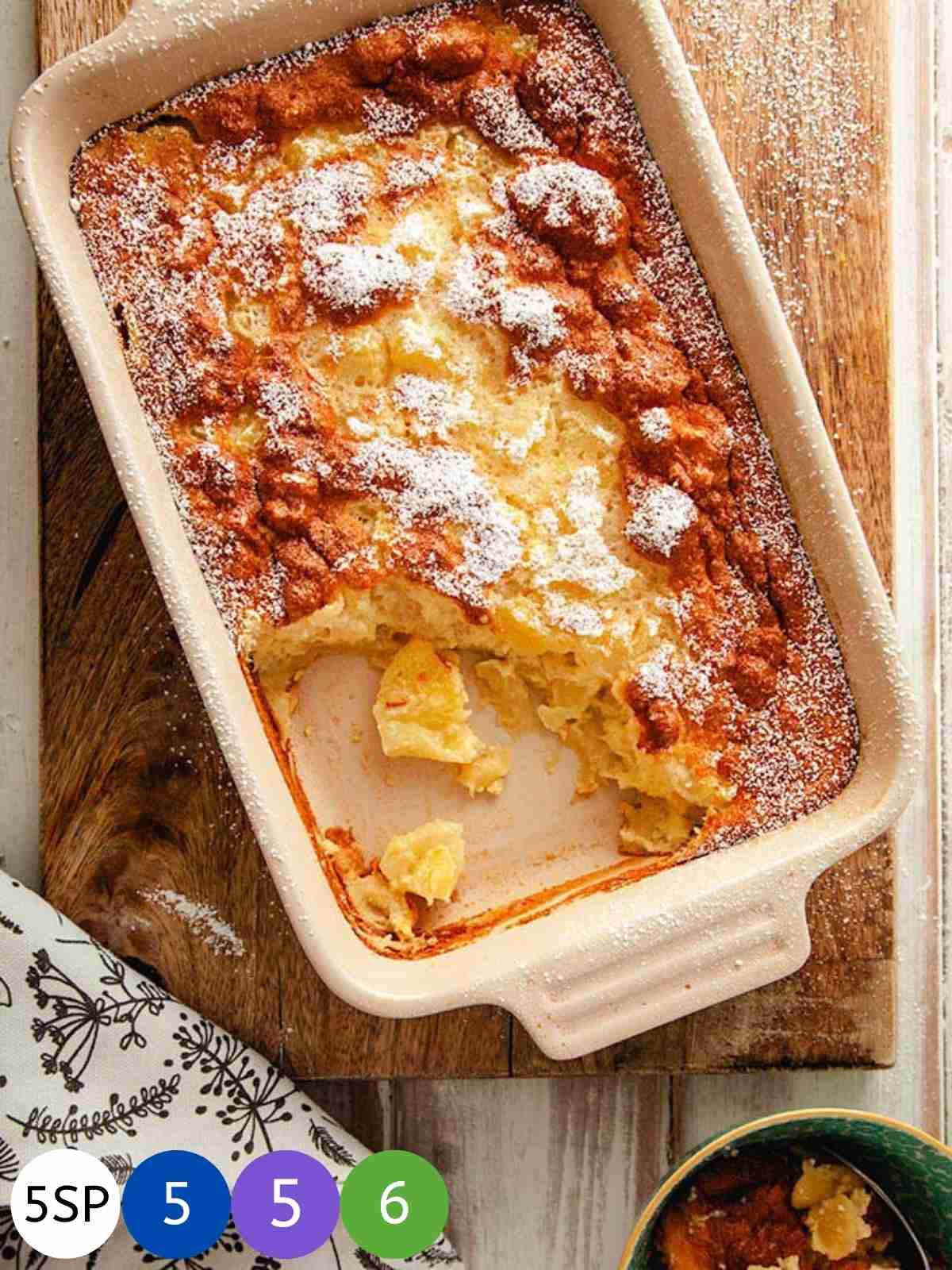 I used sugar rather than sweetener in this recipe due to personal preference. However, using sweetener would decrease the Points for this dessert by 2 Smart Points per portion.
Read on to see how to do this and for other tips and tricks on how to make this light and airy dessert!
If you are a regular to this site or you follow Pointed Kitchen on Instagram, you will know that I love dessert!
My love for it (and my ability to eat lots of it) is the main reason I started on my Weight Watchers journey in the first place.
But Weight Watchers is all about enjoying food with freedom to eat what you like!
And I choose to eat dessert!
Just Weight Watcher friendly desserts now.
I no longer want to eat the creamy, sugary desserts that pile on the pounds!
Having followed the plan for some years now I know that if dessert is your 'thing', it is possible to fit it into your daily (or weekly) Points allocation.
For example, this delicious self saucing Lemon Pudding is just 4 Smart Points per serving and this wonderfully creamy Baked Egg Custard is only 3 Smart Points.
Some desserts are even zero Smart Points!
If you have been following the WW plan for some time you will probably have heard of zero point Fluff but how about Marshmallow Fluff? It's zero Smart Points per serving too?
So that's 4 Weight Watchers Dessert recipes under 4 Smart Points each.
And this Pineapple Dessert is just 5 Smart Points per portion on the Blue & Purple plans.
If you are following the Green plan it is 6 SmartPoints (but then you do get more SmartPoints to play with!).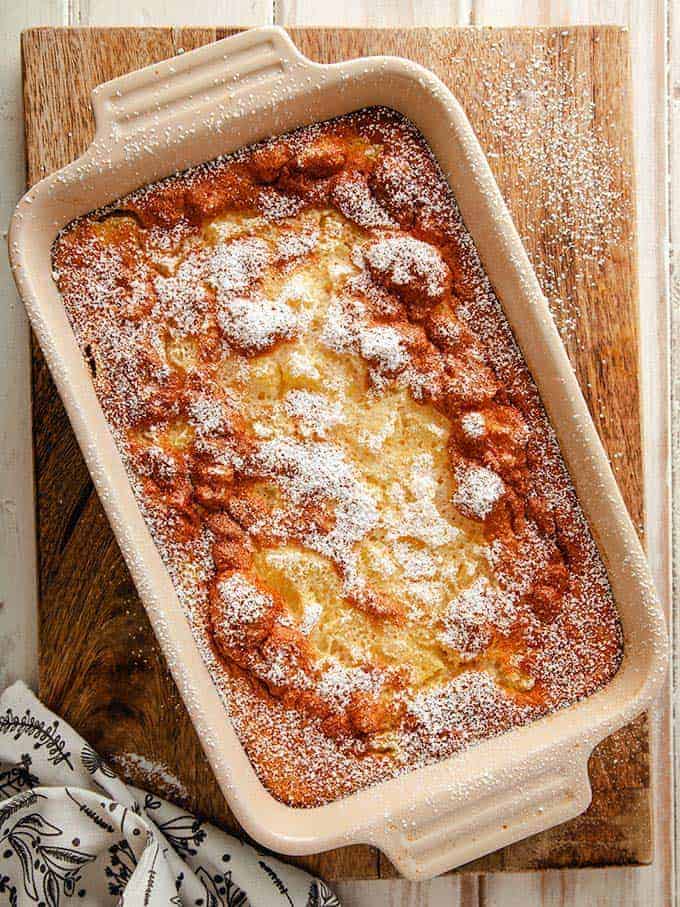 Can I make a smaller Pineapple dessert?
If you don't want to make 6 servings of this dessert it is possible to make it smaller.
To change the serving size for this recipe, click on the servings button at the top of the recipe and toggle to the amount of servings that you require.
The ingredients will automatically adjust for you! How good is that!
No more left overs sitting in your fridge tempting you to pick at them & go over your Smart Point allowance.
Can I swap the butter for a butter substitute?
I used Lurpak lighter butter in this recipe.
You could use a low fat spread or margarine instead but that will only reduce the Smart Point value by half a Smart Point.
And as you know, WW don't work in half points!
If you use a margarine or a low fat spread, do not over-beat the egg, sugar and margarine/spread mixture. Some of the lower saturated fat substitutes will separate if beaten too much.
This post contains affiliate links. As an Amazon Associate I earn from qualifying purchases. Visit this page to see what that means.
How can I reduce the Smart Points in this dessert?
Swap the sugar for 4 - 5 teaspoons of a stevia sweetener such as Truvia and save 2 Smart Points per serving.
If you swap the sugar for a monk fruit based sweetener, such as Lakanto Monkfruit 1:1 Sugar Substitute you can save 2 Smart Points per serving.
Swap the sugar for 6 teaspoons of Silver Spoon Half Spoon and reduce the Points by 1 Smart Point per serving.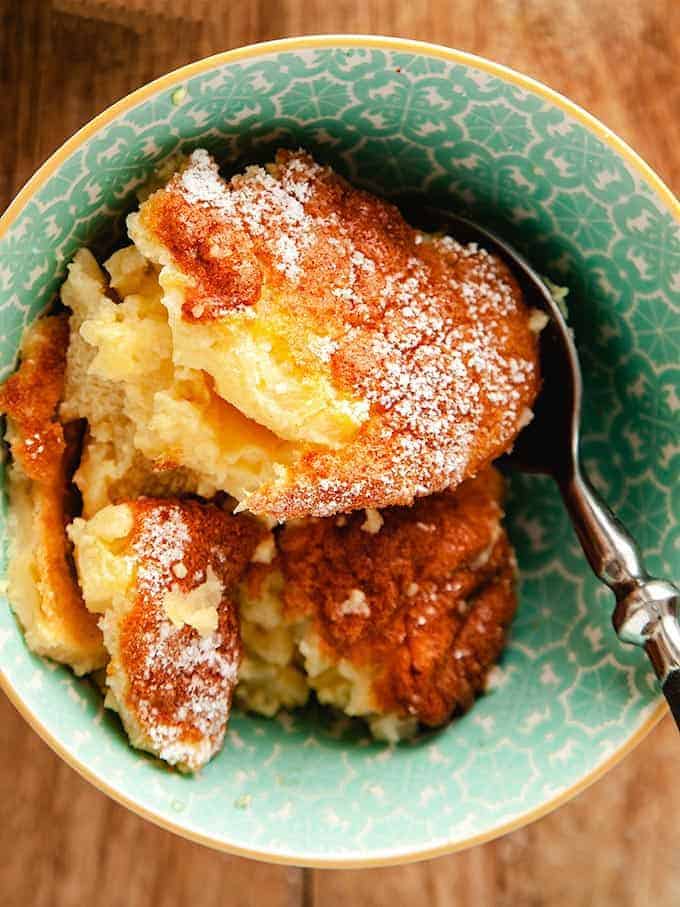 Tip for making Pineapple Dessert
Beat the butter, sugar, lemon rind and egg yolk with an electric hand held mixer until the mixture is creamy.
Add the milk and sifted flour and fold it in until it's fully combined and free of lumps.
Use fresh pineapple - crush it and fold it into the mixture. Using crushed canned pineapple may increase Points if you follow the Personal Points plan.
Use clean whisk attachments to whisk the egg whites. Don't be tempted to use the whisk attachments that you have just used for the egg yolks without washing them first. Egg whites are temperamental and any fat introduced to the egg white will prevent them whisking properly.
Fold the beaten egg whites into the egg yolk and pineapple mixture. Do this gently as you don't want to knock out any air from the mixture.
Spoon or pour the mix into your prepared dish.
Bake in the centre of your oven.
Once the Pineapple Dessert has baked remove it from the oven.  Leave it to cool for a couple of minutes before sieving a teaspoon of icing sugar over the top.
Can you Freeze this Pineapple Dessert?
Unfortunately, I do not recommend freezing this Pineapple Dessert! It does keep for a couple of days in the fridge but isn't suitable for freezing.
How long does Pineapple Dessert keep?
This dessert will keep in the fridge for a couple of days.
If you prefer to eat the dessert warm, remove it from the fridge and place it in a preheated oven for a few minutes to warm through before serving.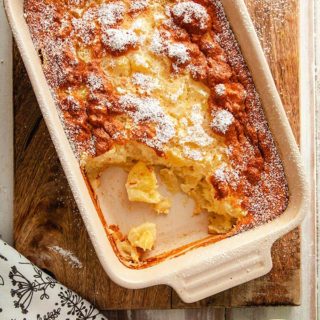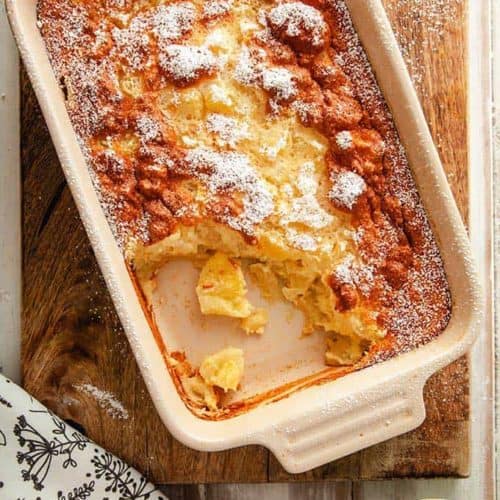 Pineapple Dessert | Weight Watchers
This tasty pineapple dessert is 5 Smart Points per portion on Weight Watchers Freestyle plan.
Ingredients
2

tbsp

light butter

(30g) I used Lurpak Lighter

3

tsp

lemon rind

optional

⅓

cup

superfine sugar / caster sugar

(55g)

3

eggs

seperated

4

tbsp

self raising flour

1

cup

skimmed milk

(250ml)

2¾

cups

fresh pineapple

(450g) chopped

1

tsp

icing sugar / powdered sugar
Instructions
Preheat the oven to 180oC / 160oC Fan / 350oF.

Use a little of the butter to grease a 1 litre ovenproof dish.

Separate the eggs, placing the egg whites in one large bowl and egg yolks into another large bowl.

Add the butter, sugar and lemon rind (if using) to the egg yolks and beat until they become thick & creamy. Add the milk and sifted flour to the mixture and fold in.

Chop up or crush the fresh pineapple and stir into the mixture to combine. 

Now whisk the egg whites with an electric whisk (using clean whisk attachments - see notes above) until they form soft peaks. 

Scrape the egg white into the pineapple mixture and gently fold in. Pour the mix into the prepared dish.

Bake in the centre of the oven for 40 minutes until the dessert is firm and has turned golden brown.

Leave to stand for a few minutes before dusting with the icing sugar / powdered sugar.
Notes
Please be aware that the nutritional information below has been automatically generated and does not account for variations in product brands and types, weights of individual ingredients etc.  It should therefore be considered as an estimate.
PointedKitchen.com has calculated Weight Watchers Smart Points based on the individual ingredients used to make this recipe and not from the following nutritional information.
PointedKitchen.com is not responsible for any loss or damage relating to your reliance on this nutritional information.
Nutrition
Nutrition Facts
Pineapple Dessert | Weight Watchers
Amount per Serving
% Daily Value*
* Percent Daily Values are based on a 2000 calorie diet.