Taking less than 20 minutes to prepare and cook, this tasty Gnocchi Pesto is quickly becoming a firm favourite of mine.
At 9 Smart Points per portion on Weight Watchers Freestyle, Blue, Purple & Green plans, it's a satisfying Weight Watchers meal.
The Gnocchi which are small dumplings that are made from potato and flour are extremely filling.
Although they are relatively high in Smart Points, you really don't have to eat a huge portion to feel full and satisfied.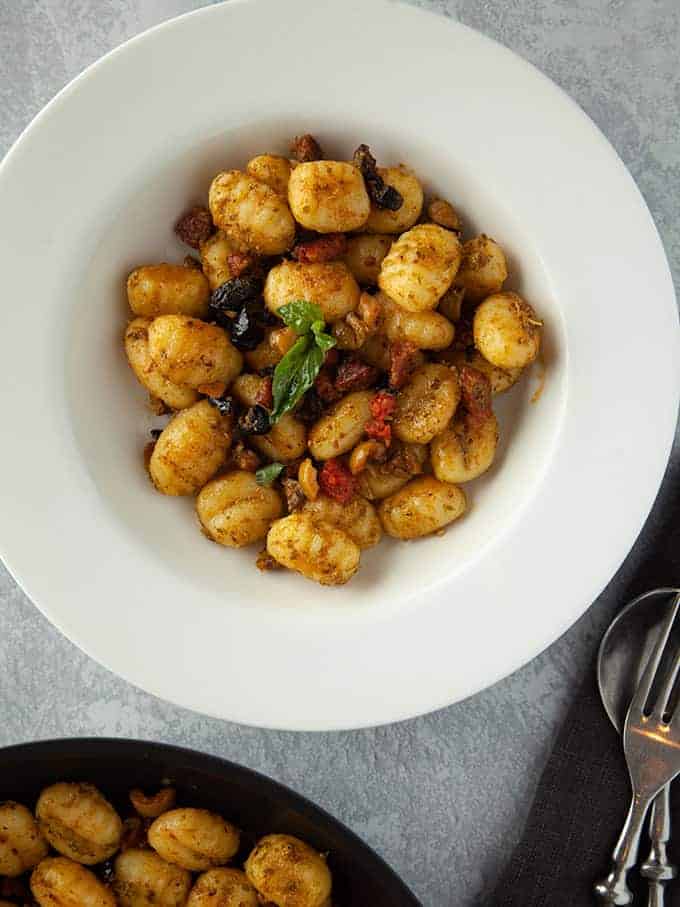 Smothered in this delicious pesto, olive and spicy chorizo sauce, this really is a tasty and filling Weight Watchers dinner.
When I first started on my Weight Watchers journey, I shied away from things like gnocchi and pasta believing that they were just too high in Smart Points to enjoy.
However, as I have settled into the plan and become more creative and varied with my Weight Watchers friendly recipes, I have started introducing them back into my diet.
Like this 7 Smart Point Spicy Ragu Gnocchi and this delicious 6 Smart Point Fajita Pasta.
I don't want to go without pasta and gnocchi!
Who would?
I've just learnt that portion control is what I need to focus on.
That, and not smothering the dishes in Smart Point laden creamy, cheesy sauces or lashings of olive oil.
A small portion of Gnocchi is 5 Smart Points per portion, so that is very manageable to most peoples Smart Point allocations.
It's also extremely easy to cook and with a simple sauce like this one you can prep and cook a really tasty dinner in well under 20 minutes.
Now, that is the kind of dinner that I like!
Simple and quick to cook but packed full of flavour.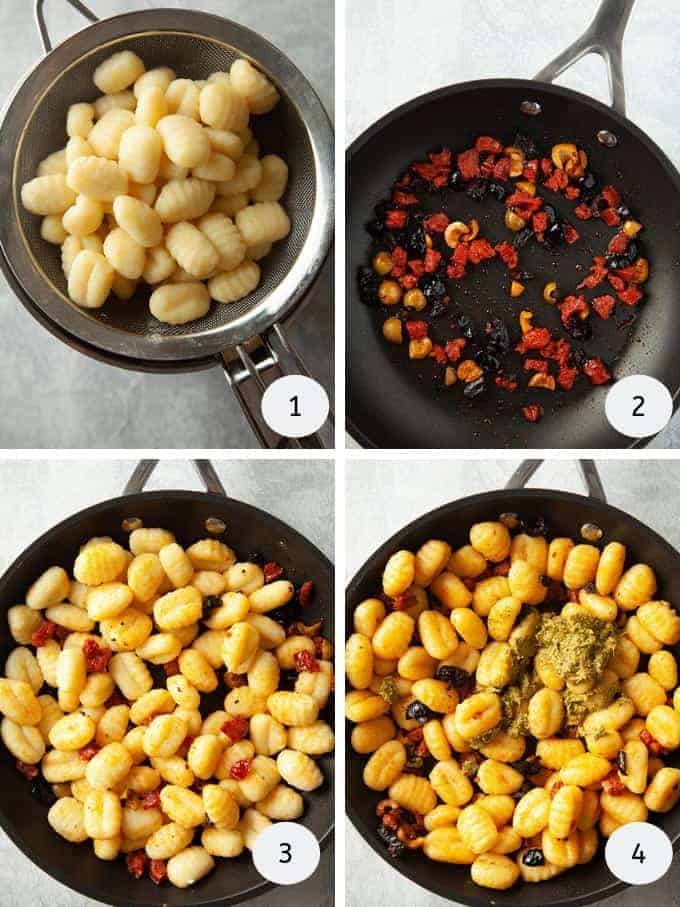 Making Gnocchi Pesto
Plunge the gnocchi into a large pan of salted boiling water for 2 - 3 minutes before removing from the heat, straining and setting aside to drain completely (picture 1).
Chop the chorizo and olives into small pieces.
Dry fry the chorizo and olives in a non stick medium frying pan / skillet (picture 2). The chorizo will start to release its flavoursome oils once it starts to cook.
Add the drained gnocchi to the pan of chorizo and olives (picture 3).
The oil that has been released from the chorizo is ample for sauteing the gnocchi, which means no need to add additional oil to this recipe.
Saute the gnocchi until it has lightly browned in parts.
Turn down the heat and stir in 3 tablespoons of green pesto. Continue to cook for a further 2 or 3 minutes, stirring gently until the pesto is covering the gnocchi and the dish is warmed through.
What Pesto should I use for this Gnocchi Pesto
I used Sacla Pesto & 3 level tablespoons work out at 7 Smart Points.
Sacla also do a Reduced Fat, No Added Sugar, No Added Salt Basil Pesto which works out at 3 Smart Point for 3 level tablespoons.
Can you fry Gnocchi without boiling it.
It is possible to pan fry the gnocchi without blanching/boiling it first. I prefer to blanch it quickly, then drain it thoroughly before adding it to the chopped chorizo and olives and sauteing it. However, this is really just personal taste.
Alternatives
Use Sacla Reduced Fat Basil Pesto and reduce the Smart Points by 1 Smart Point per portion
Omit the chorizo from the recipe and reduce the Smart Points by 2 Smart Points per portion.
Use a mix of black and green olives.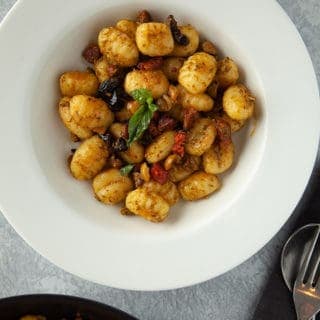 Gnocchi Pesto | Weight Watchers
This super tasty & simple to make Gnocchi Pesto is 9 Smart Points per portion on Weight Watchers Freestyle plan.
Ingredients
2

cups

gnocchi

(480g)

3

tbs

green pesto

20

olives

chopped

¼

cup

chorizo

finely chopped
Instructions
Bring a pan of salted water to the boil over a medium / high heat. Plunge the gnocchi into the water and cook for 2 - 3 minutes. Remove from the heat, drain into a colander / strainer and set aside until later.

Place the chopped chorizo and olives into a non stick skillet / frying pan and heat over a medium heat. Dry fry until the chorizo has released its oil and has started to crisp up a bit.

Tip the gnocchi into the skillet and saute until the gnocchi starts to colour in parts. Reduce the heat a little and stir in the pesto. Cook for a further 2 - 3 minutes until the pesto is covering the gnocchi and the dish has warmed through.
Notes
Please be aware that the nutritional information below has been automatically generated and does not account for variations in product brands and types, weights of individual ingredients etc.  It should therefore be considered as an estimate.
PointedKitchen.com has calculated Weight Watchers Smart Points based on the individual ingredients used to make this recipe and not from the following nutritional information.
PointedKitchen.com is not responsible for any loss or damage relating to your reliance on this nutritional information.
Nutrition
Nutrition Facts
Gnocchi Pesto | Weight Watchers
Amount per Serving
% Daily Value*
* Percent Daily Values are based on a 2000 calorie diet.
Reader Interactions