This Middle Eastern inspired chicken is Zero SmartPoints for anyone following the Weight Watchers Blue or Purple plans.
It works out at 3 SmartPoints per portion on the Green plan.
To find out how many WW Personal Points this chicken recipe will be for you & to track it directly in the WW App, click on the blue button in recipe card below!
This flavoursome chicken is tasty and succulent - no dry chicken here! It's marinated in a yogurt and middle eastern inspired spice mixture before being baked in the oven to perfection.
Serve it with a green salad or a couscous salad for a fantastic low SmartPoint lunch on any of the Weight Watchers plans!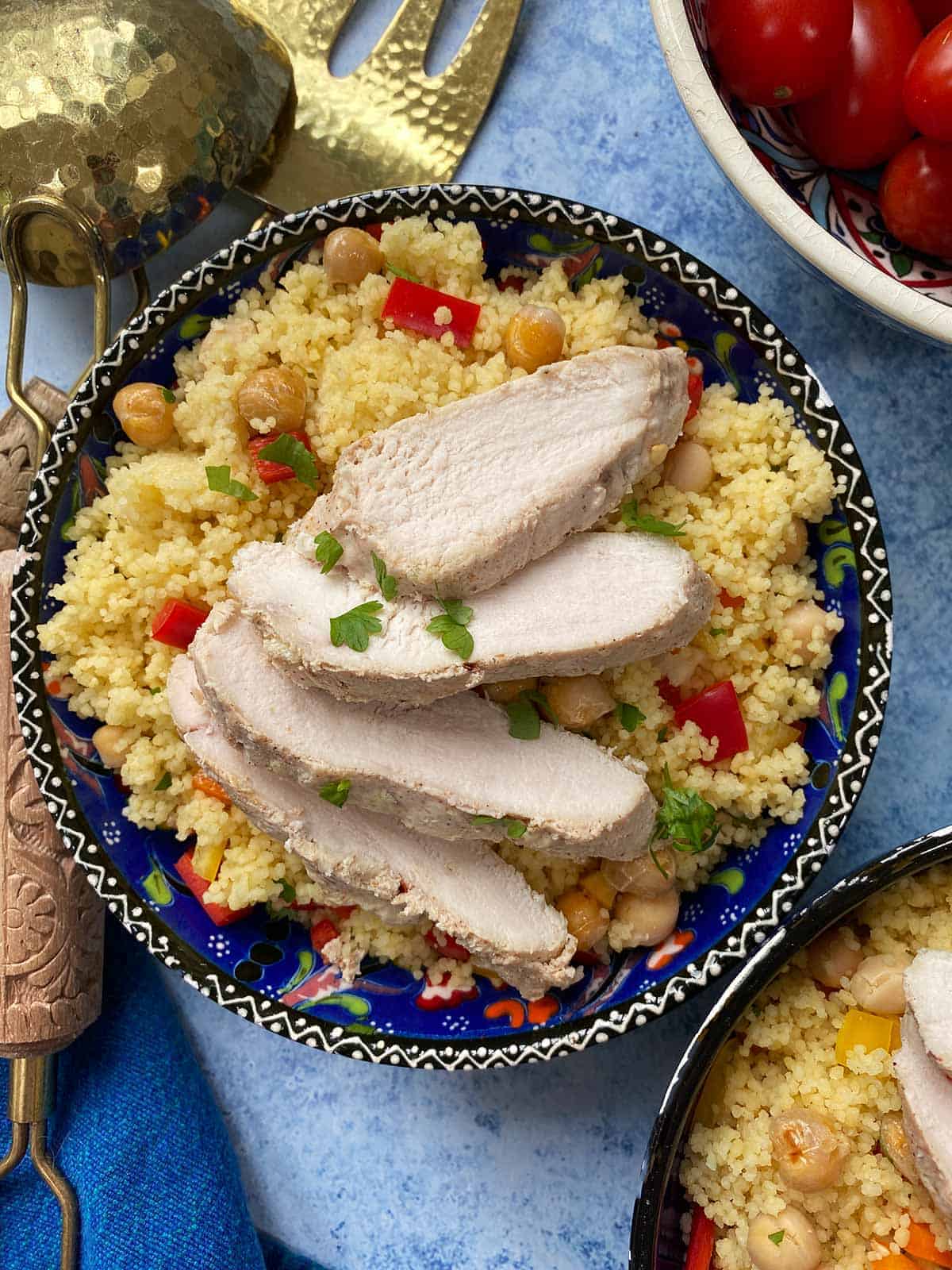 I don't know about you but sometimes when I have baked skinless, boneless chicken breasts in the oven they have come out dry and stringy. Without the skin and bones, chicken breast often become a bit dry and not very appetising.
And I'm not too keen on dry, unappetising chicken breast .... call me fussy!
But this chicken is not like that. It is succulent and juicy and I put that partly down to the marinade it is cooked in but also because I tenderise it prior to cooking.
This post may contain affiliate links. As an Amazon Associate I earn from qualifying purchases. Visit this page to see what that means.
You don't really need any special equipment to tenderise a chicken breast. You can use a meat tenderiser, like this one available from Amazon but you could also use a rolling pin.
You could even use the heel of your hand or the bottom of a frying pan if you'd prefer ..... great for those days that you need to get some frustrations out!
But whichever way you choose to tenderise it, do give it a bit of a bashing as it really does make a difference.
As well as helping the meat stay tender whilst it cooks, tenderising the meat is a good way of ensuring that the chicken cooks evenly.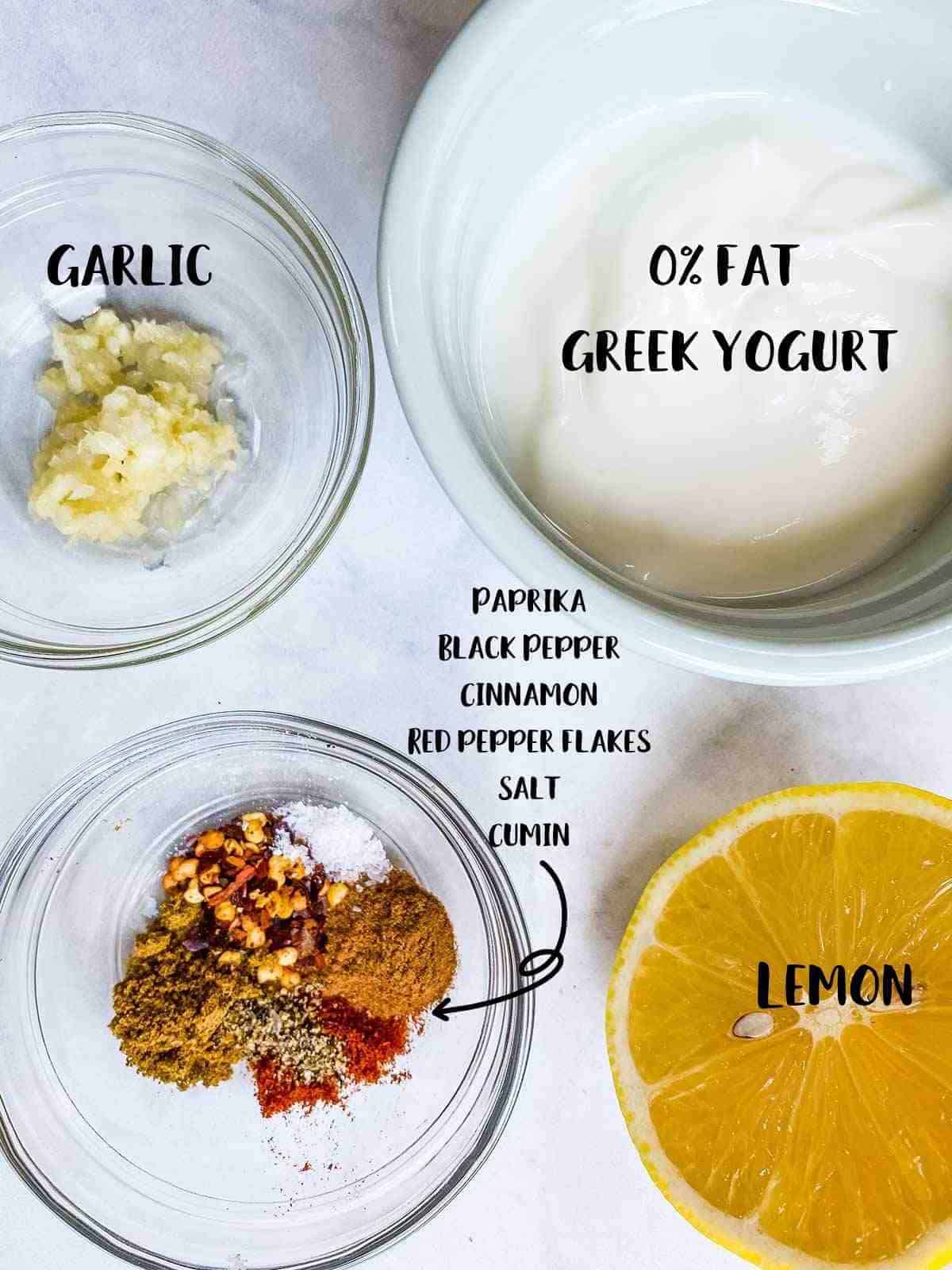 How to make the marinade
The marinade is so simple.
It is made by mixing fat free Greek yogurt (or you could use fat free natural yogurt if you prefer) with a bit of lemon juice, some minced garlic and a mixture of spices (paprika, black pepper, cinnamon, red pepper flakes, salt and cumin). Just give it a stir and you are ready to go.
I place the tenderised chicken breasts in a plastic bag and then pour over the marinade. I then seal the bag and place it in the fridge for a couple of hours to really soak up those flavours.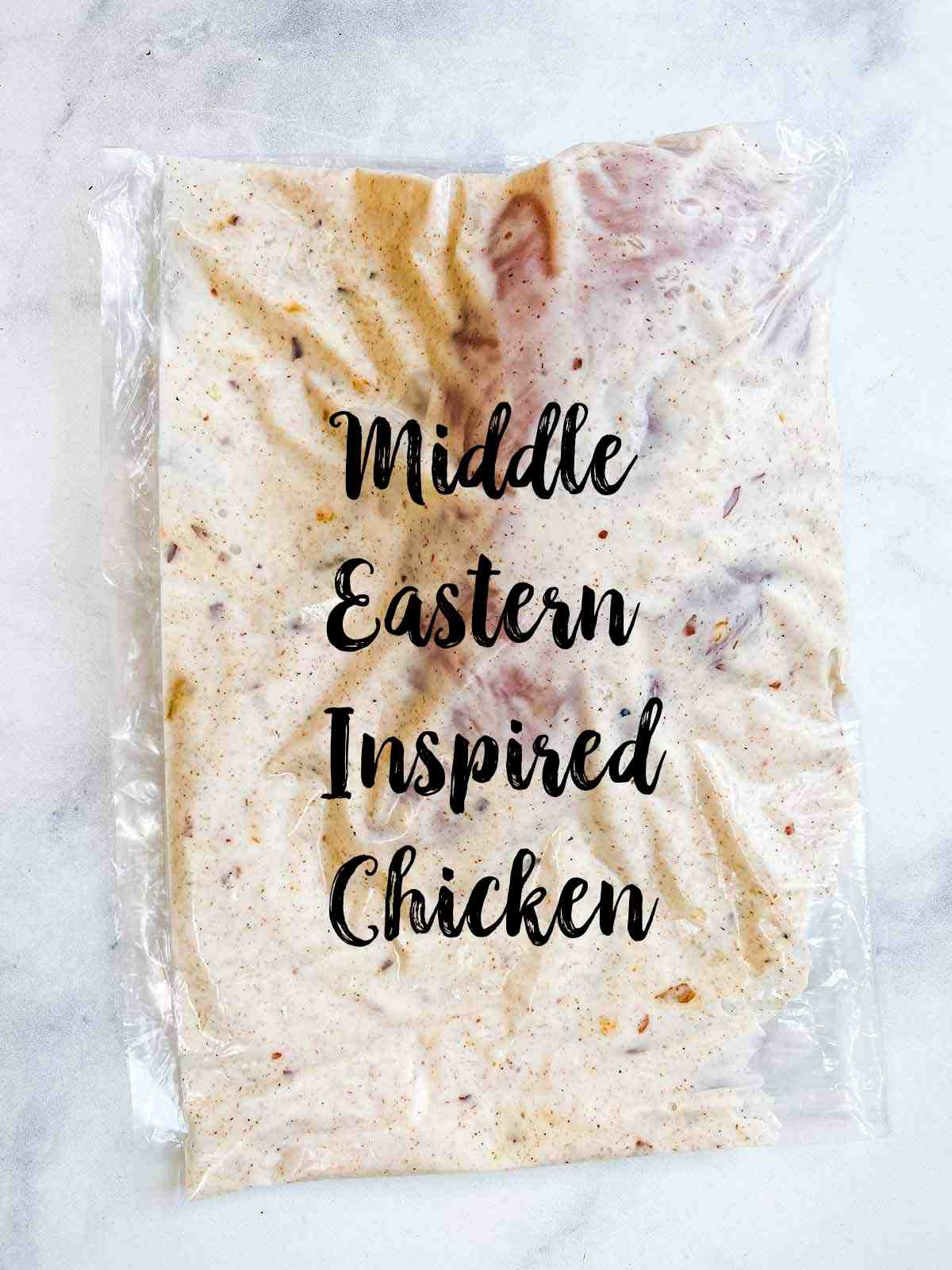 Once you are ready to cook the chicken, you can decant it from the bag into your baking dish and start the cooking process. Easy!
Checking that the chicken is cooked
When cooking chicken, it is important that it reaches at least an internal temperature of 165°F.
Baking a medium sized chicken breast for 18 - 20 minutes at the temperature that I suggest should ensure that the chicken reaches this temperature.
However, to double check that it is thoroughly cooked you can use a meat thermometer like this one available from Amazon. Just poke it in the fattest part of the chicken breast and make sure it has reached 165°F.
How to serve this chicken dish!
I serve this Middle Eastern inspired chicken sliced up on a green salad for a low Point lunch.
I have also served it sliced on top of this Couscous salad ? .
More Weight Watchers Chicken Recipes
If you are looking for more Weight Watcher friendly chicken recipes, you may like this Creamy Chicken Casserole recipe.
This Chicken Pot Pie is great when you are looking for real comfort food.
Lastly, these Zero Point / Low Point Chicken Fajitas are really popular and are a one of my favourite go to WW dinners!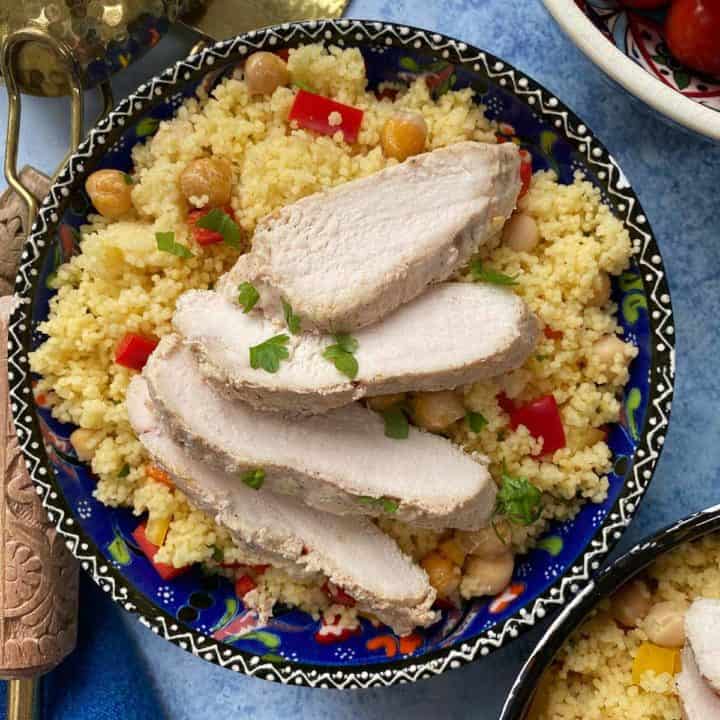 Middle Eastern Inspired Chicken | Weight Watchers
A Middle Eastern Inspired baked chicken that is perfect for anyone following the Weight Watchers plans. Zero SmartPoints on the Blue and Purple plan and 3 SmartPoints per portion on the Green plan.
Ingredients
2

medium

chicken breasts

skinless & boneless

¾

cup

fat free Greek yogurt

(180g)

¾ - 1

tsp

paprika

½

tsp

ground cumin

¼

tsp

cinnamon

¾ - 1

tsp

crushed red pepper

3

cloves

garlic

minced

Juice of ¼ lemon

¼

tsp

black pepper

¼

tsp

sea salt
Instructions
Place the yogurt in a small bowl with all the other ingredients except the chicken breasts. Mix to combine.

Place the chicken on a solid surface and use a rolling pin or a meat mallet to bash them a little to thin out any fatter bits and to tenderise them.

Place the chicken breasts in a plastic bag and spoon in the yogurt marinade. Squish it around a bit so that the marinade covers all of the chicken.

Set aside in the fridge for at least 1 hour but preferably a couple of hours to let the chicken really take up all those flavours.

Preheat the oven to 220°C /200°C fan / 425°F

Once the chicken has marinated, decant it into a small baking dish, spooning over as much of the marinade as possible.

Place on the middle shelf of the preheated oven and bake for 18 - 20 minutes (although this will really depend on the size of your chicken breasts).

Check the chicken after 12 - 15 minutes of baking just to make sure it isn't browning too quickly. If it is, you can always place a piece of kitchen foil over the top of the dish.

If you have one, use a meat thermometer to make sure that the chicken breasts have reached a safe internal temperature of 165°F.

Remove from the oven and slice.
Nutrition
Nutrition Facts
Middle Eastern Inspired Chicken | Weight Watchers
Amount per Serving
% Daily Value*
* Percent Daily Values are based on a 2000 calorie diet.