This tasty Chicken Pot Pie has been adapted to fit nicely into any of the Weight Watchers plans.
With a number of small tweaks to a traditional recipe, I have created a Chicken Pot Pie that not only tastes great, but is truly Weight Watchers friendly.
It works out at 7 SmartPoints for a VERY generous portion on the WW Blue & Purple plans.
And if you follow the WW Green plan it still only works out at 9 SmartPoints per generous portion!
Result!
So, if you are looking for a tasty, indulgent comfort food then you really can't go wrong with this Weight Watchers recipe!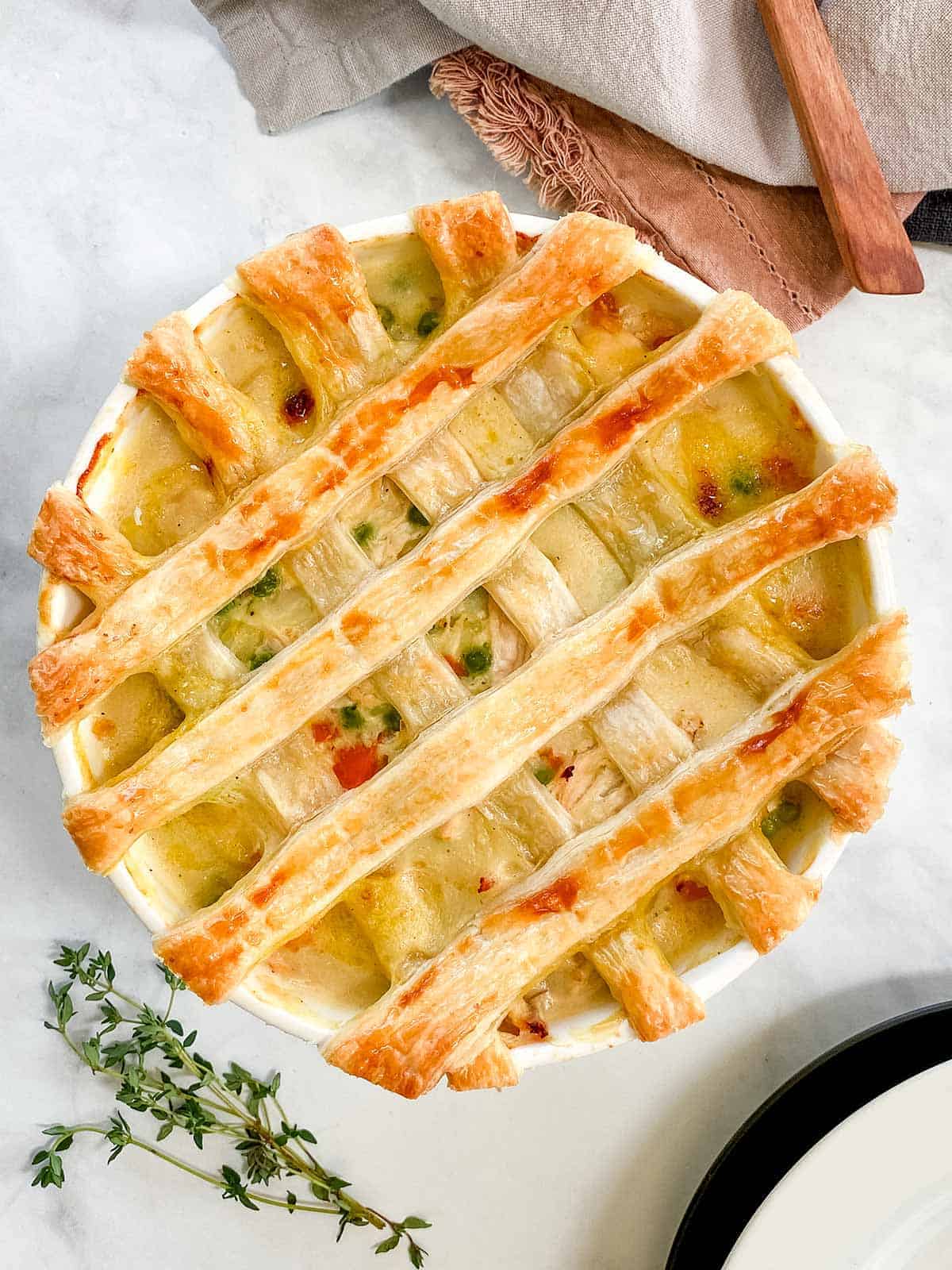 In my 'Eating the WW Way' email series (sign up below if you haven't already!) I ask people to let me know what foods they miss when following the WW program.
So many people miss pie 😀 and a number have contacted me asking whether I can adapt a classic Chicken Pot Pie to be more Weight Watcher friendly.
So that is exactly what I have done 😀
I started off by looking at different Chicken Pot Pie recipes and working out the SmartPoints for those.
Most tended to work out somewhere between 24 SmartPoints per portion and an eye watering 35 SmartPoints per portion! There were ones even higher in points than that .... but I can't even think about those!!
I then looked at areas where I could reduce the SmartPoints. Not surprisingly these where in the creamy sauce and the pastry topping.
Most of the sauces in the traditional recipes (even the ones with a roux base & that didn't use cream) worked out at well over 9 SmartPoints for just the sauce!
And as for puff pastry ..... well!
The SmartPoints in that is enough to make anyone feel faint!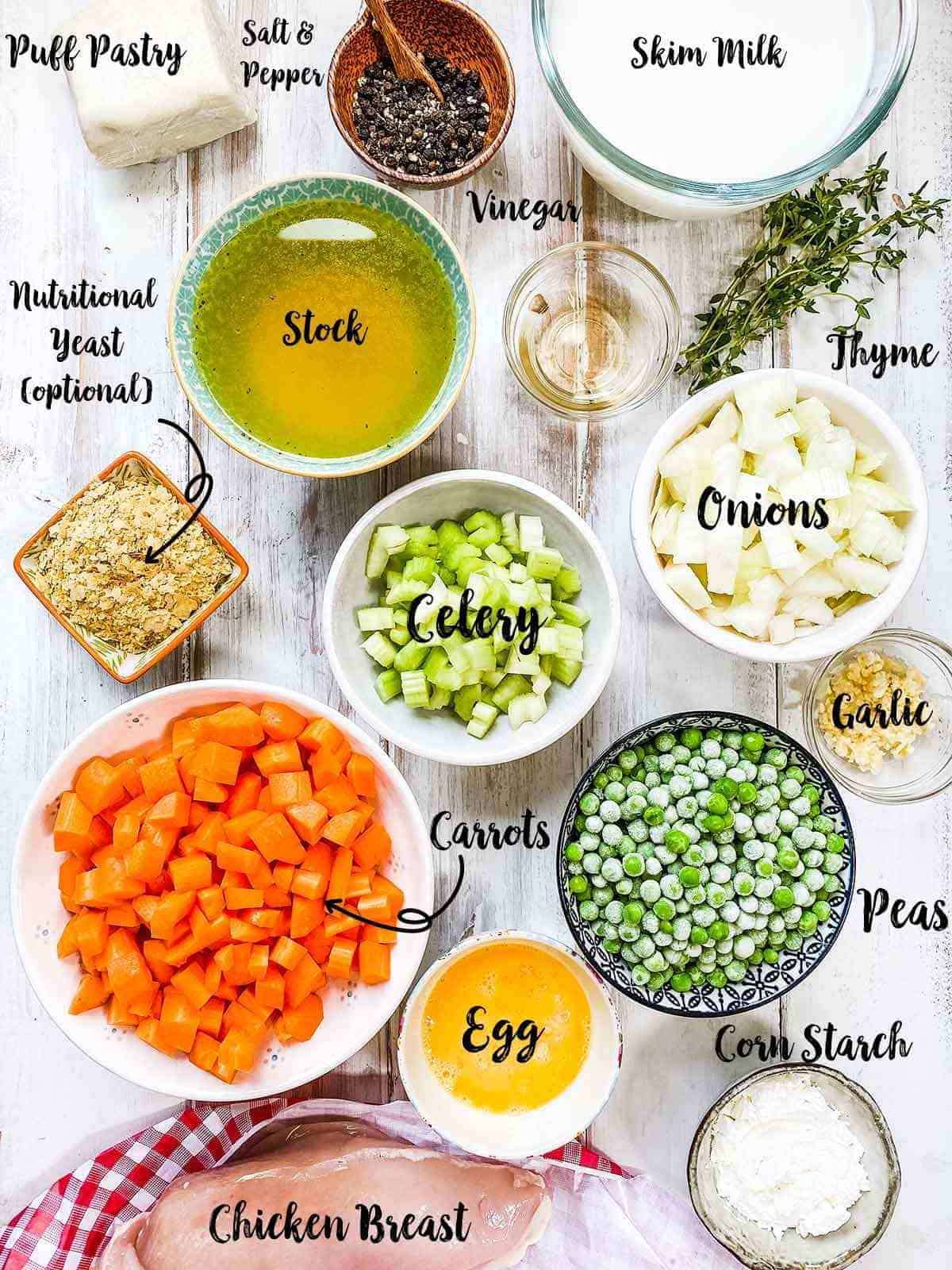 So, wanting a lightened up version of a classic Chicken Pot Pie, I made a sauce using cornstarch as a thickener and a latticed puff pastry top.
The sauce turned out thick, creamy and full of flavour & you still got the taste of the buttery, puffy loveliness but minus the points that a full puff pastry lid would give.
Read on for information on the best puff pastry options for this recipe!
Tips & tricks for making this recipe!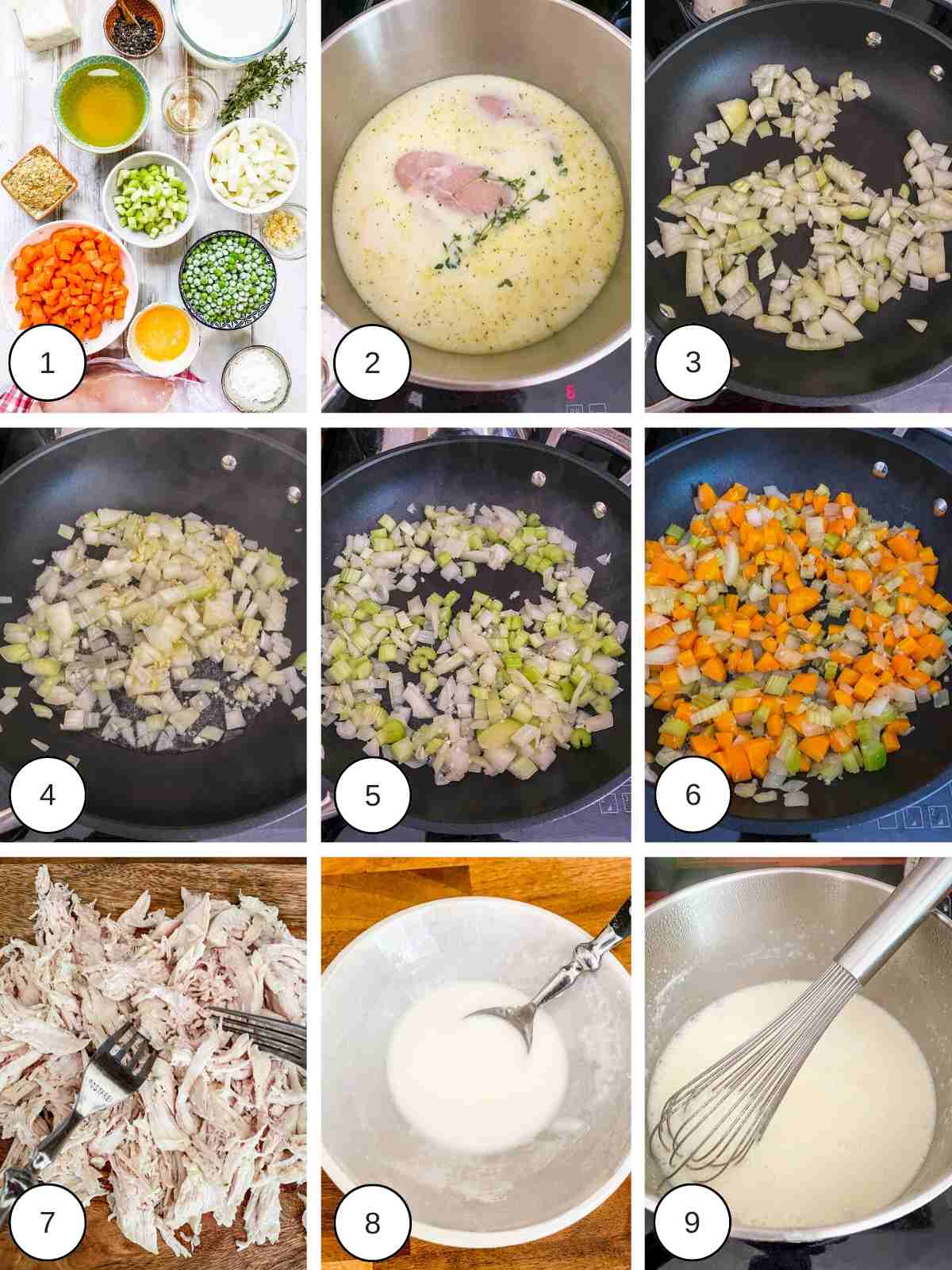 When cooking a dish like this, I find it easiest to prepare all the ingredients before I start cooking (picture 1). So I mince the garlic, chop the veg, make up the stock etc & then I start with the cooking!
I use 2 stock cubes / bouillon cubes to make up 1 cup (250ml) of stock. This makes a very strong stock but a very flavourful one!
Add the stock, the chicken breasts, the milk and the sprigs of fresh thyme to a large saucepan (picture 2) and heat over a lowish heat.
You want to gently poach the chicken in a simmering liquid. Don't let the poaching liquid come to the boil as this may spoil the sauce.
I saute the onions in a large skillet misted with calorie controlled spray oil (5 - 10 pumps should do it).
I saute the onions for a few minutes until they start to soften but I don't let them brown (picture 3). I then add the minced garlic and cook for a further 1 minute, making sure that the little bits of garlic aren't sticking to the bottom of the skillet. There is nothing worse than the taste of burnt garlic!!
I add the white wine vinegar (picture 4) and use a wooden spoon to scrape off any bits of onion & garlic that have stuck to the bottom of the pan (picture 4). The white wine vinegar will evaporate off in 30 seconds or so.
I then add the chopped celery (picture 5) and the chopped carrots. I cook these for a few more minutes until the carrots have softened at the edges just a little (picture 6).
Once the chicken has poached, I remove it from the poaching liquid and use 2 forks to shred the chicken (picture 7). It you prefer, you can use a sharp knife to cut the chicken into cubes.
Remove the sprigs of thyme from the poaching liquid and set the liquid aside.
To prepare the cornstarch paste, I mix it with a tablespoon or so of water to make a paste the consistency of yogurt ... or thereabouts (picture 8).
I bring the poaching liquid back to a simmer and then I whisk in the cornstarch paste. (picture 9).
I heat and whisk the sauce long enough for it to start to thicken and to cook out any starchy taste but not so long that it starts to loosen again. This can happen if you cook it for too long or at too high a temperature.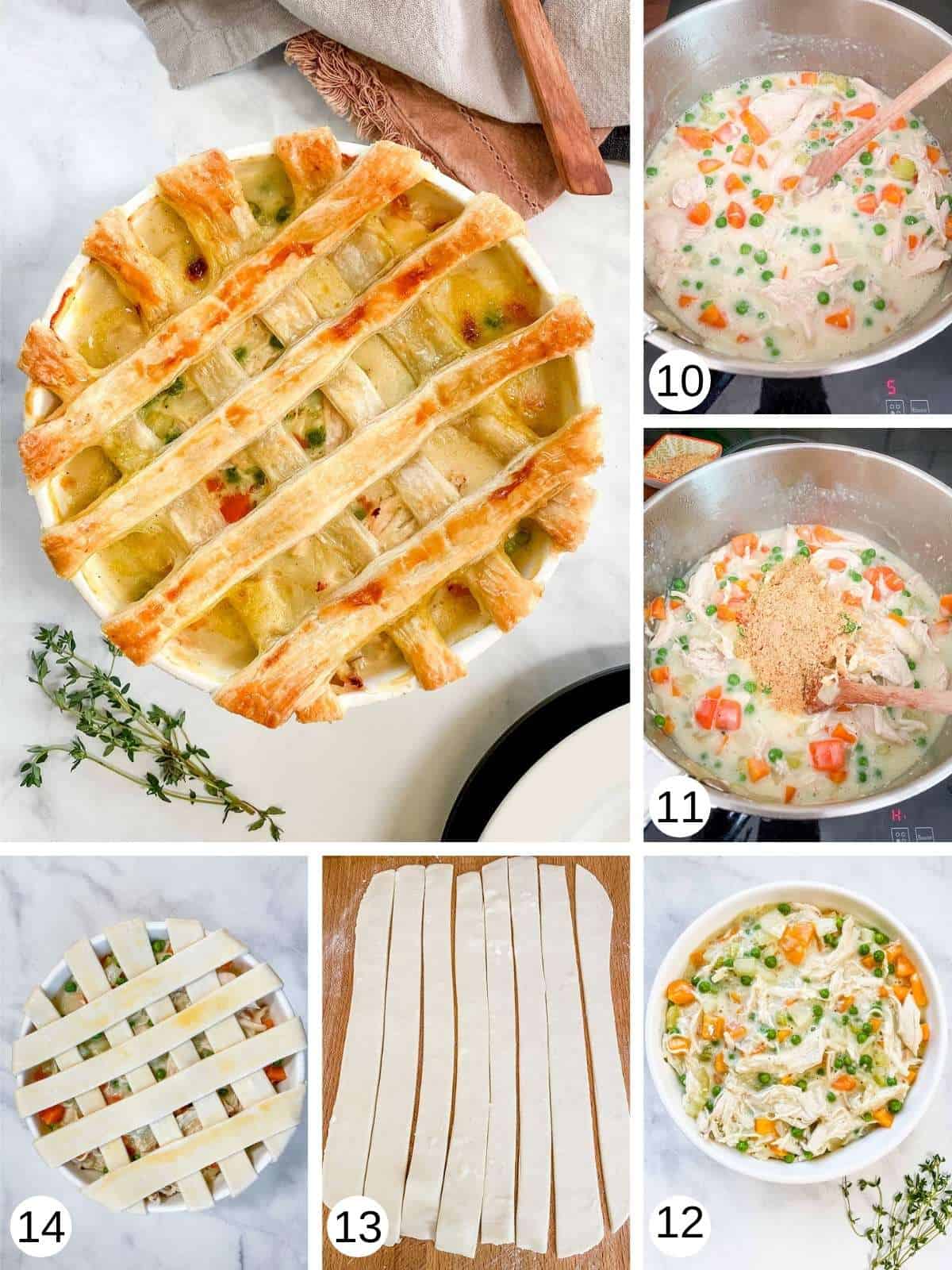 I take the sauce off the heat once it has thickened and then I add the chopped vegetables, frozen peas and the shredded chicken (picture 10) and then I give it a good seasoning with freshly ground black pepper.
It is up to you whether you add salt at this point. This is very dependant on the stock that you use in this recipe.
Adding a few tablespoons of nutritional yeast gives this recipe a nice nutty, cheesy flavour (picture 11). It is by no means a must have ingredient for this recipe but I do like the additional umami flavour!
Spoon the pie filling into a circular 1.5 quart dish (8 inches / 20cm)
I use a sharp knife to cut the pastry into 8 ribbons that are just a little longer than the diameter of the dish (picture 13). You will have overlap but that's ok - you can trim them!
I brush the lip and the edge of the dish with a little of the egg wash so that I can 'anchor' the pastry to the dish (picture 14). In my experience, if I don't do this the pastry shrinks and sinks into the pie filling a little.
Brush the top of the pastry with a little egg wash to guarantee a gorgeous golden brown finish!
Which Puff Pastry should I use?
Ok, so this is going to be a little complicated as there are a lot of different brands of puff pastry that come in a lot of different sized sheets or blocks!
I use frozen blocks or I cut down a sheet to size and then freeze the remainder so as not to waste any pastry.
I'll cover the most popular brands here but if you are using a different brand than those below I'd suggest that you work out 13 SmartPoints worth of pastry to use in your Chicken Pot Pie.
Pepperidge Farm Puff Pastry Frozen Sheets (17.3 oz)
Pepperidge Farm frozen puff pastry sheets come in a box containing 2 sheets. Each sheet measures 10 inches x 15 inches. Use a quarter of a sheet for this recipe. Measure 3.75 inches along the long side of the sheet and cut. You will be left with a rectangle of pastry measuring 3.75 inches x 10 inches. You can now makes 8 x 10 inch ribbons each measuring just under ½ an inch wide.
Wewalka Puff Pastry Flaky Layer Dough (13.2 oz)
The Wewalka puff pastry sheets are found in the chiller cabinet and measure 9 inches by 14 inches. You can use ¼ of a sheet for this recipe. Measure 3.5 inches along the long side and cut leaving you with a rectangle of pastry measuring 3.5 inches by 9 inches. You can now make 8 x 9 inch ribbons each measuring a little under ½ inch wide.
Jus Rol Light Puff Pasty (320g)
Whoop, whoop - you can use ⅓ of a sheet of this lightened puff pastry for this recipe (as it contain 30% less fat than standard chilled puff pastry)! Each sheet measures approx 35cm x 23cm (yes, I've converted to metric but that's because this is a UK brand and that is what we tend to use!!). You can measure 11.5 cm along the long side and cut, leaving you with a rectangle of pastry measuring 11.5cm by 23cm. You can then make 8 x 23cm ribbons each measuring just under 1.5cm wide.
Jus Rol Frozen Puff Pastry Block (500g)
If you are using the Jus Rol frozen puff pastry, I would suggest cutting off a 90g block and refreezing the rest. You can then roll out the 90g block to a rectangle about 16cm by 21cm. You can then make your 8 ribbons approx 2cm wide.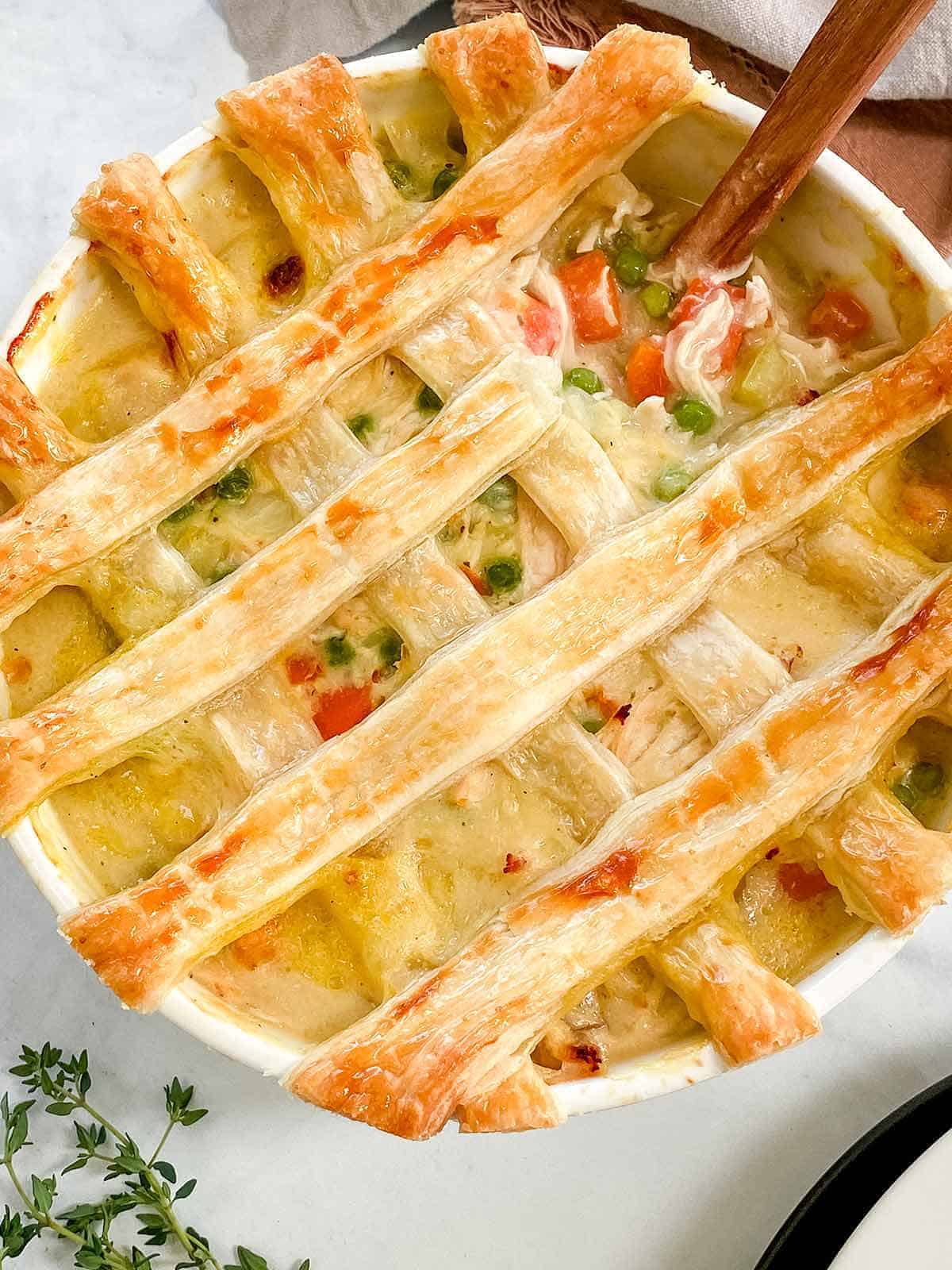 More Weight Watchers Chicken Recipes
If you like this Chicken Pot Pie recipes then you may also like this popular Creamy Chicken Casserole recipe or this Chicken Leek & Mushroom Pie.
Chicken Pot Pie | Weight Watchers
Yield:
4 GENEROUS portions
Total Time:
1 hour
20 minutes
This tasty Chicken Pot Pie is 7 SmartPoints per generous portion on Weight Watchers Blue & Purple plans. It is 9 SmartPoints on the Green plan. A family favourite that has been adapted to fit into the Weight Watchers program.
Ingredients
4 boneless, skinless chicken breast (approx 600g in total)
2 cups (500ml) skimmed milk
1 cup (250ml) chicken stock - made with 2 stock / bouillon cubes
Fresh thyme
10 sprays calorie controlled oil
1 onion - diced
3 tbsp white wine vinegar
4 medium carrots - diced
3 celery sticks
3 garlic cloves - minced
1 cup (150g) frozen peas
2.5 tbsp cornstarch
Freshly ground black pepper
Salt
Puff pastry (80g or ¼ sheet - depending on brand)*
1 egg - whisked
Instructions
Preheat the oven to 180°C / 350°F
Place the chicken breasts in a saucepan with the skimmed milk, the chicken stock and a couple of sprigs of fresh thyme.
Heat on a low to medium setting until the liquid starts to gently simmer.
Cover the saucepan and cook for 15 minutes making sure that it never goes above a gentle simmer.
Remove from the heat and carefully remove the chicken breasts and the sprigs of thyme from the liquid. Set the liquid aside for use later and discard the thyme.
Using two forks, shred the chicken breast (or cube if you prefer!) and set aside.
Mist the bottom of a large skillet with some calorie controlled spray oil and heat over a medium heat.
Add the chopped onion and saute for 4 - 5 minutes until they have softened slightly. You do not want the onions to brown.
Add the minced garlic and cook for a further 1 minute (making sure that you stir it to prevent it from sticking to the bottom of the pan).
Add the white wine vinegar and use a wooden spoon to scrape any browned bits of onion or garlic from the bottom of the pan.
Once the vinegar has evaporated you can add the chopped carrots and celery.
Cook for 3 - 4 minutes, stirring often. Remove from the heat
In a small pot mix the cornstarch (cornflour if you are from the UK) with a couple of tablespoons of water. You want it to have the consistency of a thick yogurt.
Return the poaching liquid to the stove and heat to a gentle simmer.
Whisk in the cornstarch mix into the poaching liquid and increase the heat a little.
You are wanting the sauce to thicken and for any starchy cornflour taste to cook off. However, you do not want to overcook the sauce at this stage as cooking it for too long at too high temperature can lead to the sauce thinning out again.
Remove from the heat and stir in the shredded chicken, some freshly ground black pepper, the chopped cooked vegetables and the frozen peas.
Stir in the nutritional yeast if using. This is definitely not a required ingredient but if you like the nutty/cheesy flavour it lends to foods then it is a great addition.
You may also like to add some salt but this will depend on the saltiness of the stock cubes that you used. If in doubt, leave out the salt and just season it once it is on your plate!!
Tip the pie filling into a 1.5 quart oven proof dish approximately 8inch (20cm). The filling should almost fill the dish to the top.
Set aside whilst you prepare the puff pastry topping.
How you do the pie top is dependant on the puff pastry brand you are using as some sheets are larger than other & some are more SmartPoints than other. See detailed notes in the main body of text!
Use a sharp knife to cut 8 'ribbons' of pastry that are just a little longer than the top of your dish.
Use a little of the egg wash around the edge and lip of the dish and top with the puff pastry ribbons. Using the egg wash around the lip and edge of the dish means that you can stick the puff pastry to the edges of the dish which should prevent the pastry from shrinking and falling into the pie filling when it's cooking.
Use the egg wash to brush the top of the pastry before placing in a preheated oven for 35 - 40 minutes or until the puff pastry is golden brown that the filling is bubbling hot.
Serve immediately
Recommended Products
As an Amazon Associate and member of other affiliate programs, I earn from qualifying purchases.
Nutrition Information:
Yield:

4
Serving Size:

1
Amount Per Serving:
Calories:

478
Total Fat:

13g
Saturated Fat:

4g
Trans Fat:

0g
Unsaturated Fat:

8g
Cholesterol:

164mg
Sodium:

766mg
Carbohydrates:

35g
Fiber:

5g
Sugar:

9g
Protein:

51g
Please be aware that the nutritional information above has been automatically generated and does not account for variations in product brands and types, weights of individual ingredients etc.  It should therefore be considered as an estimate. PointedKitchen.com has calculated Weight Watchers Smart Points based on the individual ingredients used to make this recipe and not from the following nutritional information. PointedKitchen.com is not responsible for any loss or damage relating to your reliance on this nutritional information.