These tasty Custard Tarts are simple to make and are just 1 SmartPoint per piece on Weight Watchers Freestyle plan, myWW Blue plan and myWW Purple plan. They are 3 SmartPoints per piece on myWW Green plan.
Please be aware that this post was written prior to Weight Watchers changing to the WW Personal Points Plan! You can discover exactly how many Personal Points this recipe will be for you by clicking on the blue 'WW Personal Points' button in the recipe card below.
They take less than 30 minutes to prepare and bake and can be eaten hot or cold. A treat that is quick & easy to make, is VERY tasty & is low in SmartPoints, what more could you want from a Weight Watchers dessert recipe?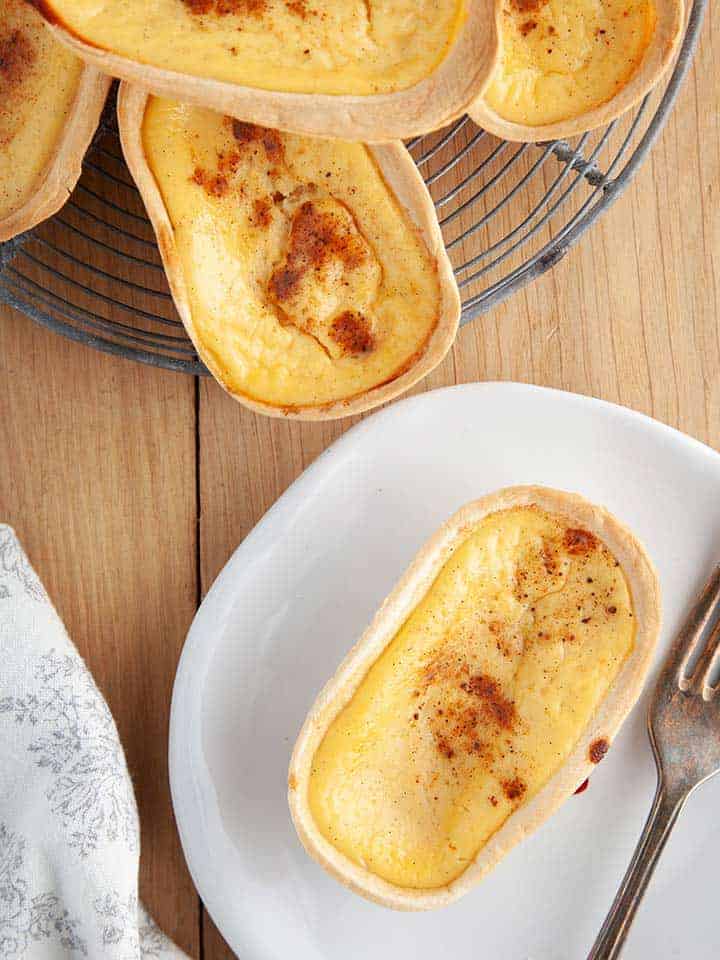 I love this recipe for Baked Egg Custard and will often make it for a low SmartPoint dessert when it's cold and miserable outside and I'm feeling in need of comfort food.
But I also LOVE custard tarts and do have occasional yearnings for proper Portuguese egg custard tarts (Pasteis de Nata).
But a typical Pasteis de Nata works out at about 8 SmartPoints per small tart (on Freestyle, myWW Blue & myWW Purple plans) and I don't often have that amount of SmartPoints left at the end of the day to indulge in one!!
So I've been making these 'cheat' custard tarts! A sweet, vanillary custard baked in a soft flour tortilla boat.
This post may contain affiliate links. As an Amazon Associate I earn from qualifying purchases. Visit this page to see what that means.
Each of these Old El Paso Mini Stand 'N' Stuff tortilla boats are 1 SmartPoint per 'boat' (on all plans) and make a great tart case for lots of things, including custard!
Yes, its not full fat buttery puff pastry but let's remember they are 1 SmartPoint per case, so who's complaining!!
What I used to make Custard Tarts
As I said above, I used Old El Paso Mini Stand 'N' Stuff tortilla cases. They are a perfect size to use.
I found that when I made them in the bigger stand 'n' stuff cases, I needed to use a lot of custard mixture to fill them & that runs the risk of the flour tortilla burning (or at least browning too much) in the oven before the custard had set.
I used Nielsen-Massey Vanilla Bean Paste in this recipe. It is available to buy from large supermarkets and from Amazon.
Alternatively, you can use vanilla extract instead.
I used Lakanto Monkfruit Sweetener in this recipe.
It is a fantastic sugar replacement and matches the sweetness of sugar. I've only found it available to buy from Amazon where it has phenomenal reviews!
If you use a sweetener that isn't a 1:1 sugar substitute you will need to reduce the amount of sweetener that you use.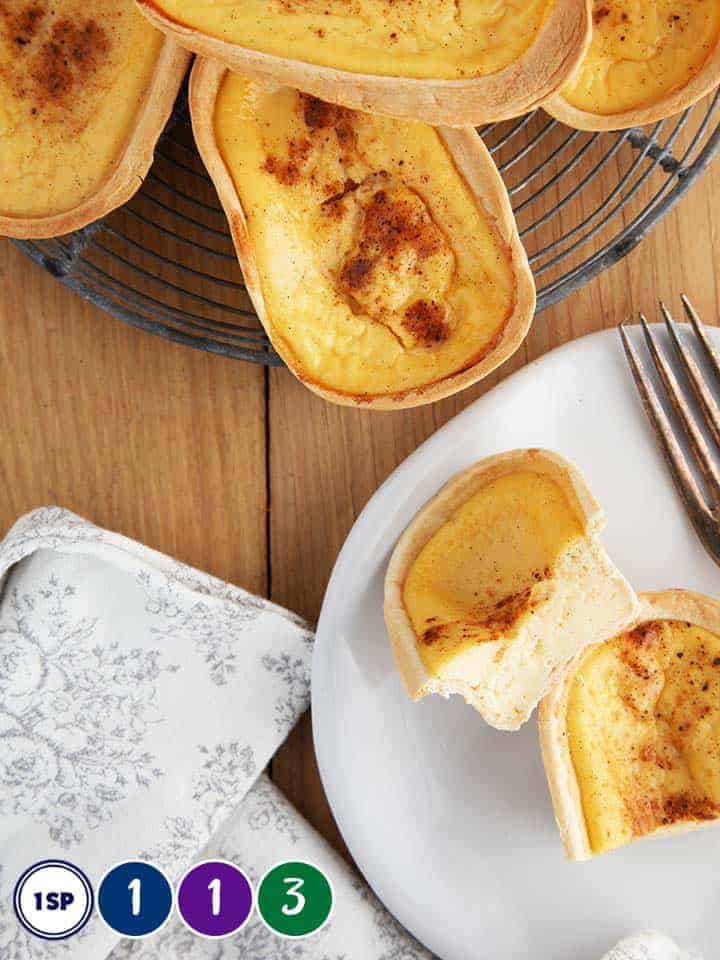 How many SmartPoints in Custard Tarts?
Weight Watchers changed their program at the end of 2019. It now includes 3 individual plans, giving anyone following the WW program lots of choice about how they use their SmartPoint allocation.
Using the official WW recipe builder I have worked out the SmartPoints for these Custard Tarts for each of the plans.
Freestyle plan - 1 SmartPoint per tart
myWW Blue plan - 1 SmartPoint per tart
myWW Purple plan - 1 SmartPoint per tart
myWW Green plan - 3 SmartPoints per tart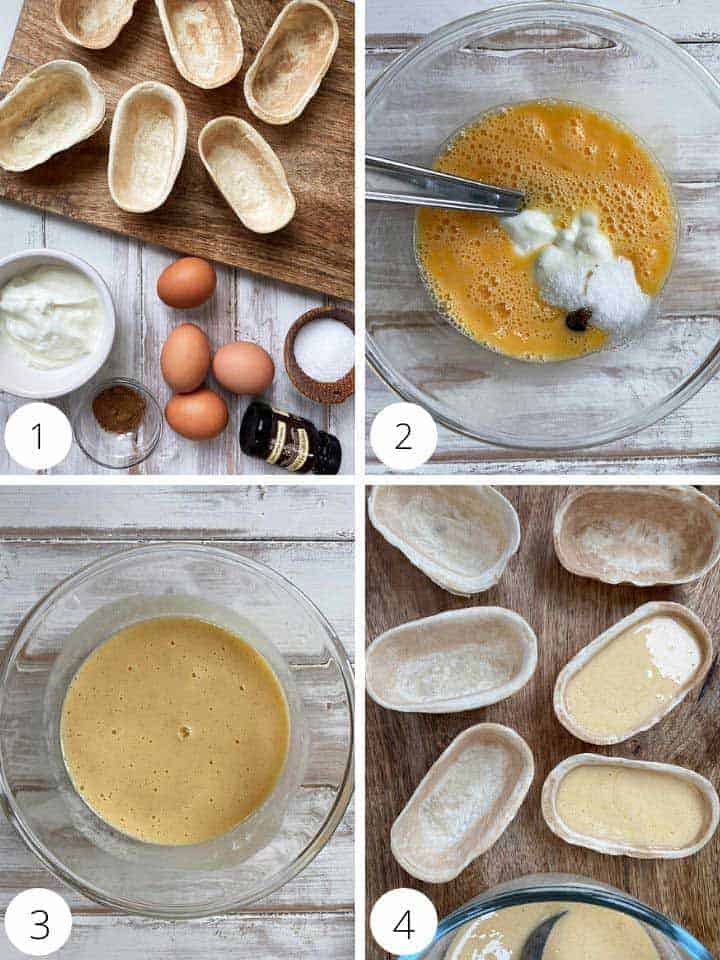 Tips for making Custard Tarts
Use a small egg whisk to whisk the eggs. Add all of the other ingredients and combine by whisking some more (picture 2)
Ensure that the mixture is well combined (picture 3) before you carefully spoon it into the tortilla boats.
This recipe makes enough custard mixture to fill 6 of the mini stand 'n' stuff tortilla boats almost to the rim (picture 4).
I find it easier to place the tortilla boats on a baking sheet before filling them - this way you can carefully pick up the tray and slide it into the oven without too much spillage.
I bake these Custard Tarts in a low heat oven.
If the oven is too hot you may find that the custard mixture boils and then shrinks back down when removed from the oven. Your Custard Tarts will then be left with a big dip in the middle.
How long to Custard Tarts keep?
Unfortunately, these Custard tarts do not keep well. They are best eaten on the day that you make them.
Of course if you don't want 6 Custard Tarts hanging around you can half the ingredients to make 3 tarts instead.
The custard mixture will also keep covered in the fridge for a few days if you want to make one or two tarts at a time.
Can you Freeze these Custard Tarts
Unfortunately, these Custard Tarts are unsuitable for freezing.
Other Weight Watchers Dessert Recipes
If, like me, you like dessert you may be interested in these Weight Watchers friendly ones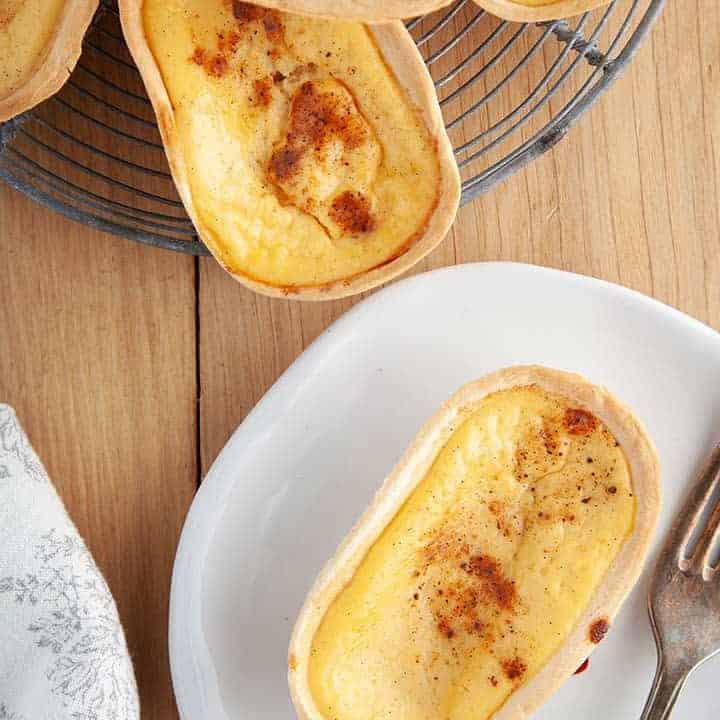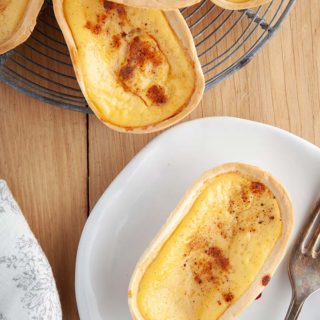 Custard Tarts | Weight Watchers
Super easy Custard Tarts that are perfect eaten hot or cold. 1 SmartPoint per tart for anyone following Weight Watchers Freestyle plan, myWW Blue plan or myWW Purple plan. 3 SmartPoints for those following the myWW Green plan.
Ingredients
6

Old El Paso Mini Stand 'N' Stuff Soft Flour Tortillas

4

medium

Eggs

2

tbsp

sweetener

1:1 sugar substitute

½

cup

fat free natural yogurt

(125g)

1

tsp

vanilla paste / vanilla extract

½

tsp

nutmeg
Instructions
Preheat the oven to 180°C / 160°C Fan / 350°F / Gas Mark 4

Place the eggs in a medium sized bowl and whisk.

Add the sweetener, yogurt and vanilla paste to the eggs and whisk again till all the ingredients are combined.

Place the Old El Paso Mini Stand 'N' Stuff Soft Flour Tortillas on a baking sheet

Pour or spoon the egg custard mixture into the tortilla shells.

Sprinkle each tart with a little nutmeg

Carefully place the baking sheet of custard tarts on to a shelf in the centre of the preheated oven.

Cook for 15 - 20 minutes or until the custard has started to brown on top and the custard has set.
Nutrition
Nutrition Facts
Custard Tarts | Weight Watchers
Amount per Serving
% Daily Value*
* Percent Daily Values are based on a 2000 calorie diet.