These light and fluffy Blueberry Muffins, made with yogurt and packed full of sweet plump blueberries, are just 5 Smart Points on Weight Watchers Blue and Purple plans!
If you follow the WW Green plan one muffin will work out at 6 SmartPoints.
When you have been following the Weight Watchers program for some time, you know what foods you are happy to 'spend' your Points on and what foods just aren't worth it!
These are Blueberry Muffins are certainly 'spend worthy'!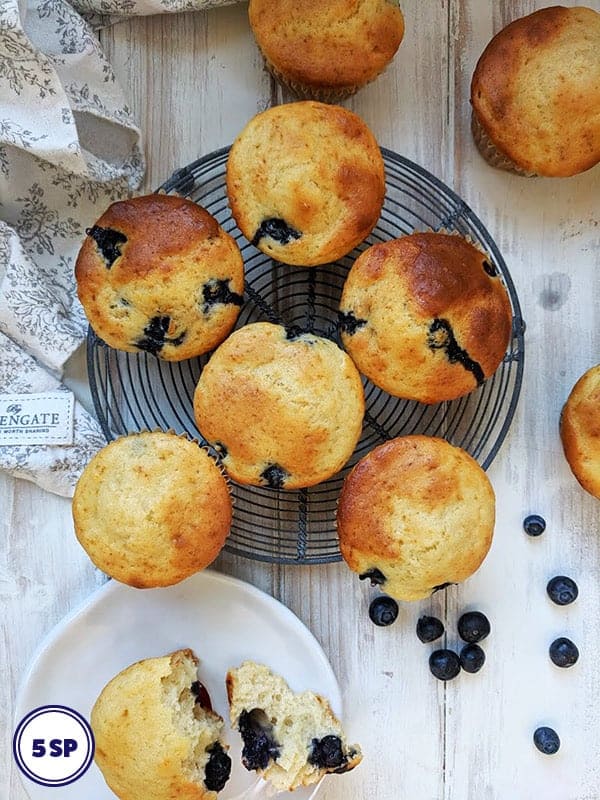 I love these muffins and am extremely happy to use my Points on one once in a while.
When I first started Weight Watchers I was travelling through an International airport and was desperate for a coffee and a snack.
I popped into Starbucks, ordered a black coffee and searched the cake counter for something I thought might be lowish points.
When I decided on a skinny blueberry muffin, I was so shocked to find out that that it was 12 Smart Points!
What is more the 'full fat' version was 18 Smart Points!
I love Blueberry Muffins but I can't justify 'spending' 12 Smart Points on one muffin!
So I played around with some recipes and developed these.
These Weight Watcher friendly Blueberry Muffins are just 5 Smart Points per muffins and are so worth it!
I'll even let you in to a secret! Eat one and it's 5 Smart Points, eat two and that would be 9 Smart Point 😉
I no longer eat shop brought muffins! I just don't think that they are worth it.
Do you?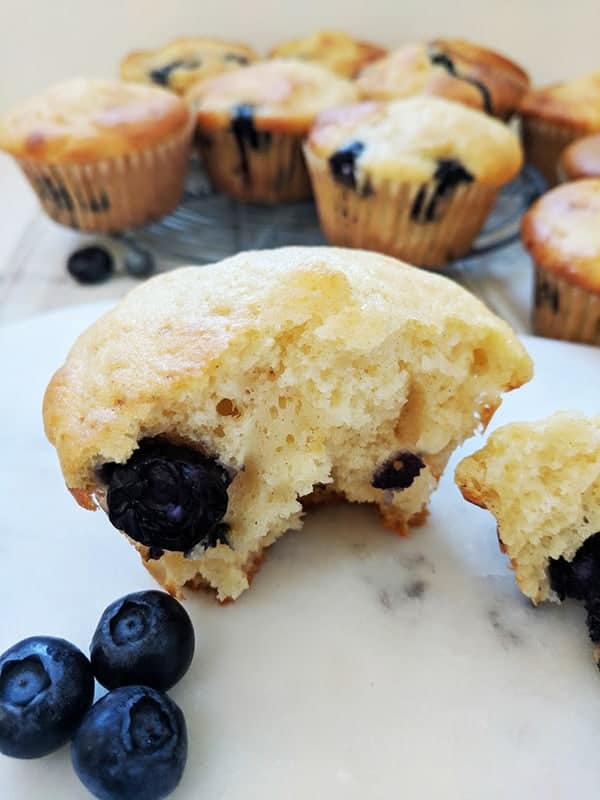 I have played around with a few muffin recipes over the years but this one is my favourite.
It creates a lovely, light and fluffy muffin that rises well!
I definitely think that they are worth the 5 SmartPoints when you are craving a sweet treat.
What do you think? Remember to let me know!
Things you will need to make these muffins
This post may contain affiliate links. As an Amazon Associate I earn from qualifying purchases. Visit this page to see what that means.
A non stick muffin pan like this one, available from Amazon.
I used a hand mixer like this one made by KitchenAid, available from Amazon.
How about some funky & colourful paper muffin cases, like these ones, available from Amazon.
Looking for more cake recipes? Try these!
Pumpkin Spiced French Toast Muffins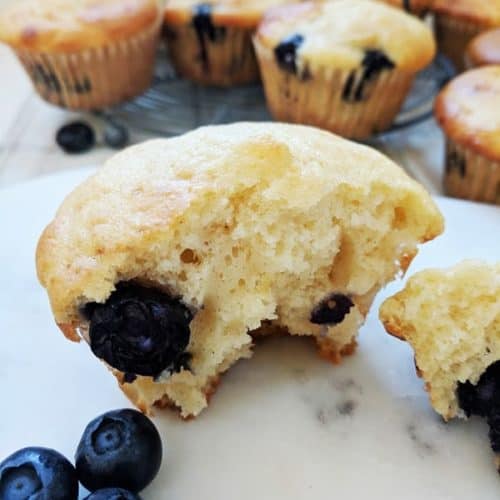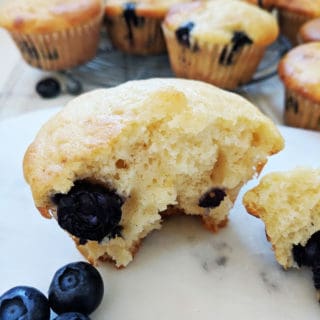 Blueberry Muffins | Weight Watchers
These light and fluffy Blueberry Muffins are just 5 Smart Points per portion on Weight Watchers Freestyle / Flex plan.
Ingredients
1.75

cups

self raising flour

(210g)

½

tsp

baking soda

3

tbsp

low fat margarine

⅔

cup

superfine sugar

(40g)

2

eggs

medium

1

tsp

vanilla extract

or vanilla paste

1.25

cups

fat free yogurt

(300ml)

2

cups

blueberries

(300g)
Instructions
Preheat the oven to 375oF / 190oC / 170oC (fan). Place muffin cases in a 12 hole muffin tin and set aside.

Place the flour and baking soda in a bowl, mix to combine and set aside until later.

In a separate bowl cream the butter and sugar together using a hand mixer, until the mixture is light and creamy. Add the eggs one at a time and continue to beat with the mixer. If the mixture starts to split, add a couple of tablespoons of the flour to the mix and continue using the hand mixer until the mixture combines into a creamy consistency.

Stir in the vanilla extract and the fat free yogurt.

Add the flour to the wet ingredients and fold in gently using a large spoon. Be careful not to be too heavy handed at this point (although the mixture does need to be lump free) just carry on folding until the mixture has combined!

Gently fold in the blueberries.

Using an ice cream scoop (or a spoon) fill the muffin cases ¾ full with the mixture and place on the middle shelf of your preheated oven.

Cook for 15 to 17 minutes or until they have started to colour and a toothpick inserted in to the centre of the muffin comes out clean. Remove from the oven and place on a wire rack to cool before serving.
Notes
Please be aware that the nutritional information below has been automatically generated and does not account for variations in product brands and types, weights of individual ingredients etc.  It should therefore be considered as an estimate.
PointedKitchen.com has calculated Weight Watchers Smart Points based on the individual ingredients used to make this recipe and not from the following nutritional information.
PointedKitchen.com is not responsible for any loss or damage relating to your reliance on this nutritional information.
Nutrition
Nutrition Facts
Blueberry Muffins | Weight Watchers
Amount per Serving
% Daily Value*
* Percent Daily Values are based on a 2000 calorie diet.