Love them or hate them Protein Shakes are here to stay! This list of over 15 of the Best Protein Shakes for Weight Watchers outlines the SmartPoints per shake when you follow the WW Green plan, WW Blue plan or the WW Purple plan. It also contains details of the calorie content and protein content per shake.
The sale of ready made protein shakes has exploded over the past few years.
Whereas powdered protein was once just the staple for gym goers or people wanting to 'grow' muscle, the 'new' pre mixed shakes have meant that protein drinks have surged in popularity and have become much more mainstream.
You can find these protein shakes everywhere - grocery stores stock a wide variety in many different flavors, as do drug stores.
As the name suggests (!) the drinks are packed full of protein and protein rich foods are an important part of our diet for maintaining body tissue (including muscle).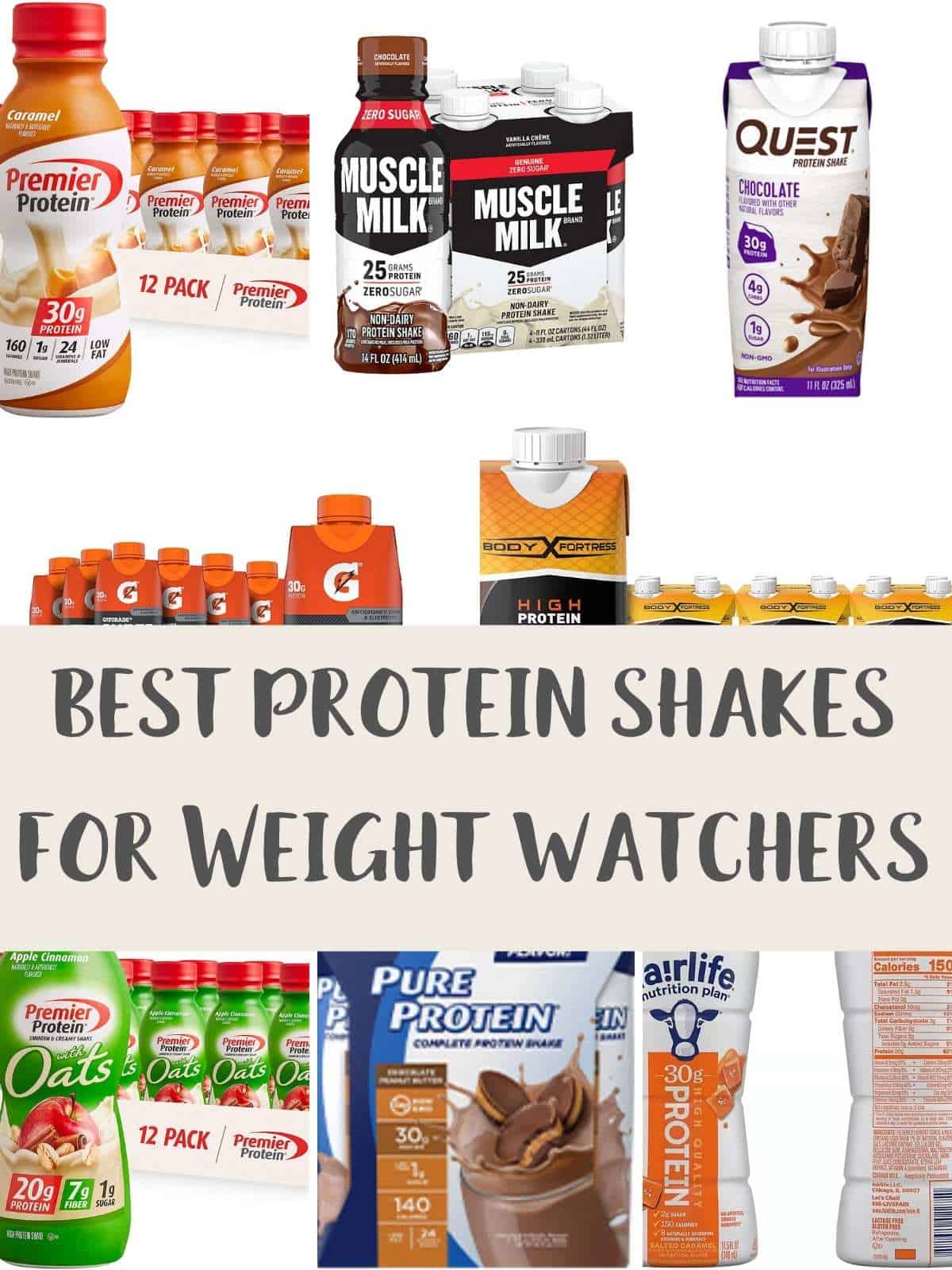 With Weight Watchers in mind, protein shakes can be helpful if used sensibly! This is especially true if you are someone who lacks protein in your diet.
It is believed that eating more protein in your diet can increase a feeling of fullness, meaning that you may snack less and consume fewer calories per day.
However, consuming too many protein drinks and protein full snacks could also have a detrimental effect on weight loss, so you just need to be aware of that!
If you'd like more information on how a protein rich diet can provide improvements to body weight management take a look at this article from Weight Watchers.
So whether you like protein shakes as a quick grab & go breakfast, as a filling mid morning snack or whether you just like to use a dash of it as 'creamer' in your coffee, this list of some of the best protein shakes for Weight Watchers will be useful.
In this list I have included the SmartPoint values per shake (they are the same SmartPoint values on each of the plans!), the amount of protein each shake provides and also how many calories they contain.
Most of the shakes work out at around 2 or 3 SmartPoints per 11 fl oz but you will also see that there is one popular brand that works out at 7 SmartPoints per shake (it's packed full of sugar!).
So just be aware when you grab a protein shake from the shelf that just because it is high in protein it doesn't necessarily translate to it being low in SmartPoints!
This post may contain affiliate links. As an Amazon Associate I earn from qualifying purchases. Visit this page to see what that means.
More Protein packed snacks for WW
This list of Best Protein Bars for Weight Watchers outlines some of the best low SmartPoints store brought protein bars that are currently available.
If you are wanting to make some homemade high protein snacks, then my favorite are these Spiced Chickpeas and these Marmite Chickpeas!