This Baked Oatmeal with Blueberries recipe makes a filling and tasty Weight Watchers breakfast.
Low in calories, fat and sugar it works out at 4 SmartPoints per generous serving if you follow the Blue plan, 1 SmartPoint if you follow the Purple plan and 5 SmartPoints if you are following the Green plan.
But don't be fooled! Just because it's low in SmartPoints (and fat & sugar) that doesn't mean that it is low in taste.
Far from it .... it tastes really, really good! The banana and small amount of maple syrup ensures that this dish is sweet and delicious. The blueberries add an additional sweetness and pair well with the hint of cinnamon.
I tend to eat this Baked Oatmeal with Blueberries warm with a handful of fresh blueberries and a spoonful of fat free yogurt on the side. A perfect low SmartPoint breakfast.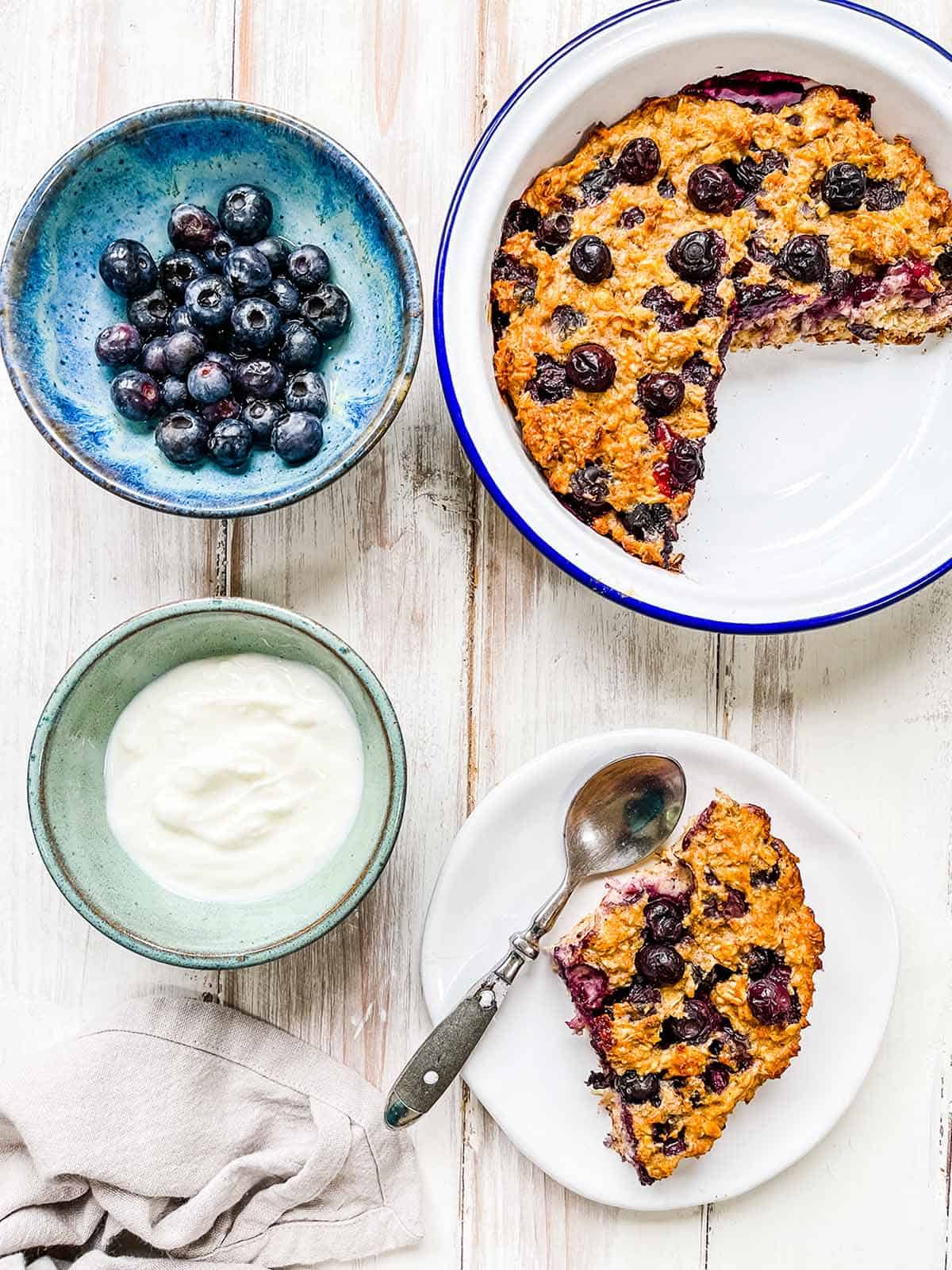 Although baked oatmeal (or baked oats if you are in the UK!) are typically eaten for breakfast, I have also eaten this dish as a snack and also for dessert - served warm it pairs really nicely with a low point ice cream.
Baked oatmeal à la mode anyone? ..... then take a look at this list of Low Point Ice Creams for an ice cream that you can serve alongside that doesn't break your SmartPoint allocation.
Of course you don't have to eat this dish warm. It is also really good eaten cold, straight from the fridge or even room temperature. So it's really adaptable.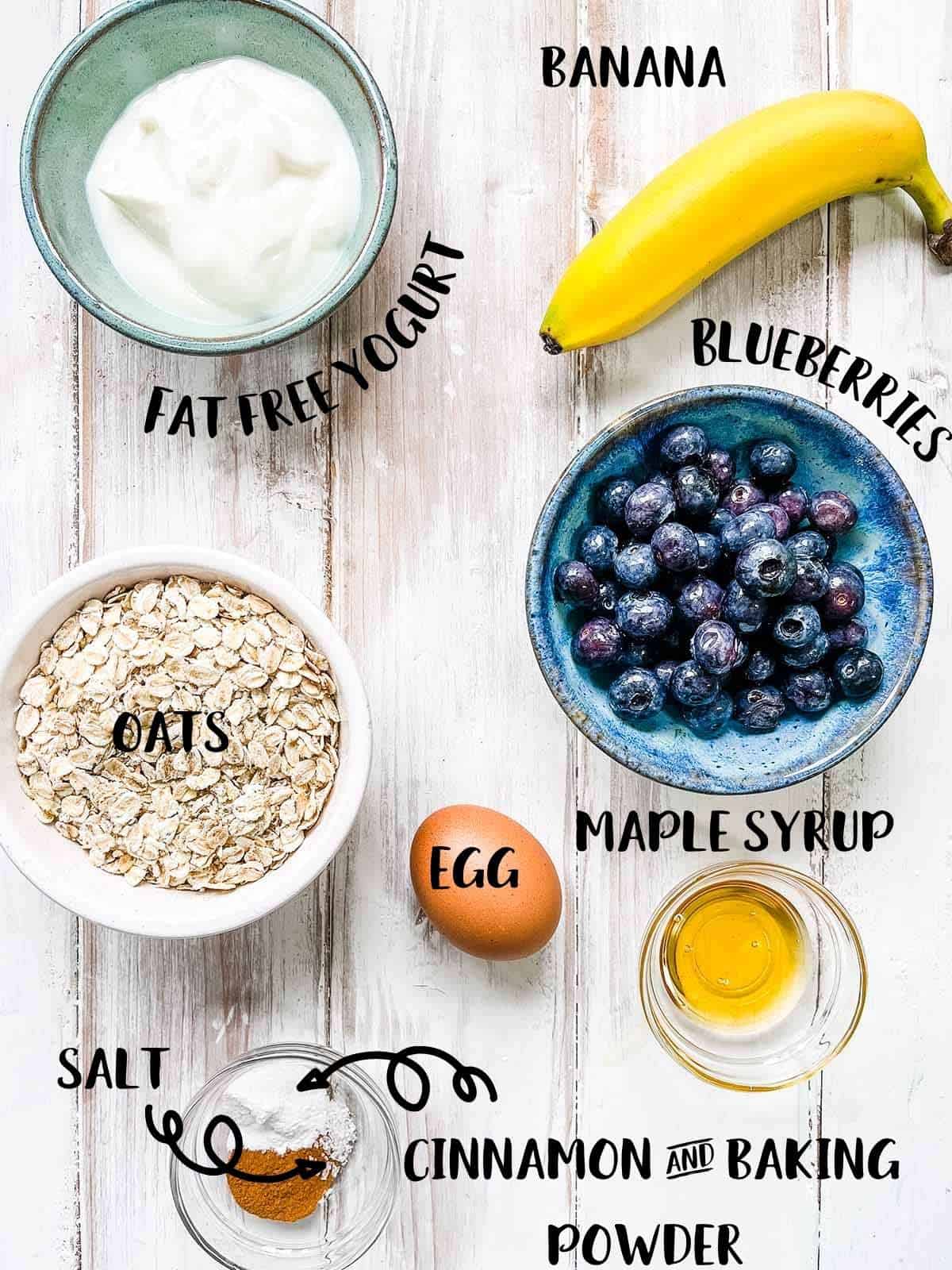 ingredients in this recipe
Although, you can't really go wrong with this recipe there are a few tips that I'll share here.
In this recipe, I used old fashioned rolled oats. However, you can use any oats that you have available really. I just particularly like the texture that these rolled oat give this baked oatmeal.
I used fat free natural yogurt in this recipe but I have also used fat free greek yogurt for equally good results.
I used a small banana in this recipe, primarily to add sweetness but also to bind the ingredients. I've tried the recipe using a larger banana but found it gave the baked oatmeal a stronger banana flavour than I was looking for!
You can use either maple syrup or honey in this recipe. Both are equally good.
Lastly, I added both vanilla extract and cinnamon to the mixture for a bit of added flavour.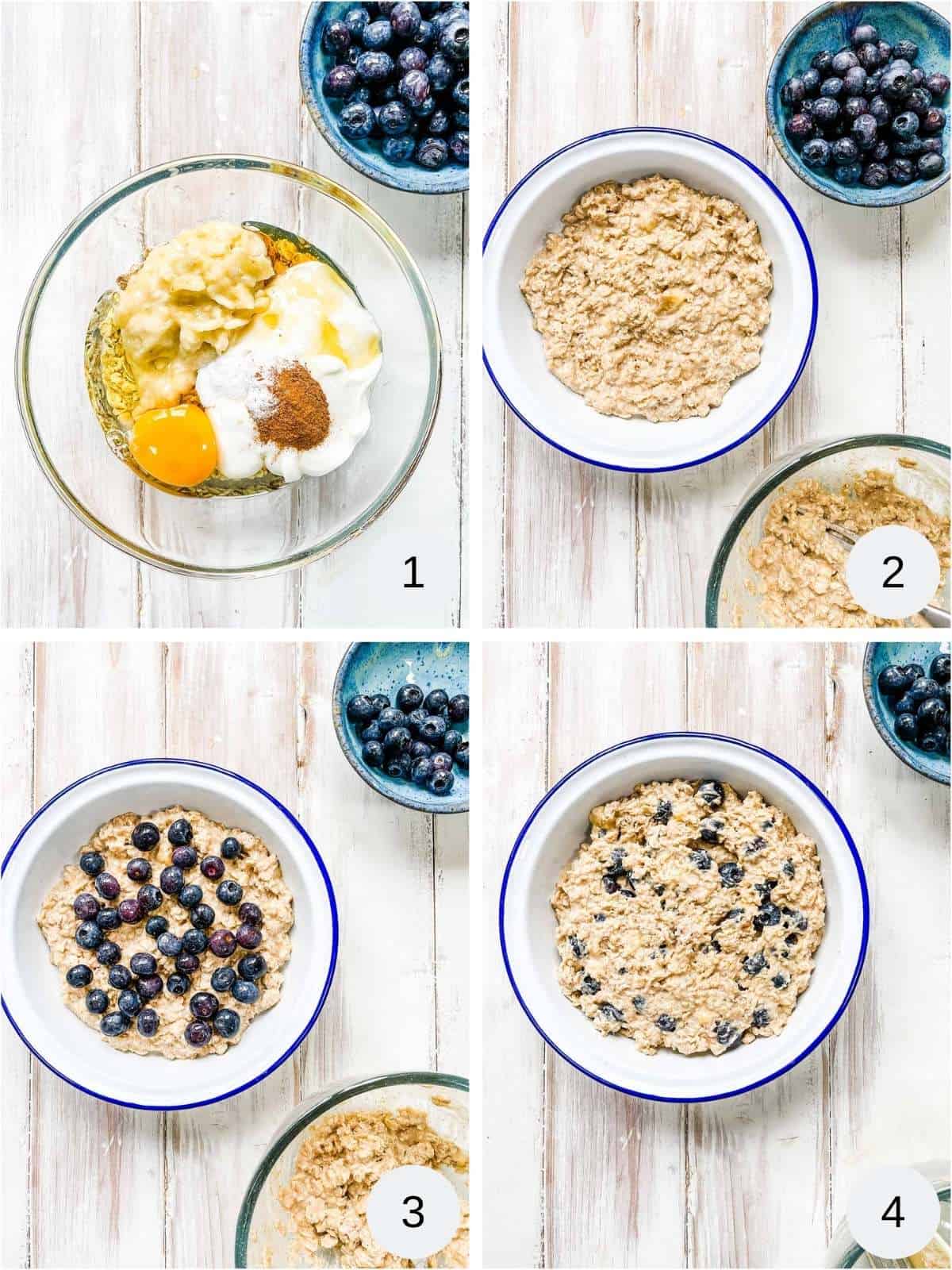 tips for making this recipe.
This recipe really is very forgiving!
However, one tip I'd really recommend is not to stir the blueberries into the mixture at the start. If you do you will get a finished baked oatmeal that has a strange blueish gray hue - and who want to eat blueish gray food!
Instead, smooth half of the mixture into you dish (picture 2) then top with half of the blueberries (picture 3) before topping with the remaining mixture (picture 4) and the rest of the blueberries.
how to store baked oatmeal.
The baked oatmeal will keep covered in the refrigerator for three or four days.
Warm it through by microwaving it or by placing it in a warm oven for 5 - 10 minutes.
can you freeze baked oatmeal?
Yes you can!
Once you have baked the oatmeal and it has cooled, you can cut it into portions and freeze it. Cover each portion tightly in plastic wrap and then freeze.
You can then just pull one serving from the freezer at a time, defrost it in the microwave and warm it through for a quick, filling breakfast.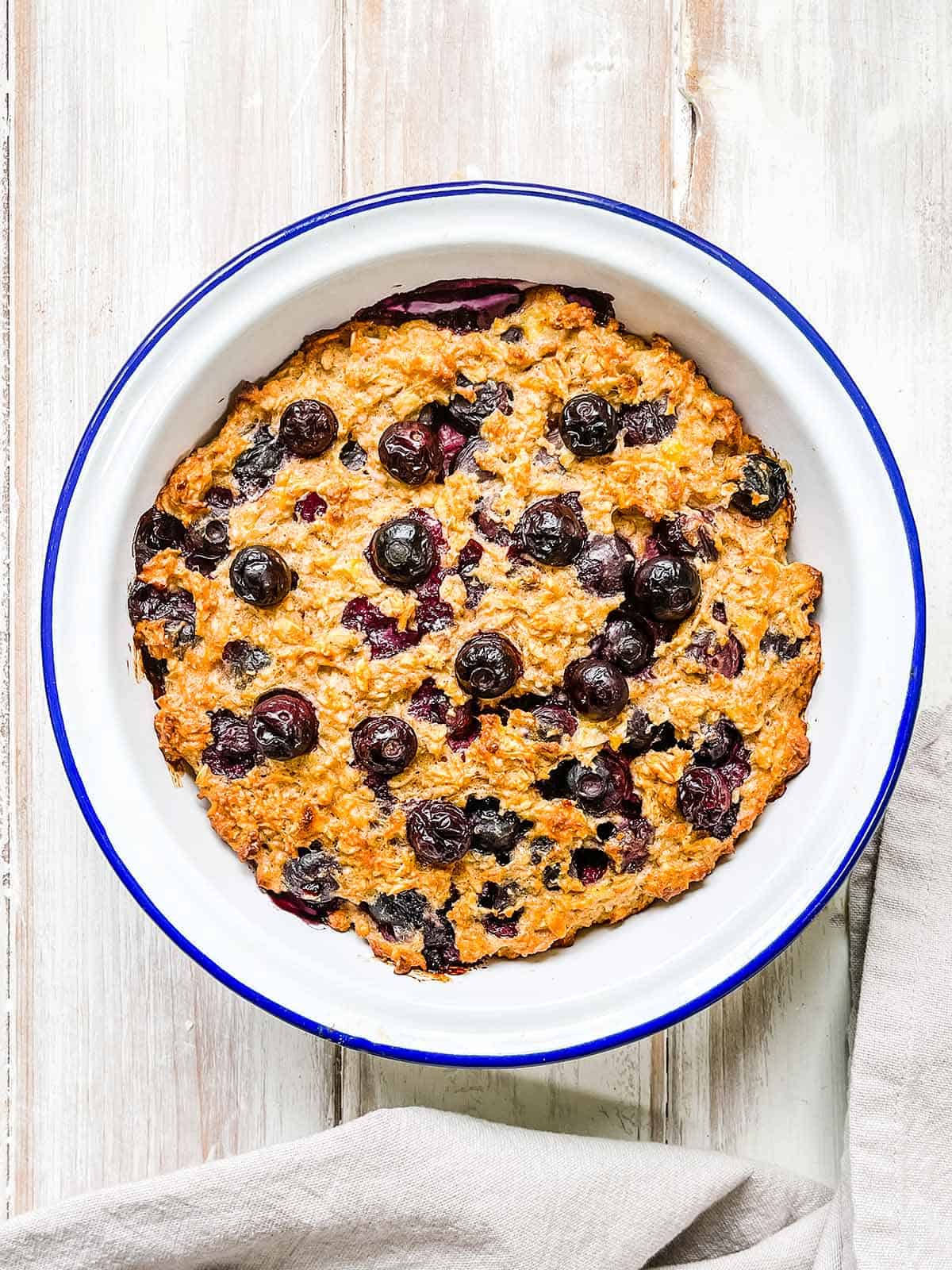 Weight Watchers SmartPoints in this Baked Oatmeal
I worked out the SmartPoint values for this Baked Oatmeal with Blueberries using the official WW recipe builder and it works out as follows.
myWW Blue plan - 4 SmartPoints per portion
myWW Green plan - 5 SmartPoints per portion
myWW Purple plan - 1 SmartPoints per portion
Please note that the nutritional information in the recipe card below has been automatically generated and will give you an inaccurate SmartPoint value if you add it in to your WW calculator.
This is because it does not account for any ingredients being zero SmartPoints on the WW plan. For example the oats in this recipe are zero SmartPoints on the Purple plan but the calorie count in the nutritional info will include the calories of 1 cup of oats.
If you do feel the need to check the SmartPoints of this recipe I'd suggest using the official WW recipe builder on your WW App to do so ..... and you will see that the values that I have given are correct!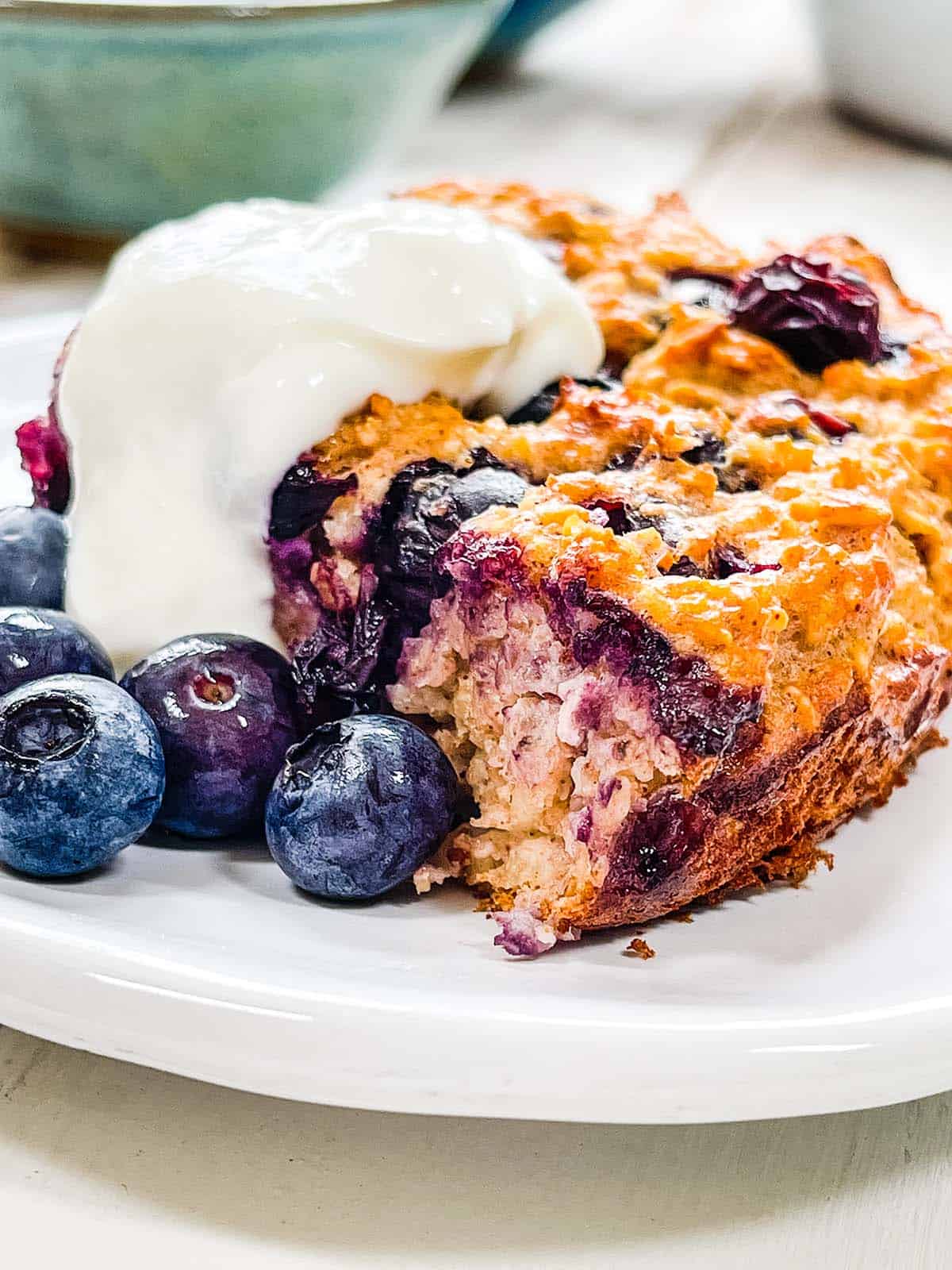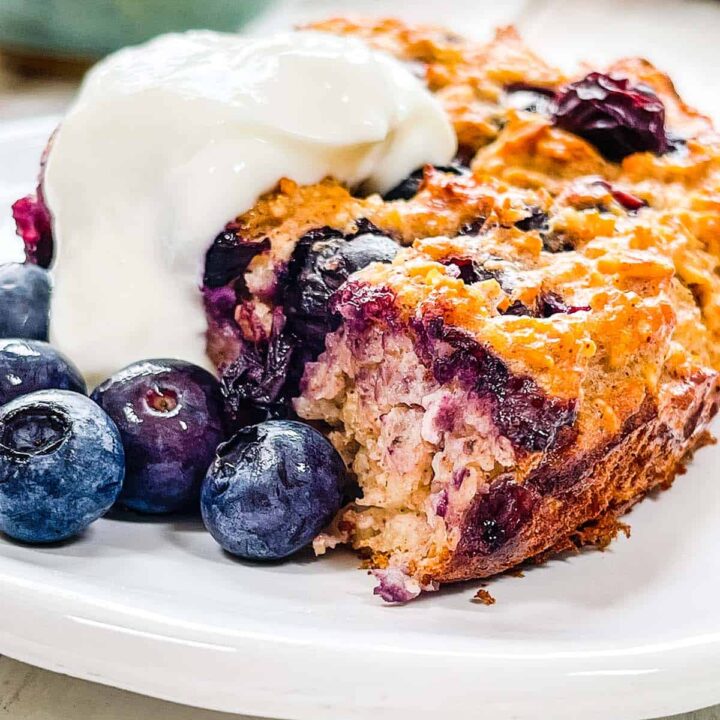 Baked Oatmeal with Blueberries | Weight Watchers
Additional Time:
30 minutes
Total Time:
1 hour
15 minutes
This Baked Oatmeal with Blueberries is so easy to cook and makes a filling and low SmartPoint breakfast for anyone following any of the Weight Watchers plans.
Ingredients
1 cup (80g) oats
1 banana
1 egg
1 tablespoon maple syrup (or honey)
1 teaspoon vanilla extract
1 teaspoon cinnamon
½ teaspoon baking powder
⅛ teaspoon salt
1 cup blueberries (approx 150g)
½ cup (120g) fat free natural yogurt
Calorie controlled spray oil.
Instructions
Start by mashing the banana in a small bowl.
Place the oats, egg, maple syrup or honey, vanilla extract, cinnamon, baking powder, salt and yogurt in a separate bowl.
Add the mashed banana and mix until all of the ingredients are combined.
Leave the mixture to sit in the fridge for 30 minutes or so for the oats to soak up all the wet ingredients before moving on to the next step. This step isn't strictly necessary but I find it helps with the texture of the finished dish.
Preheat the oven to 350°F / 180°C / 160°C fan assisted
Lightly grease a small baking dish with a couple of pumps of calorie controlled spray oil - I used a 7 inch round baking dish.
Once the mixture has sat for 30 minutes spoon half of the mixture into the prepared dish and smooth out.
Top with half of the blueberries.
Spoon the rest of the mixture on top and carefully spread it out to the sides of the dish being careful not to 'smoosh' too many berries.
Finally, top with the remaining berries.
Bake in the middle of the preheated oven for 30 - 35 minutes or until the baked oats have turned golden brown.
Serve warm (or cold - your choice!) with some extra blueberries and some fat free yogurt.
Recommended Products
As an Amazon Associate and member of other affiliate programs, I earn from qualifying purchases.
Nutrition Information:
Yield:

4
Serving Size:

¼ of whole dish
Amount Per Serving:
Calories:

110
Total Fat:

2g
Saturated Fat:

1g
Trans Fat:

0g
Unsaturated Fat:

1g
Cholesterol:

49mg
Sodium:

110mg
Carbohydrates:

19g
Fiber:

2g
Sugar:

13g
Protein:

4g
Please be aware that the nutritional information above has been automatically generated.  It should therefore be considered as an estimate. The above nutritional information does not account for variations in product brands and types, weights of individual ingredients etc and does not account for many ingredients being zero SmartPoints on the WW plan. Therefore, using these numbers in your WW calculator will often give you an INACCURATE SmartPoint value! PointedKitchen.com has calculated Weight Watchers Smart Points based on the individual ingredients used to make this recipe and not from the following nutritional information. PointedKitchen.com is not responsible for any loss or damage relating to your reliance on this nutritional information.