Yogurt Tart recipes have recently become a bit of a TikTok sensation, partly because they are so easy to make and partly because they use only three ingredients. A few changes to these recipes, and you're on your way to a Weight Watchers friendly low point dessert suitable for any of the WW plans.
My yogurt tart creation includes more ingredients than some of the recipes, but, hey, what is an extra ingredient or two between friends! It's still ridiculously easy to make.
What makes this such a great Weight Watchers recipe is that you use fat free vanilla yogurt (which tends to be quite sweet), only a small amount of flour, and the only fat that it contains comes from the four eggs which are whisked in.
Click on blue 'WW Personal Points' button in the recipe card to find out exactly how many Points a slice of this Yogurt Tart will be for you. You can also track it directly to your App from there (you will need to be logged in to your WW App for this to work)!
If you still follow the Green Plan, a portion of this Yogurt Tart is 4 SmartPoints, but if you follow the Blue, Purple or the old Freestyle plan then a portion will only set you back 3 SmartPoints.
Pretty good for a filling and tasty dessert!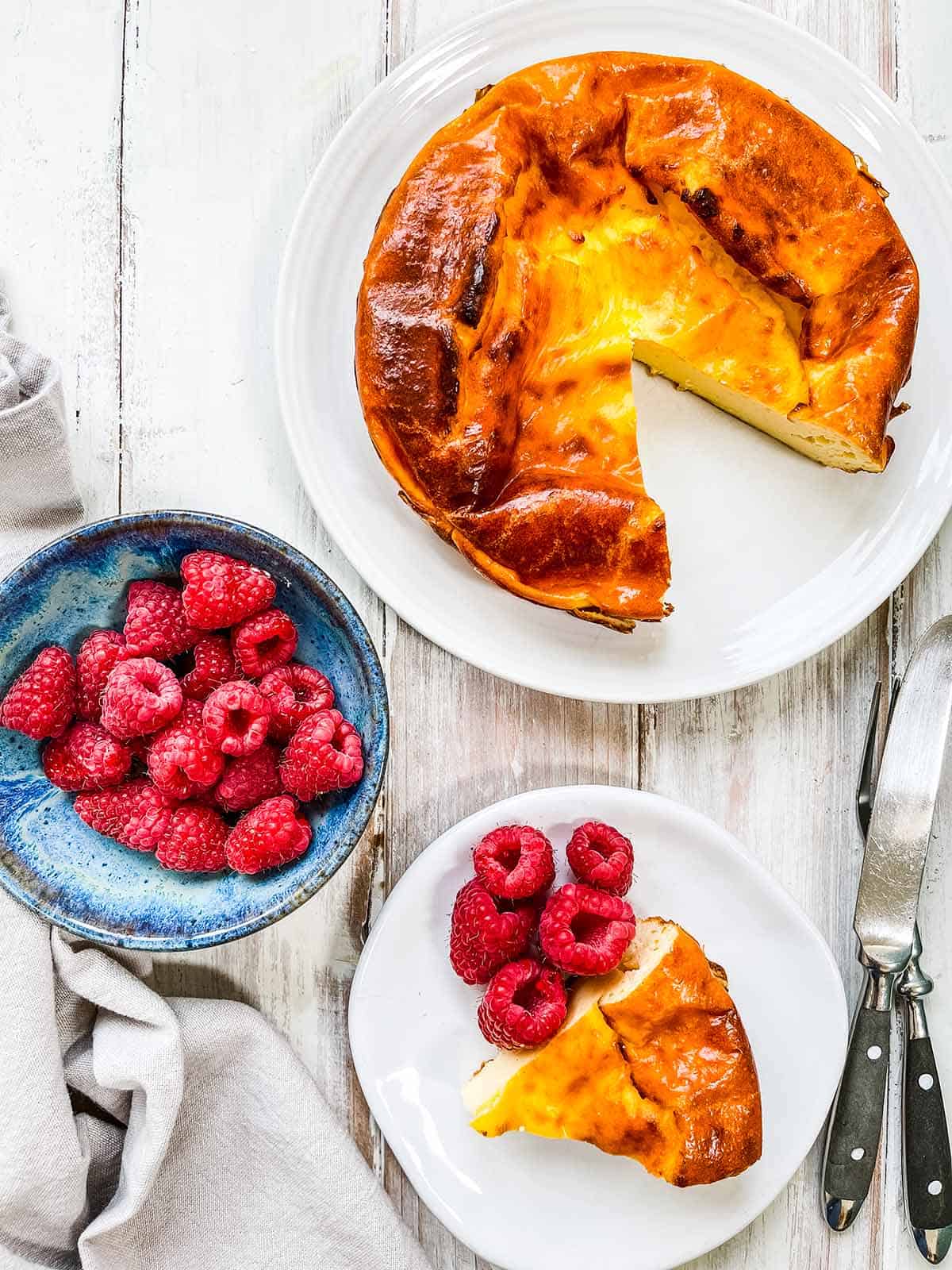 Although these recipes have become a bit of a hit on TikTok recently, many years ago Julia Child used to make a very similar baked yogurt 'cake', but hers included some ground almonds (not so WW friendly) and was baked with the fruit on top.
I prefer to bake the tart without fruit and then serve the berries on the side.
It is also great served with a spoonful (or two) of your favourite sugar free jelly / jam!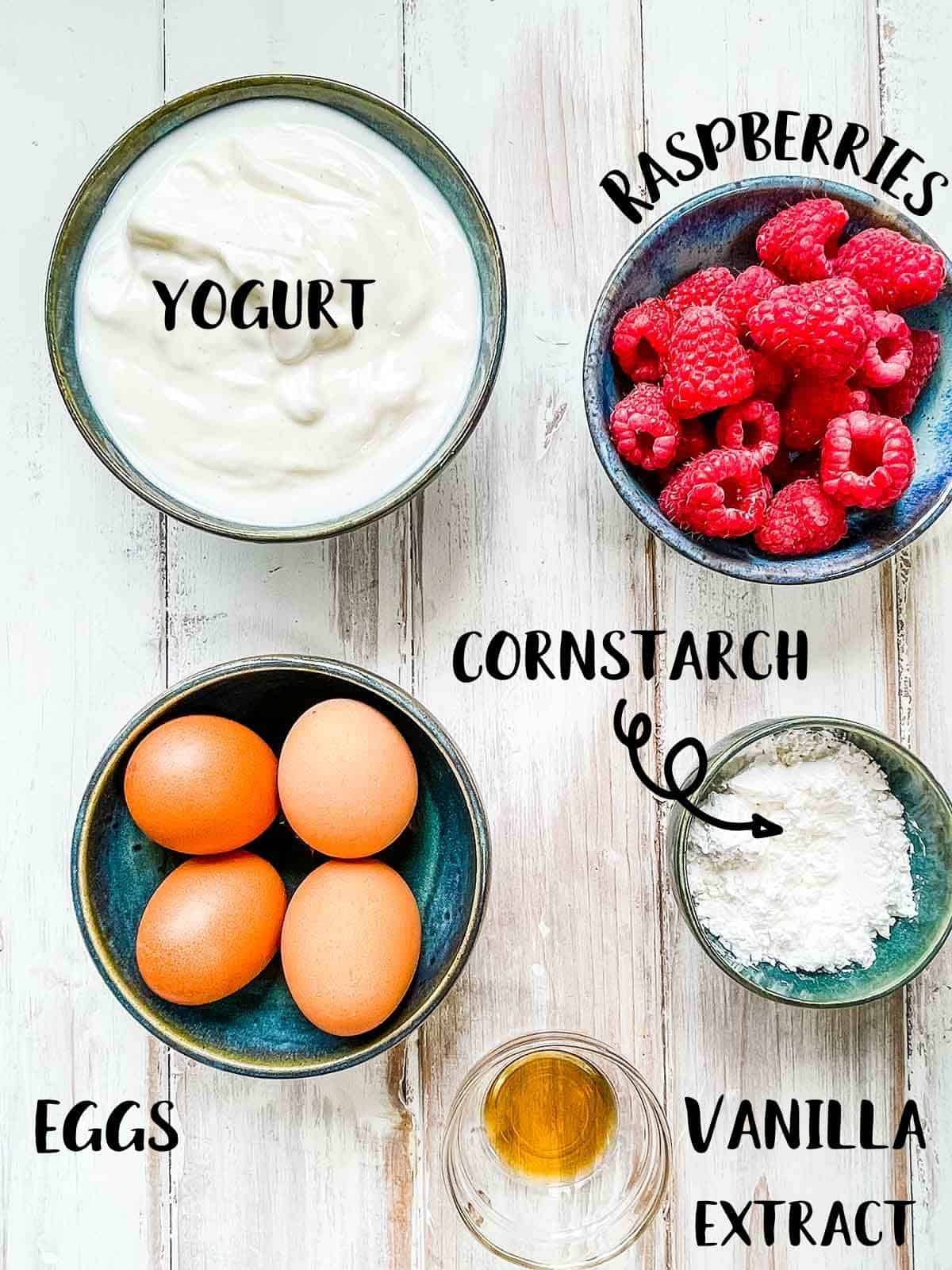 The ingredients I used
I used a fat free vanilla flavoured yogurt in this recipe. This worked out at 11 Points for the whole recipe (for me!).
Although I haven't tried, I am sure that you could use fat free vanilla flavoured Greek yogurt or Skyr yogurt instead for very similar results. Low fat Skyr yogurt may even bring down the Points a little!
Some of Yogurt Tart recipes use full fat vanilla yogurt but this almost doubles the Point value per slice. So for this Weight Watchers version make sure that you use fat free yogurt.
I used 4 medium sized eggs.
I added a teaspoon of vanilla extract as I found without it, the tart didn't have much of a vanilla flavour.
Lastly, I used cornstarch (cornflour if you are from the UK). This thickened the batter - giving it a nice texture when baked.
I like to serve this tart with fresh raspberries but it also pairs well with blueberries, strawberries or tinned peaches .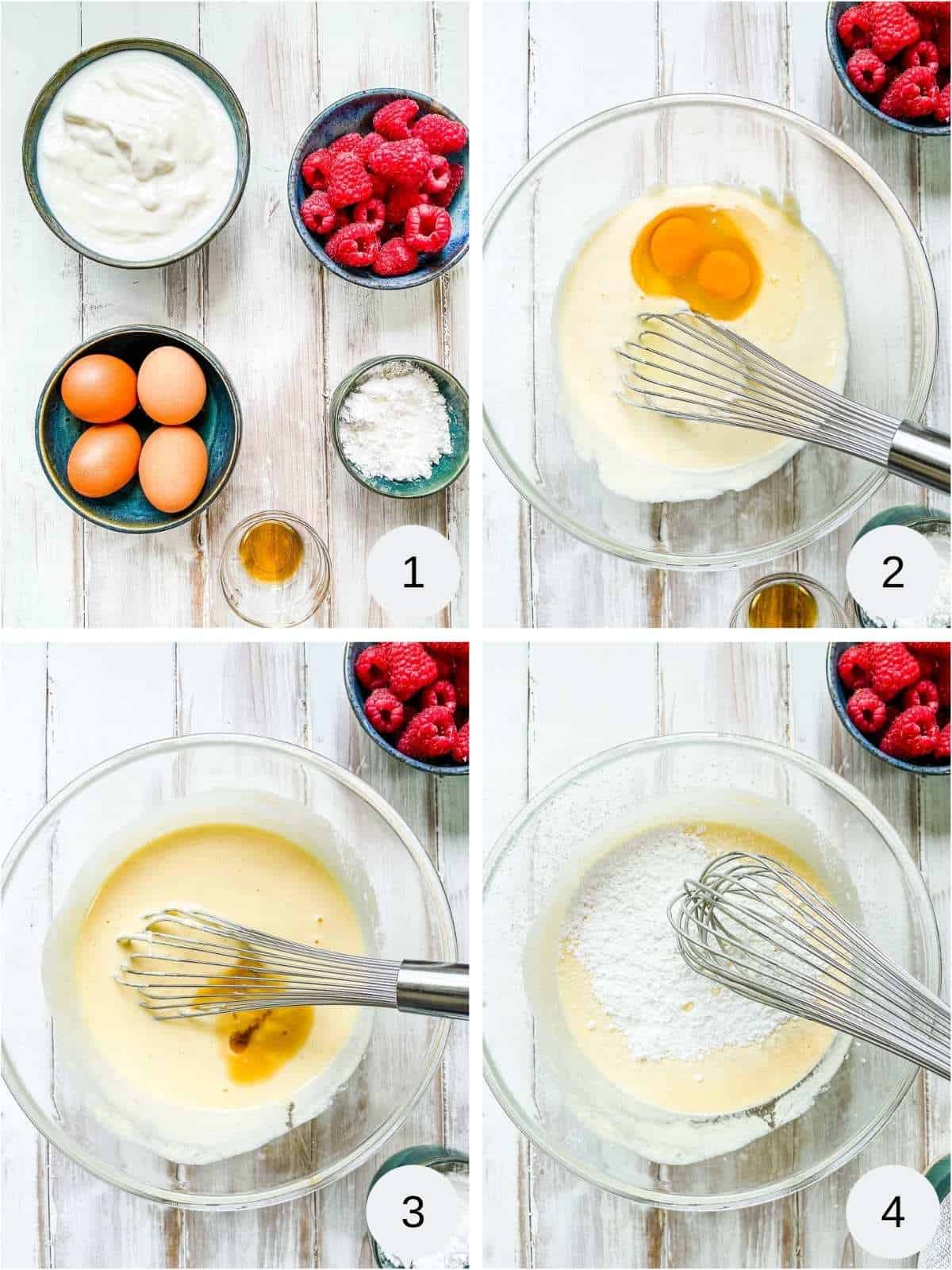 Tips on making this recipe
Add the eggs to the yogurt mixture two at a time (picture 2). There is no need to whisk them before adding.
Add the vanilla extract and whisk to combine (picture 3)
Whisk in the cornstarch (picture 4) until the mixture is smooth and lump free.
I lined the ovenproof dish by lining four strips of parchment paper / grease proof paper across the dish (as seen in picture 5).
Carefully pour the batter on top of the parchment paper (picture 6) and then trim the excess parchment paper away (picture 7).
Bake in the oven until the tart has puffed up and turned golden brown (picture 8). The tart will deflate when it is taken out of the oven, but this is normal and nothing to be concerned about.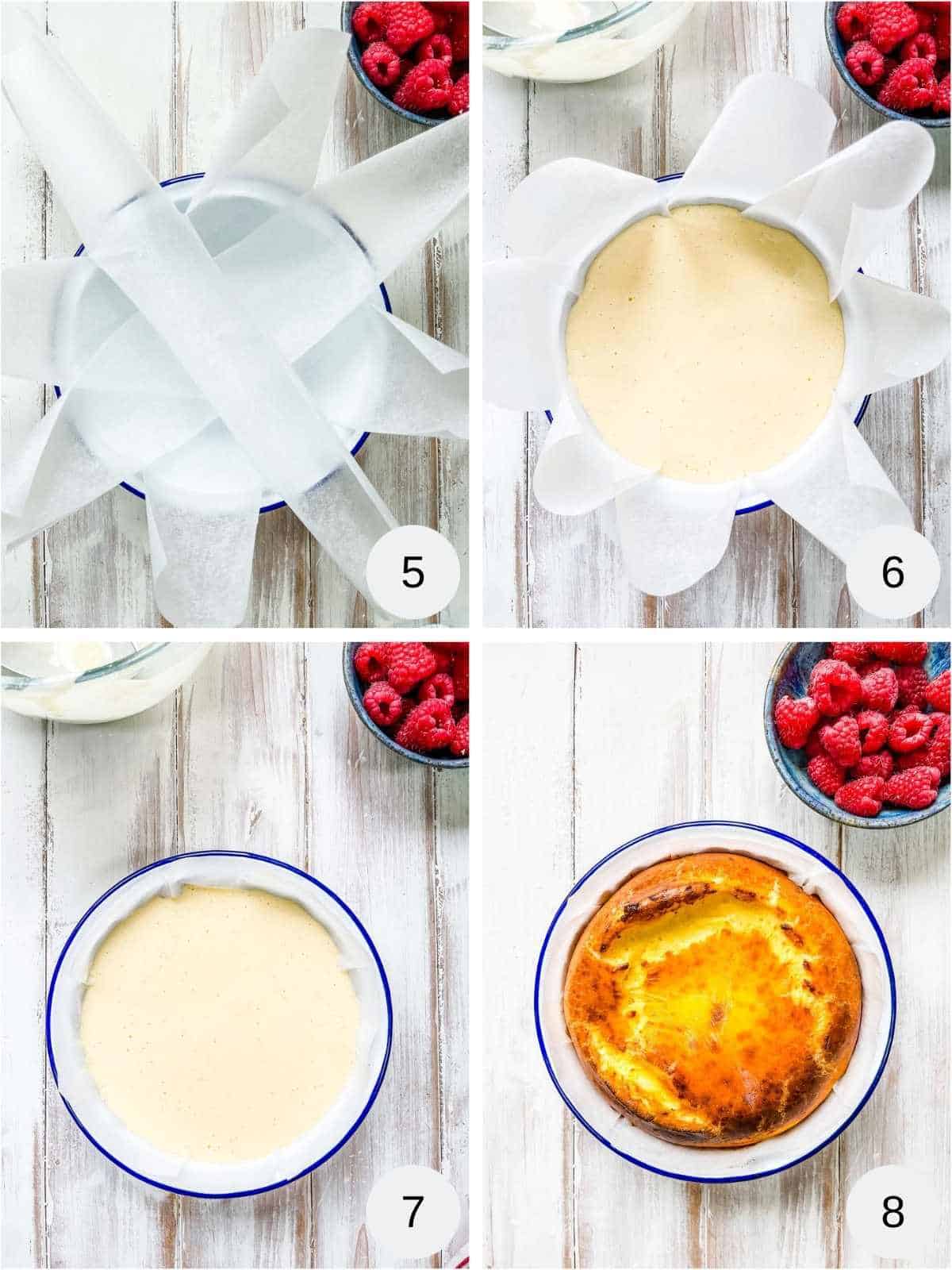 How I worked out the Points
If you follow the WW Personal Points plan you can find out how many Personal Points this recipe will be for you & track it in your WW App by clicking on the blue button in recipe card below!
For anyone still following one of the older plans the Points are as follows.
myWW Blue plan - 3 SmartPoints per portion
myWW Green plan - 4 SmartPoints per portion
myWW Purple plan - 3 SmartPoints per portion
Freestyle plan - 3 SmartPoints per portion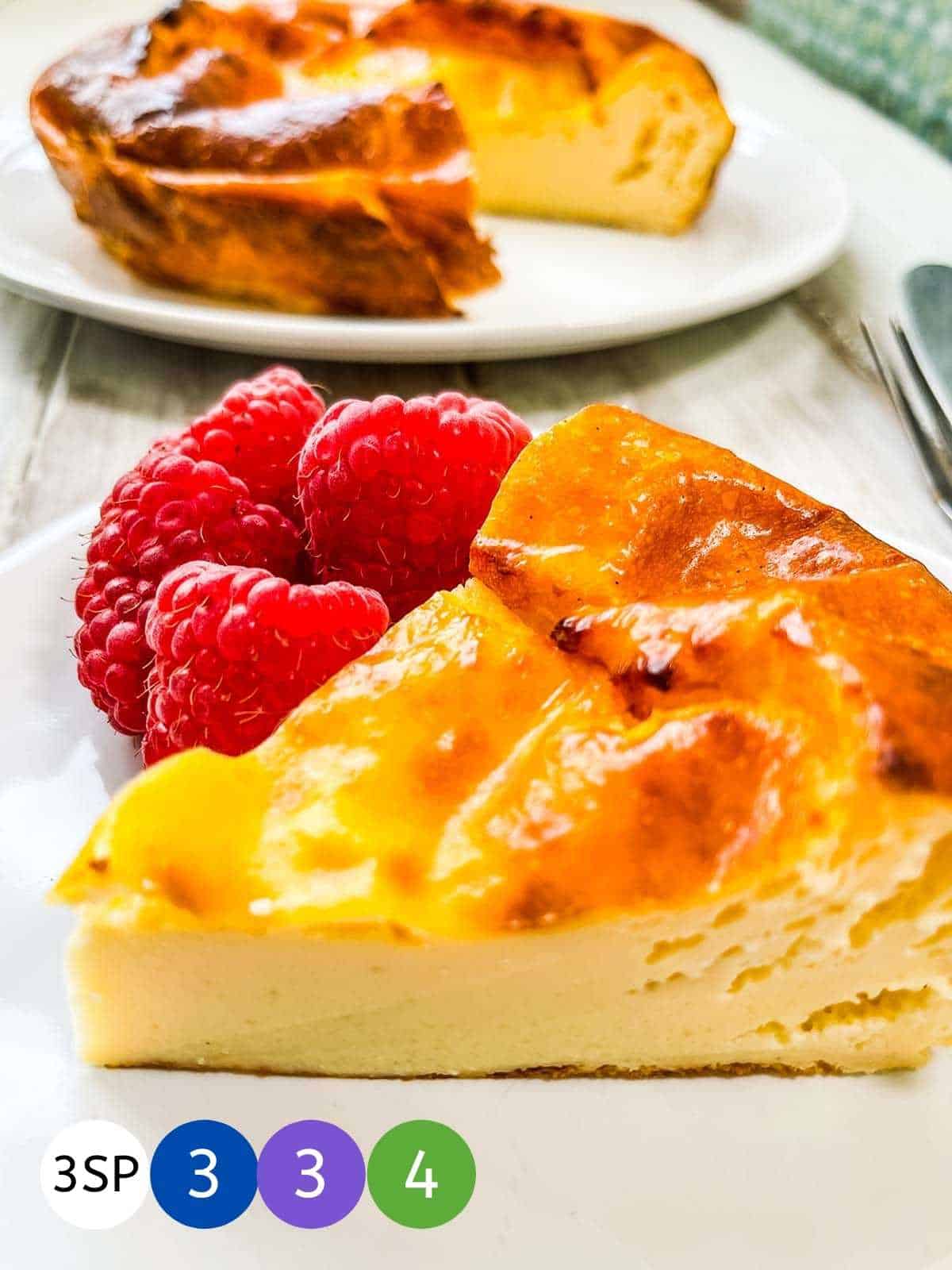 More Weight Watchers Dessert Recipes
If you liked this Weight Watchers Yogurt Tart and are looking for more WW friendly desserts then you're in luck!
How about this easy and tasty Pistachio Crunch recipe!
These Jello Grapes are hugely popular and are zero Points on all plans.
Or, how about these sweet Custard Tarts - they are a firm favourite of mine and work out low in Points, whichever plan you follow!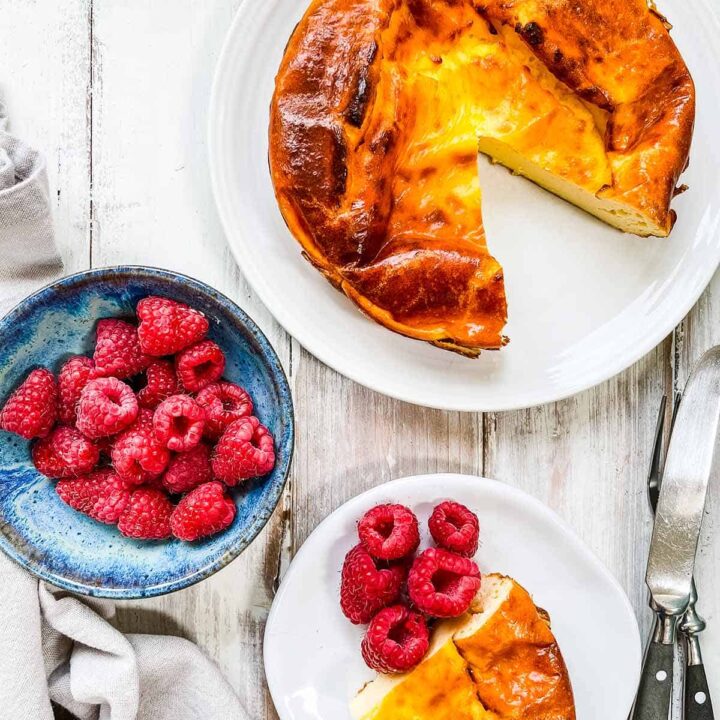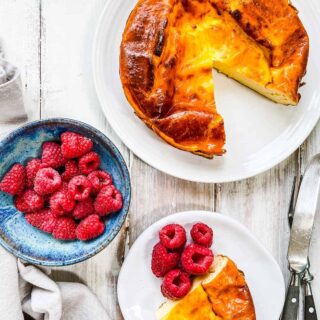 Yogurt Tart | Weight Watchers
This vanilla flavored yogurt tart is a great dessert option for anyone following the Weight Watchers program.
Ingredients
1 ½

cups

fat free vanilla flavoured yogurt

(400g)

4

eggs

1

tsp

vanilla extract

⅓

cup

cornstarch / cornflour

(40g)

Rasperries
Instructions
Preheat the oven to 170°C / 340°F

Line a 7 inch round baking dish with parchment paper - see above if you need help on how to do this!

Place the yogurt into a medium sized bowl.

Add the eggs two at a time and whisk in to the yogurt mixture.

Add the vanilla and whisk.

Add the cornstarch and whisk until you have a smooth, lump free batter.

Carefully pour the batter in to your prepared dish.

Place in the centre of the oven for about 45 minutes to 1 hour or until the tart has puffed up and turned a lovely golden brown colour. It should still have a slight 'wobble' in the centre!

Remove from the oven and set aside to cool at room temperature for 30 minutes.

Remove from the dish and place the tart on a plate and chill in the fridge for a further 60 - 90 minutes.

Slice into 6 equal portions and serve cold with berries or a spoonful (or two!) of sugar free jelly (jam!).
Notes
The tart will puff up a lot when baking. When removed from the oven the tart will 'deflate' but this is normal!
Nutrition
Nutrition Facts
Yogurt Tart | Weight Watchers
Serving Size
1 /6 of tart
Amount per Serving
% Daily Value*
* Percent Daily Values are based on a 2000 calorie diet.