This delicious Zero Point Chili is a perfect Weight Watchers dinner recipe if you are looking for a tasty and filling meal but haven't got the Points to spare.
Please be aware that this post was written prior to Weight Watchers changing to the WW Personal Points Plan! You can discover exactly how many Personal Points this recipe will be for you by clicking on the blue 'WW Personal Points' button in the recipe card below.
If you still follow one of the old plans, then it is zero SmartPoints on Weight Watchers Freestyle plan, myWW Blue plan & myWW Purple plan. It's 4 SmartPoints on myWW Green plan.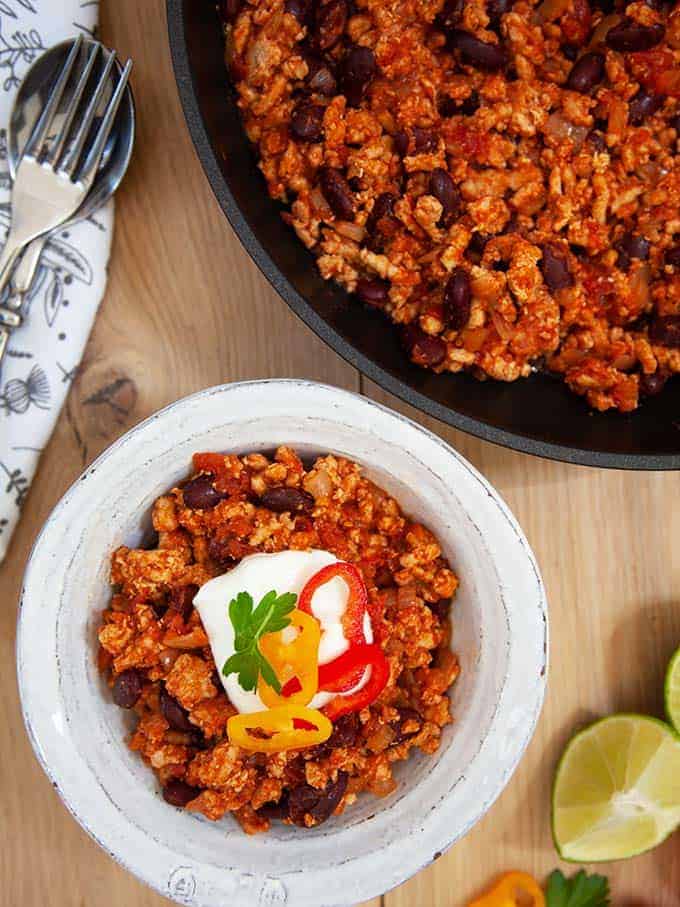 It is easy to make and can be batch cooked and frozen in single sized portions for a quick Zero Point meal any day of the week.
It's made with ground turkey breast but could easily be made with ground chicken breast if you prefer.
The addition of kidney beans and chili flavourings make it a flavoursome and filling zero point meal.
Creating a good Weight Watchers dinner recipe is extremely satisfying but creating one that is Zero Smart Points and really very tasty is beyond satisfying!
I've been playing around with Chili recipes (cos who doesn't love a good Chili) but I had been struggling to figure out how to make it zero Smart Points.
Browning any ground meat usually means frying it (& the onions etc) in quite a bit of oil and that obviously hikes up the Smart Points in a recipe.
Using minimal oil always runs the risk of the meat and onions etc sticking to the bottom of the pan and burning.
But just recently I saw an article about browning off ground meat in the oven (without oil) so I decided to give it a try.
And guess what? It turned out really well.
This meant that the only oil that I needed to use for this recipe was a little bit of calorie controlled spray oil to soften the onions!
So the only Smart Points in this recipe if you are on the Freestyle plan or the myWW Blue or Purple plan comes from the stock cube (bouillion cube) and the tomato paste (tomato puree).
What a result!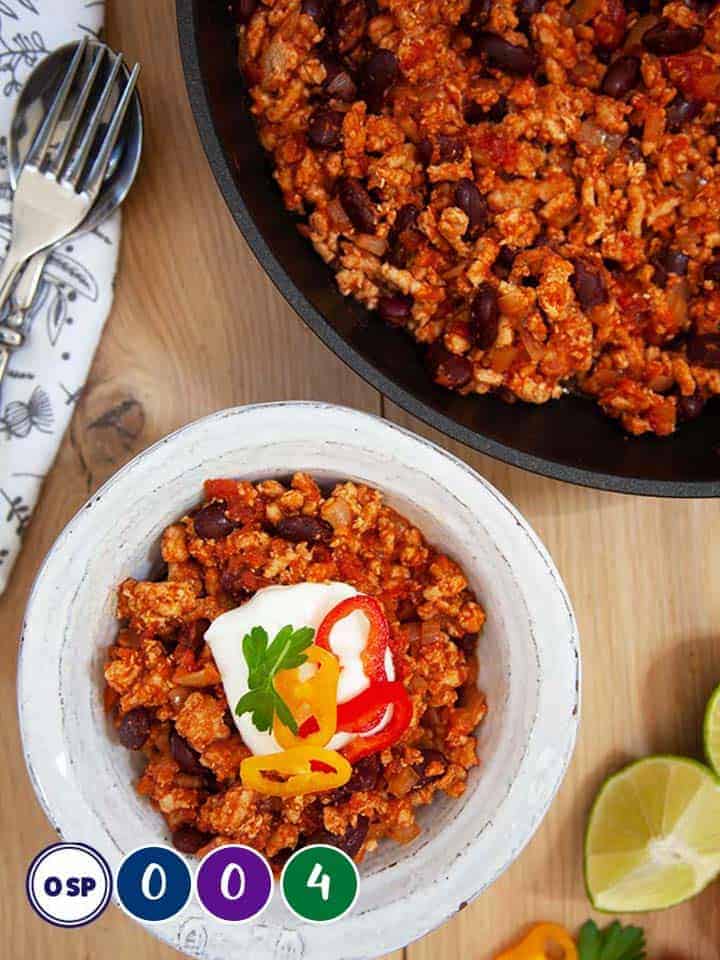 How many SmartPoints in Turkey Chili?
Weight Watchers changed their program at the end of 2019. It now includes 3 individual plans, giving anyone following the WW program lots of choice about how they use their SmartPoint allocation.
Using the official WW recipe builder I have worked out the SmartPoints for this Turkey Chili for each of the plans.
Freestyle Plan - 0 SmartPoints per portion
myWW Blue Plan - 0 SmartPoints per portion
myWW Purple Plan - 0 SmartPoints per portion
myWW Green Plan - 4 SmartPoints per portion
Other Zero Point Recipes.
I really enjoy this zero Smart Point Chipotle Chicken Casserole and make it a lot during the winter for a warming, quick and easy dinner.
These zero Smart Point Butternut Squash Falafels are also really good and can be served with this Zero Point Tzatziki and some low point flat breads.
If you are looking for zero Smart Point dessert, you really can't go wrong with this Fluff!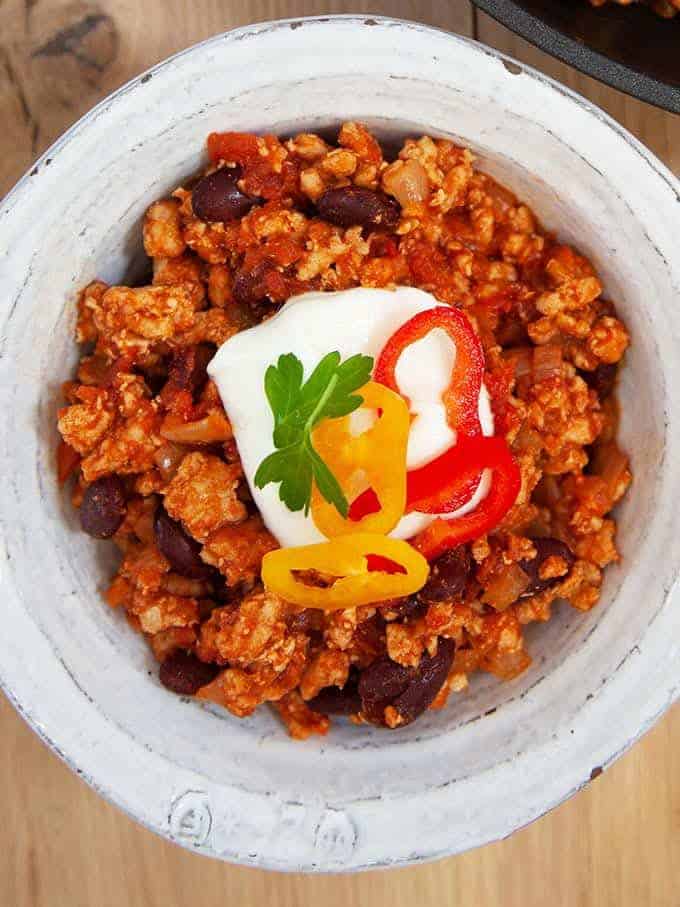 Is ground Turkey free on Weight Watchers?
Yes ground turkey breast is free on the Weight Watchers Freestyle plan or on the myWW Blue or Purple plans. Ground chicken breast is also free on these Weight Watchers plans.
Just make sure that you use ground meat that uses only the breast meat.
Using ground chicken or turkey that includes thigh meat etc will increase the Smart Point value of this recipe to 5 Smart Points per portion.
Tips for making Zero Point Chili
As I mentioned above, I browned the ground turkey in the oven before adding it to the other ingredients.
Cover a baking tray with grease proof paper and layer on the ground turkey, breaking up any larger pieces of meat.
Place in a preheated oven and cook for 20 - 30 minutes, stirring every 8 - 10 minutes until it has browned and no pink meat is left.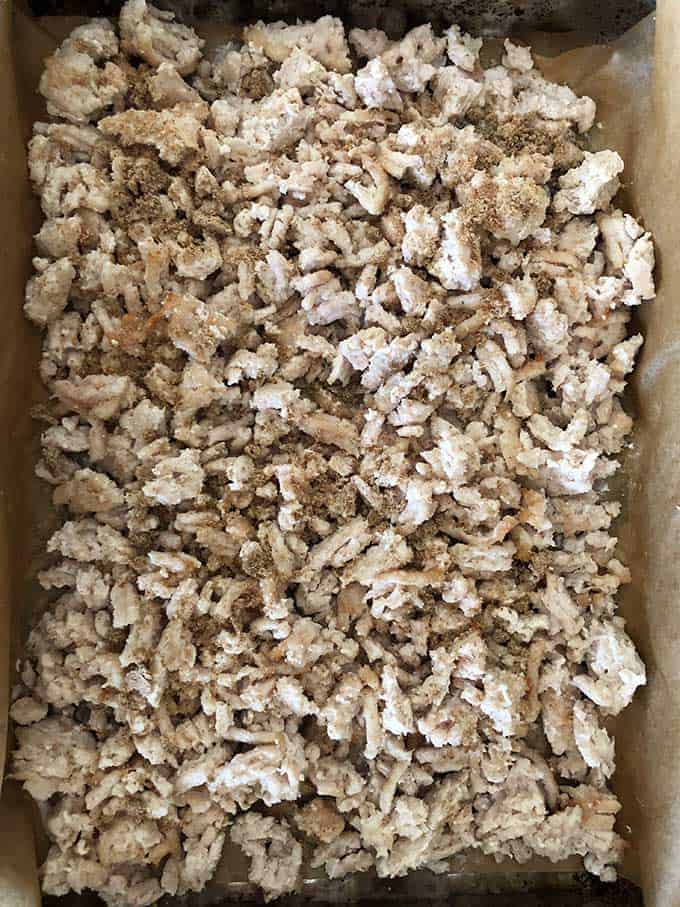 How hot you make your chili is up to you. I prefer a chili that packs a bit of a punch but I have made this chili recipe a little milder. If you like your chili hot add a little more dried chili flakes.
The consistency of chili is also very much a personal preference. I tend to make mine a bit on the drier side as I don't like lots of excess liquid. If you prefer a wetter chili then don't reduce the sauce as much.
I used a beef stock cube (bouillion) in this recipe to give it a more meaty flavour. However, use a chicken stock cube or even vegetable stock cube if you prefer.
This post contains affiliate links. As an Amazon Associate I earn from qualifying purchases. Visit this page to see what that means.
Can you freeze this Chili
Yes! This Zero Point Chili freezes really well and will keep in the freezer for 2 - 3 months.
Just make sure that you defrost the chili fully before heating.
It is also important that you reheat the chili till it is steaming hot throughout before serving.
Why not freeze it in single sized portions so you can grab a zero Point meal any day of the week?
These reusable freezer pouches are great for storing individual portions of food safely.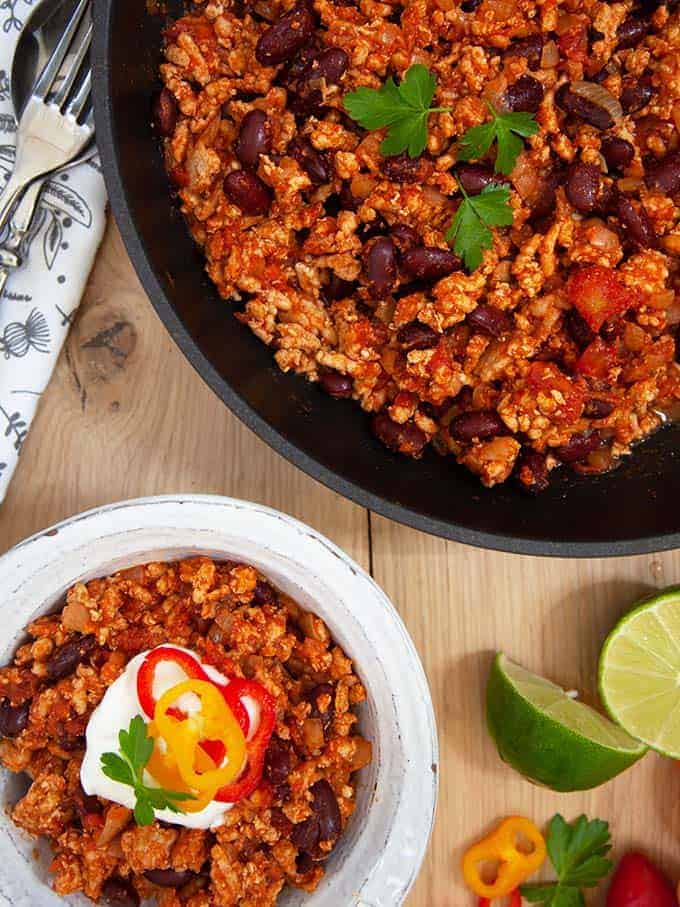 How to serve this Zero Point Chili
Serve with a small portion (40g - dry weight) of easy cook white rice for 4 Smart Points or with a medium portion (60g - dry weight) for 6 Smart Points (Freestyle & myWW Blue plan).
If you are following the myWW Purple plan you are able to serve this Chili with a portion of brown rice for no extra SmartPoints.
Top a spoonful of fat free natural yogurt and some sliced pepper.
Spoon into a medium sized jacket potato (160g) for 7 Smart Points (Freestyle & myWW Blue plan).
If you are following the myWW purple plan potatoes are now zero points.
Serve with zero point cauliflower rice for a zero point meal.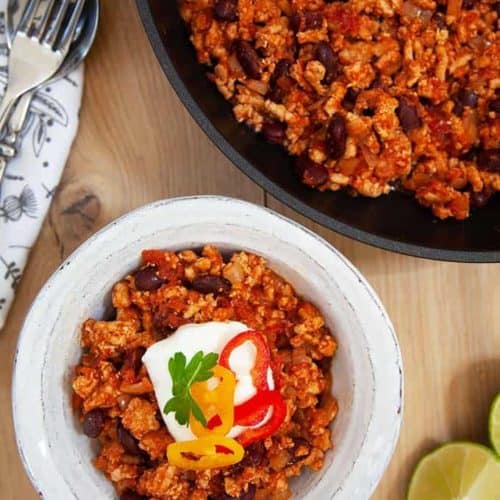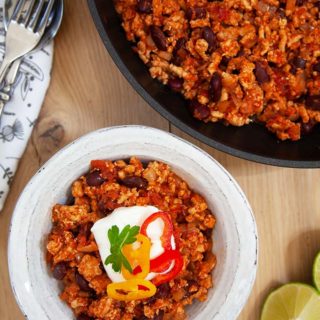 Zero Point Chili | Weight Watchers
This tasty Zero Point Chili is free of Smart Points on Weight Watchers Freestyle plan. It is also zero points on the myWW Blue & Purple plans. It is 4 SmartPoints on the myWW Green plan. A quick, flavoursome and filling Weight Watchers dinner recipe.
Ingredients
2¾

cups

ground turkey breast / turkey breast mince

(600g) 2 ¾ cups

2

medium sized onions - chopped

3

garlic cloves - chopped finely

Calorie controlled spray oil

½

tsp

ground cumin

¾

tbsp

paprika

¼ - ½

tsp

dried chili flakes

½

tsp

ground black pepper

1

beef stock cube/ bouillon cube

made up with 2¼ cups / 500ml boiled water

1

can

tin chopped tomatoes

1 x 400g can

¾

tbsp

tomato paste / tomato puree

1

can

kidney beans

1 x 400g can - drained weight 240g
Instructions
Preheat the oven to 200°C / 180°C fan / Gas 4

Line the bottom of a baking tray with parchment paper / grease proof paper. Layer on the ground turkey and cook on the middle shelf for 20 - 30 minutes. Stir every 8 minutes or so, breaking it up if need be, until it has cooked through, is browned and no pink meat is left.

Whilst the turkey is cooking, chop the onions and garlic.

Spray a large non stick skillet / frying pan with calorie controlled cooking spray. Add the chopped onions and over a medium/low heat saute the onions until they start to soften and brown. It they start to stick to the bottom of the pan add a couple of tablespoons of water. It should take 5 minutes or so for the onions to soften.

Add the chopped garlic and saute for a further 1 - 2 minutes making sure that it doesn't burn.

Add the ground cumin, paprika, dried chili flakes and black pepper and stir to combine.

Add the beef stock, chopped tomatoes and the tomato paste, stir, turn up the heat and bring to the boil.

Add the drained kidney beans and the cooked turkey breast, stir and then reduce the heat to a simmer.

Simmer for 15 - 20 minutes, stirring occasionally until the sauce has thickened. For a wetter chili this should take 15 minutes - for a drier chili, it will probably take closer to 20 minutes.

Serve with fat free yogurt and some sliced peppers.
Notes
Please be aware that the nutritional information below has been automatically generated and does not account for variations in product brands and types, weights of individual ingredients etc. It should therefore be considered as an estimate.
PointedKitchen.com has calculated Weight Watchers Smart Points based on the individual ingredients used to make this recipe and not from the following nutritional information.
PointedKitchen.com is not responsible for any loss or damage relating to your reliance on this nutritional information.
Nutrition
Nutrition Facts
Zero Point Chili | Weight Watchers
Amount per Serving
% Daily Value*
* Percent Daily Values are based on a 2000 calorie diet.