If you are looking for a simple to make, zero point chicken dinner then this Yogurt Chicken may be just what you are looking for.
The chicken breasts are marinated in a tasty yogurt & spice marinade, ensuring a succulent & tasty chicken every time!
Zero SmartPoints on the Weight Watchers Blue and Purple plan and 3 SmartPoint on the Green plan, this recipe really is simple to make and delicious too.
Please be aware that this post was written prior to Weight Watchers changing to the WW Personal Points Plan! You can discover exactly how many Personal Points this recipe will be for you by clicking on the blue 'WW Personal Points' button in the recipe card below.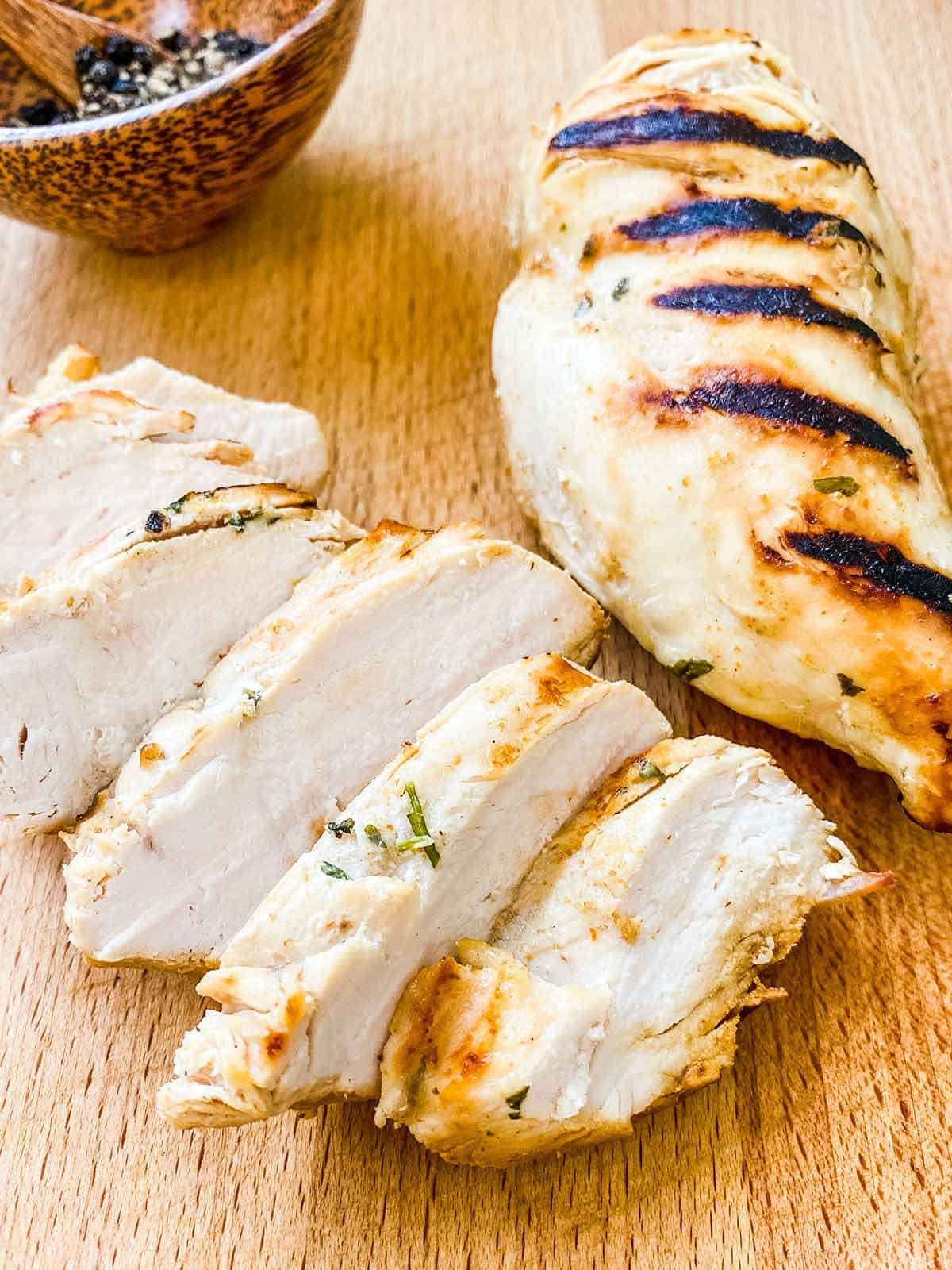 One of the big benefits of marinating the chicken in yogurt (apart from it being zero SmartPoints on Blue & Purple of course!) is that the marinade ensures that the chicken stays succulent!
It's said that the acid in the yogurt breaks down the protein in the chicken leaving the meat nice and tender and juicy.
The acid in the lemon juice will also help with this of course!
No dry dried up, tough chicken here then!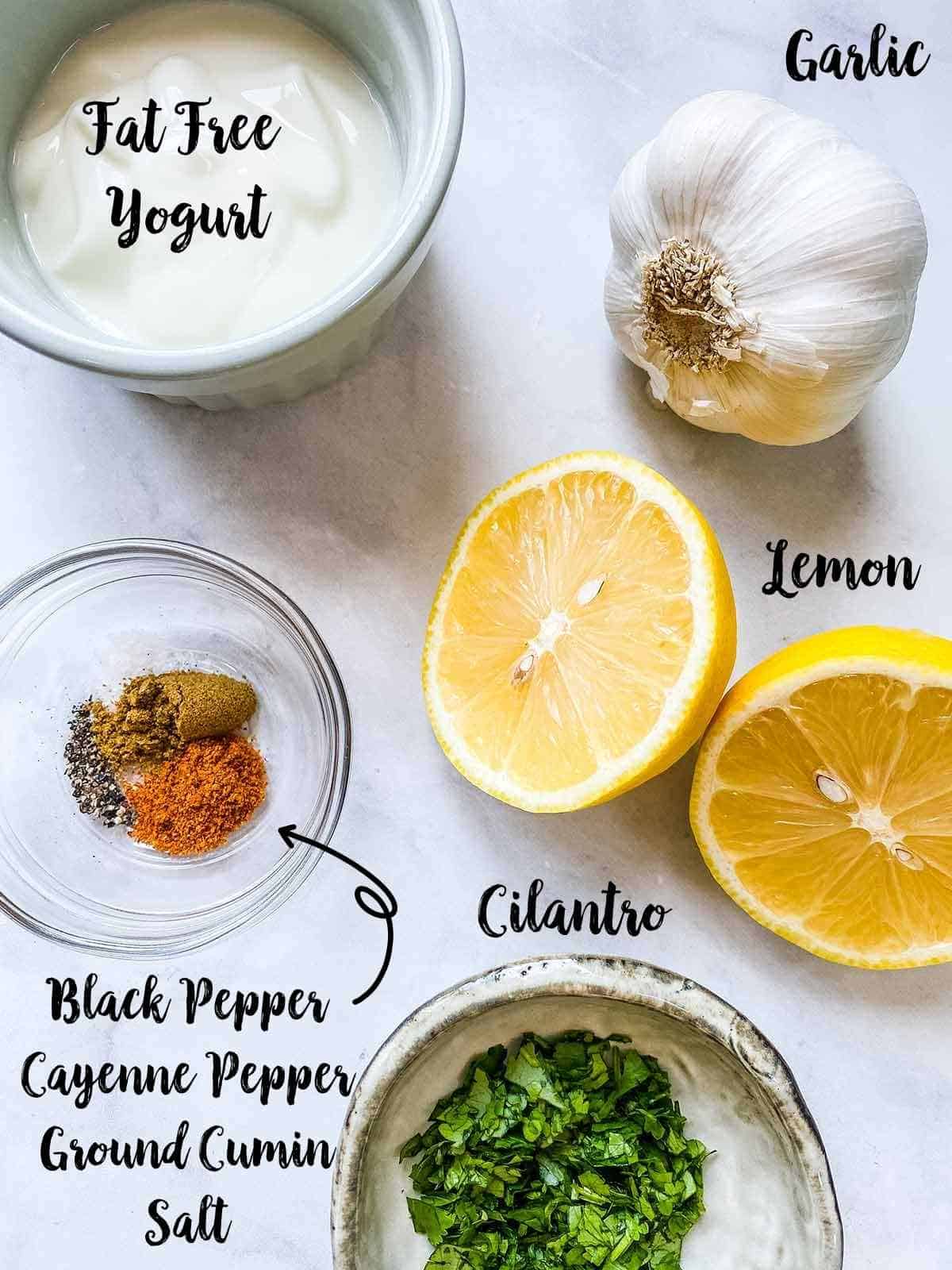 The yogurt marinade
The marinade is simple to make, with only a few ingredients.
I have made suggestions on the amount of cayenne pepper that I feel is adequate to give the marinade a bit of a 'kick' - but feel free to add a little more if you like spice!
You can use fat free natural yogurt or fat free greek yogurt in this recipe. I've used both with good results.
If you find that you have any left over yogurt mixture after marinating the chicken it's important that you're not tempted to use it at a later date. Throw it away! Reusing a marinade that has been in contact raw chicken & its juices is not safe to reuse.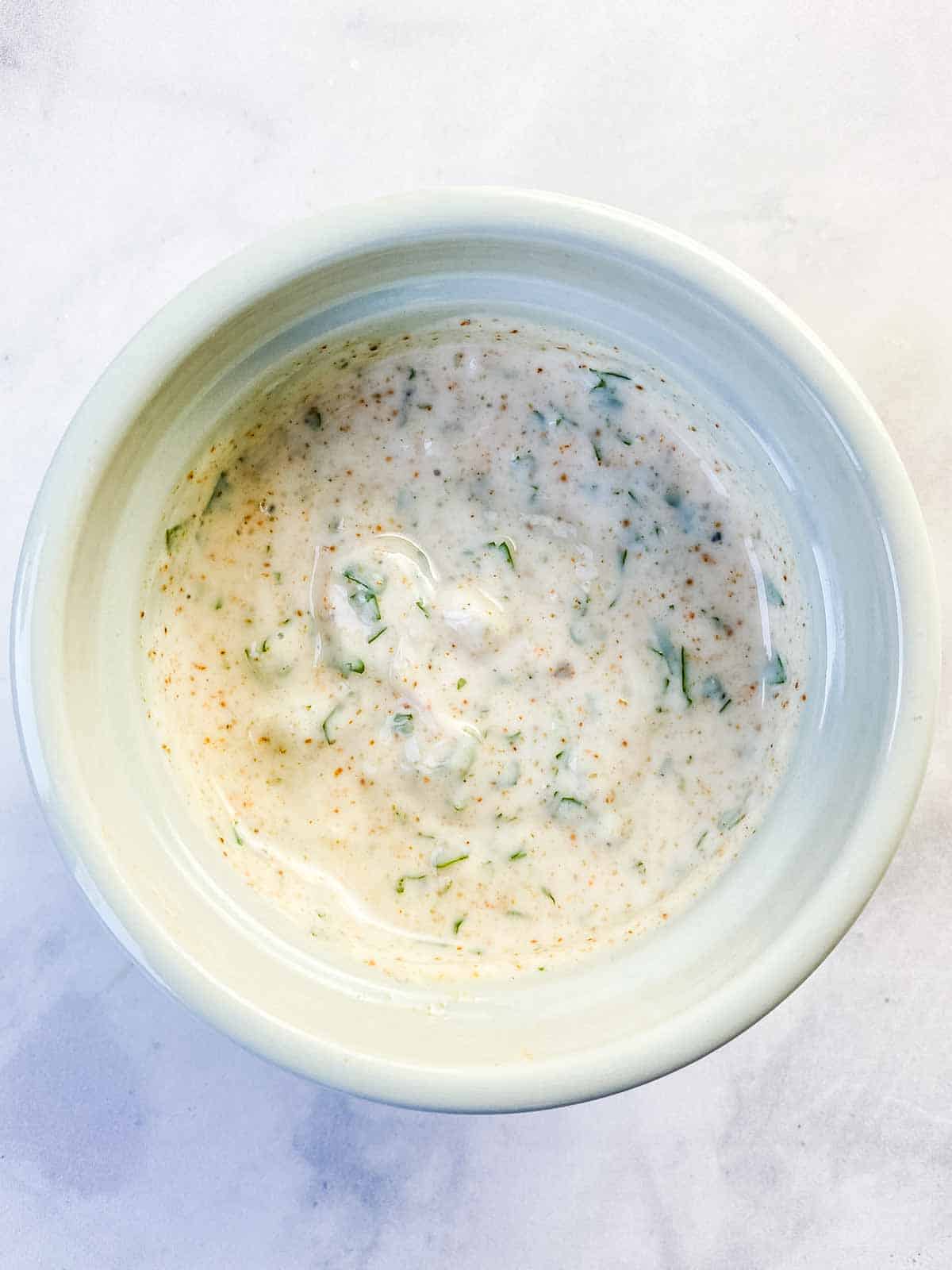 How to tenderise the chicken?
Although this is not strictly necessary, I do find that pounding the chicken helps to ensure that it cooks evenly. This is especially true when you have chicken breasts that aren't of equal thickness.
Place the chicken in a freezer bag, fold over the top & use the flat side of a meat tenderiser or a rolling pin to pound the chicken.
Don't overdo it - you don't want thin chicken breasts - just chicken breasts that are roughly the same thickness throughout. This will ensure that they cook evenly.
Unless you have made holes in the bag with your bashing you can just add the marinade and go on your way!
If there are holes or tears in the bag then place in a new bag before adding the marinade!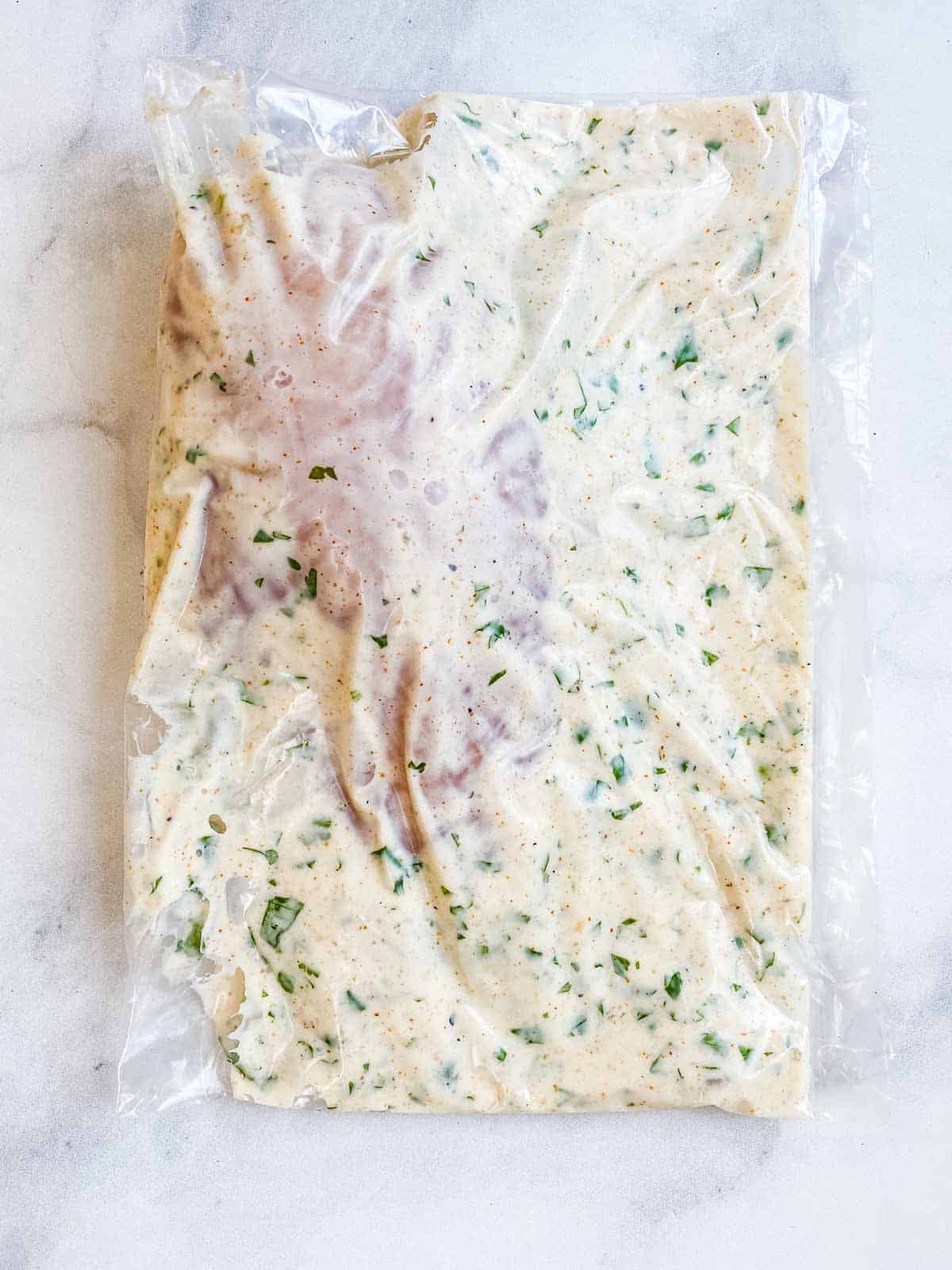 Serving suggestions
I like to eat this yogurt chicken, still warm, sliced on top of a green salad lunch but you can also serve it with a side of potatoes and vegetables for a filling dinner recipe.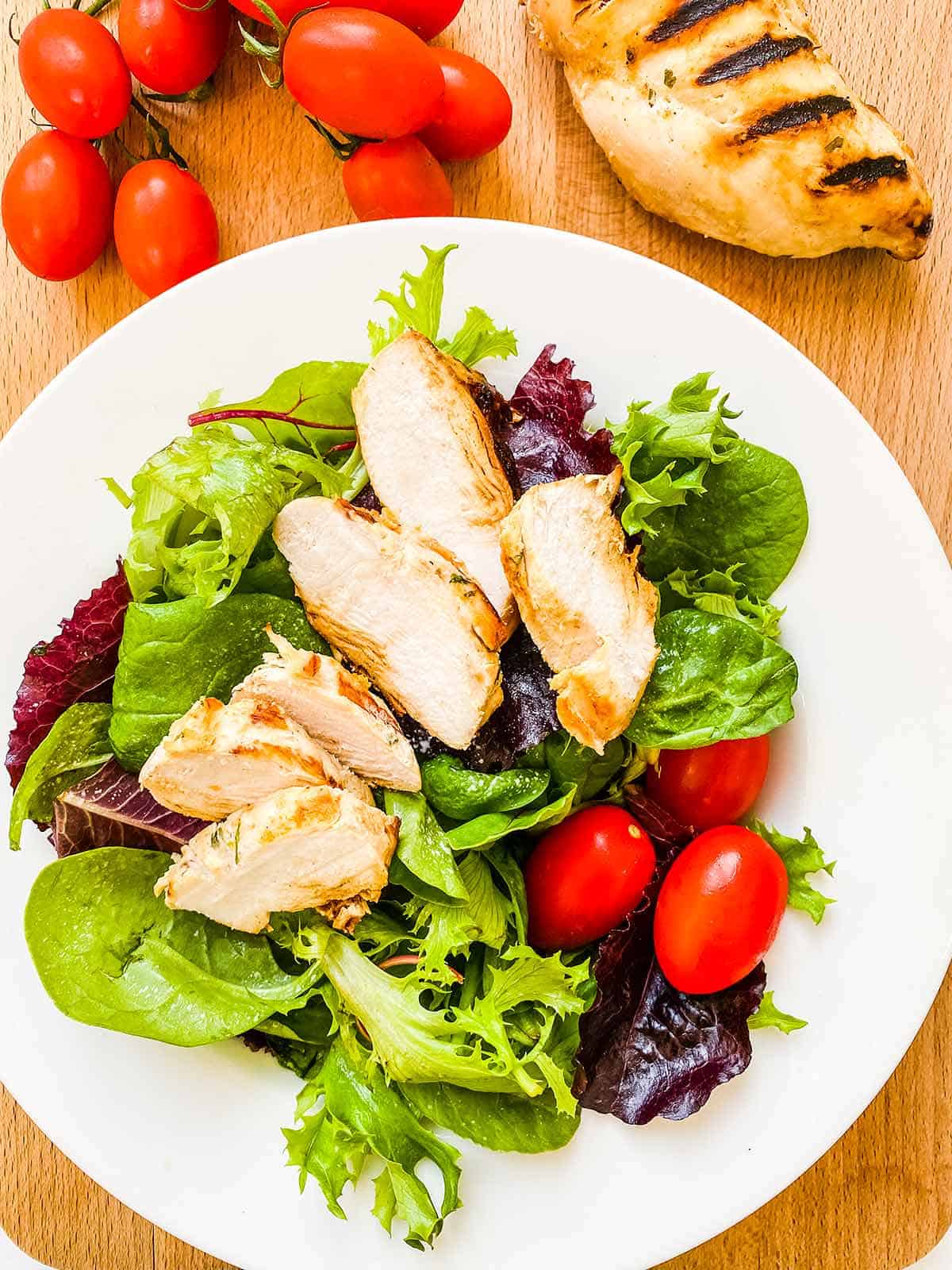 More WW Chicken recipes
If you are looking for more inspiration why not take a look at one of these Weight Watchers friendly chicken recipes!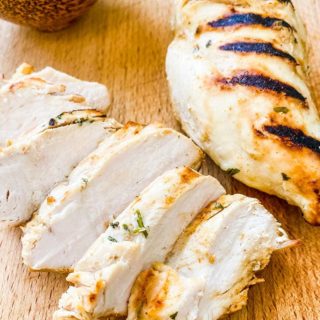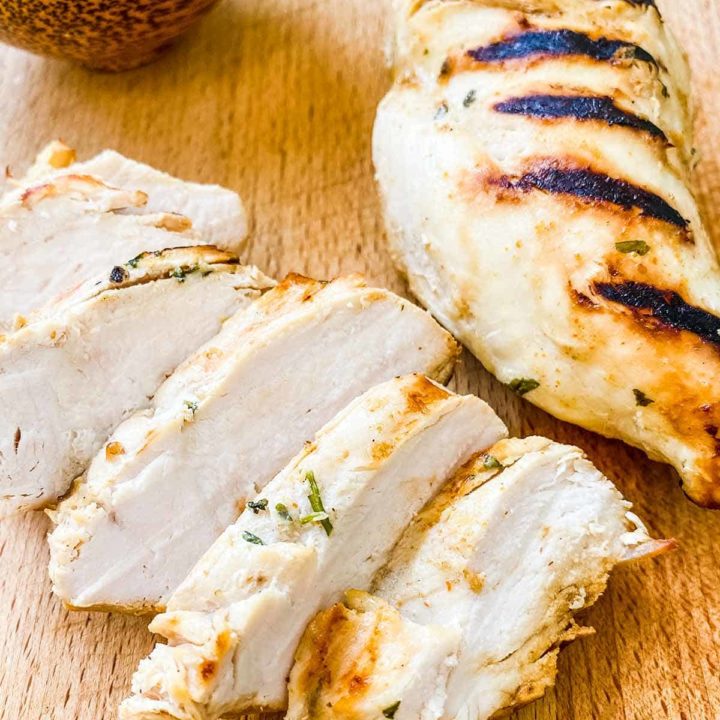 Yogurt Chicken | Weight Watchers
This succulent Yogurt Chicken is marinated in a tasty yogurt marinade, locking in lots of flavour and ensuring that the chicken stays lovely & tender! Zero SmartPoints on Weight Watchers Blue and Purple plan and 3 SmartPoints per portion on Weight Watchers Green plan.
Ingredients
2

medium

chicken breasts

no skin or bone

½

cup

fat free natural yogurt

(125g)

2

tbsp

fresh cilantro / coriander

finely chopped

2

tsp

lemon juice

1

clove

garlic

minced

½

tsp

cayenne pepper

more if you like it spicy!

½

tsp

ground cumin

1

pinch

of salt

½

tsp

ground black pepper
Instructions
Place the chicken breasts in a freezer bag, fold over the top and use a rolling pin or meat tenderiser to bash the chicken a little so it's roughly the same thickness. This ensures that the chicken will cook more evenly.

Set aside

Place the yogurt, chopped cilantro, lemon juice, minced garlic, cayenne pepper, ground cumin, salt and pepper into a small mixing bowl and combine.

Pour the marinade into the bag with the chicken (first making sure that you didn't make any holes in the bag when you tenderised the chicken & swapping to a new bag if you did!!).

Secure the bag, squidge the chicken around a bit to make sure the chicken in thoroughly covered with marinade and place in the fridge for at least 30 minutes (& overnight if required).
To Grill
If you are using a grill pan or an outside grill, lightly oil the grate with a little calorie controlled oil and heat to a medium to hot heat.

Use tongs to remove the chicken from the bag and place the chicken breasts on the the grate. Allow to cook until grill marks appear on the chicken breast about 4 - 5 minutes. Turn and repeat with the other side of the chicken breast.

If the chicken is sticking when you try to turn it the first time - leave it to cook for a little longer - it will come away easier from the grill once the marinade start to brown more!

The chicken needs to be THOROUGHLY cooked through and to reach an internal temperature of 165°F. This should take about 10 - 12 minutes but is very dependant on the size of your chicken breasts. It is important therefore to make sure that you check the temperature using a meat thermometer in the thickest part of the chicken breasts.

Let the chicken rest for 3 - 5 minutes before slicing and serving.
To Oven Bake
This recipe can also be oven baked (although it is my preference to use a grill pan!)

Preheat the oven to 400°F / 200°C

Place the chicken breasts in an oven proof dish and cover with the marinade.

Check the chicken breasts after about 15 minutes to make sure they are not browning too quickly - if they are you can always place some kitchen foil over the top to prevent this.

Cook for another 3 - 5 minutes.

Again, it is very important that your chicken breasts reach an internal temperature of 165°F to ensure that they are cooked. Check with a meat thermometer in the thickest part of the chicken breast.

Let the chicken rest for 3 - 5 minutes before slicing and serving.

Notes
Throw away any left over marinade - it should not be used again.
Nutrition
Nutrition Facts
Yogurt Chicken | Weight Watchers
Amount per Serving
% Daily Value*
* Percent Daily Values are based on a 2000 calorie diet.