This Shawarma Chicken is adapted from a Nigella Recipe to make it more Weight Watcher Friendly. Serve it on low point flatbreads or wraps for a delicious 6 Smart Point Weight Watchers dinner (Blue & Purple plan).
It works out at 8 SmartPoints per portion if you are following the Green plan.
The tasty Sharwarma Chicken dish is made by marinating chicken in a spicy sauce, before oven roasting it. It is then shredded and served on flatbreads or wraps with lettuce and a dollop of a tasty, creamy tahini sauce.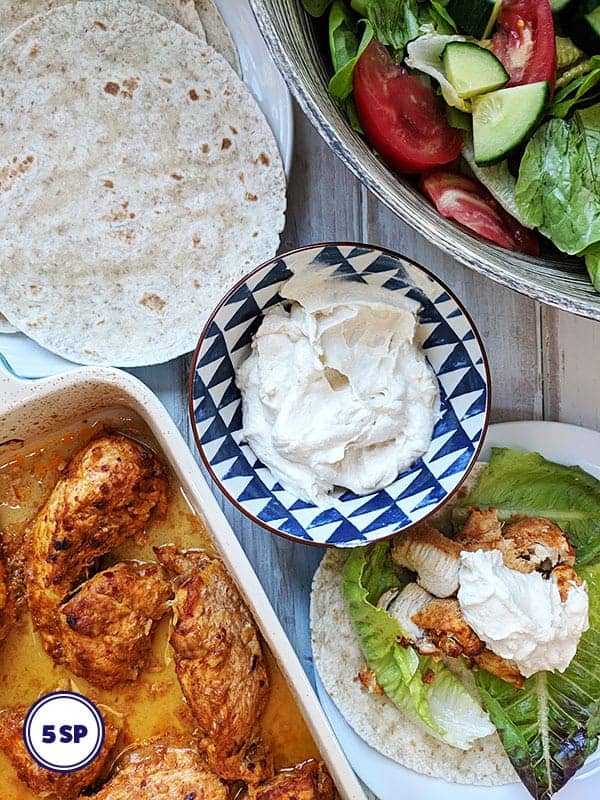 Are you obsessed by food?
I am!
A self confessed food addict, I read books about food, watch programs about food and obsessively search the internet for recipes and new food ideas!
I even love food shopping!!
So, it was on one of my internet searches that I came across Nigella's recipe for Oven-Cooked Chicken Shawarma.
I wanted to make it more Weight Watchers friendly. I'd pointed it and it came to an eye watering 16 Smart Points per portion and that was without the flatbread!
I made some changes to the recipe and came up with this, which is tasty and filling and has far fewer points than the original 😀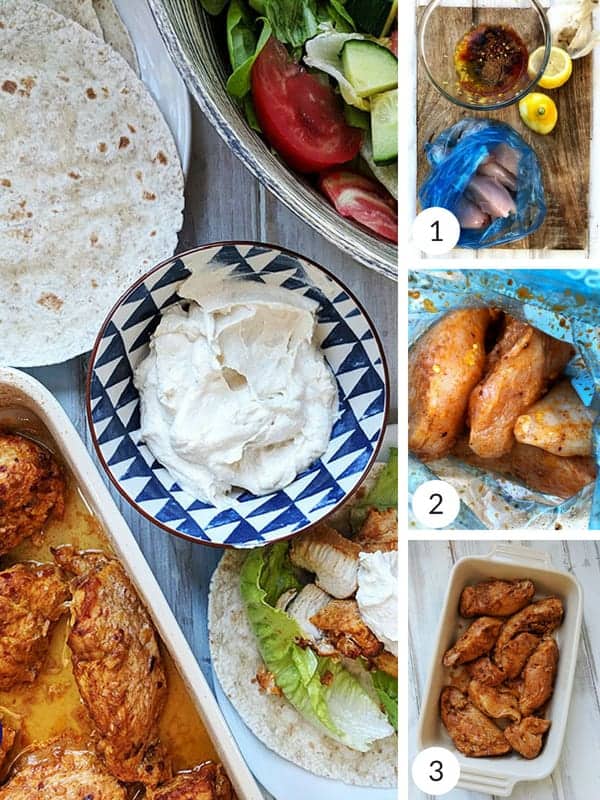 Tips for making this recipe
Grate the lemon into a bowl and add the lemon juice, garlic, oil and spices and give it a good whisk to combine (see pic 1)
Place the chicken pieces in a plastic bag, pour in the marinade (see pic 2) and tie the bag to secure. Give it a good massage and leave it in the bag, in the fridge, for at least 6 hours.
Once the chicken breasts have marinated, place them in a ovenproof dish so that they sit side by side without overlapping (see pic 3). I find that the chicken is more succulent (& less likely to dry out when cooking) if you place it in a smaller dish close together, rather than a larger dish spaced out!
Looking for more chicken recipes?
This post contains affiliate links. As an Amazon Associate I earn from qualifying purchases. Visit this page to see what that means.
What I used make this Shawarma Chicken
I used my trusty Le Creuset dish, which has a glazed interior. The glaze acts like it is non-stick so it's perfect for an easy clean up! They are available from Amazon.
I used Weight Watchers White Wraps. They are 3 Smart Points per wrap.
What Wraps / Flatbreads can I use?
In the USA
Flat Out Fold it & Flat Out Hungry Girl Flatbreads are available in major stores - 2 & 3 Smart Points per flatbread
Xtreme Wellness High Fibre Low Carb Tortillas are available in major stores & from Amazon here - 1 Smart Points per wrap (reduce recipe to 3 Smart Points per portion)
In the UK
[Post has been updated to reflect changes as some products no longer available in UK]
Deli Kitchen Seeded Flatbread thins available from major UK stores - 3 Smart Points per flatbread
Tesco, Sainsbury and Morrisons all do own brand folded seeded flatbreads - 3 Smart Points per flatbread
Deli Kitchen Skinni Tortilla Wraps and Weight Watcher White Wraps - 3 Smart Points per wrap
How to serve this Shawarma Chicken
Serve the chicken shredded on a warmed flatbread or wrap, with some shredded lettuce and a dollop of creamy tahini sauce.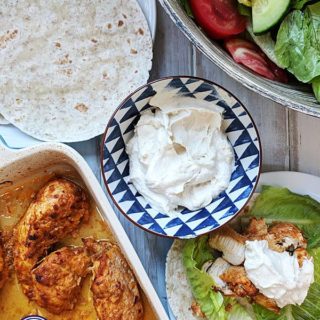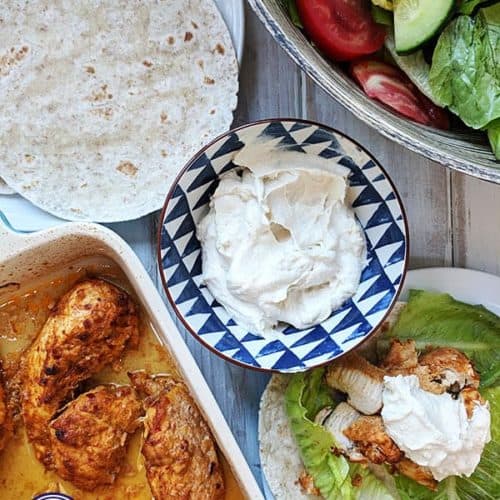 Shawarma Chicken | Weight Watchers
This tasty chicken dish is served on flatbread or wraps with a creamy tahini sauce. It is 5 Smart Points per portion on Weight Watchers Freestyle / Flex program.
Ingredients
4

chicken breasts

(skinless and boneless)

1

lemon

zest and juice

1

tbsp

olive oil

2

garlic cloves

minced

1

tsp

paprika

1

tsp

cumin

½

tsp

ground coriander /cilantro

½

tsp

chilli flakes

1

pinch

ground cinnamon

1

pinch

ground nutmeg
For the tahini sauce
1

cup

fat free Greek yogurt

2

tbsp

tahini paste

1

garlic clove

minced

1

pinch

salt
To serve
1

shredded lettuce

4

tortilla wraps / flatbread

medium size tortilla
Instructions
Using a fine grater, grate the lemon zest into a small bowl. Squeeze in the juice of the lemon and add the oil, minced garlic, paprika, cumin, ground coriander, chilli flakes, ground cinnamon and ground nutmeg. Whisk to combine.

Place the chicken breasts in a large seal-able freezer bag. Pour over the marinade, seal the bag, mix around so that the chicken is nicely covered with the marinade. Place the bag in the fridge for at least 6 hours (or overnight if you prefer).

When you want to cook the chicken, preheat the oven to 220oC / 200oC Fan / Gas 7 / 435oF . Remove the chicken from the fridge and pour the chicken and marinade into a ovenproof dish that is just big enough to fit all the chicken breasts side by side (see pic 2). Place on the middle shelf of the oven for 30 minutes.

Whilst the chicken is cooking make the tahini sauce by combining the Greek yogurt, tahini paste, minced garlic and salt. Mix till well combined.

Check that the chicken is cooked through then remove it from the oven. Switch the oven off and place the flatbreads / wraps on the middle shelf for a minute or two, just to warm through. They can be warming whilst you shred the chicken.

Remove the flatbreads / wraps from the oven and serve immediately by placing some torn up lettuce on the flatbread / wrap and topping with the shredded chicken and a dollop of the tahini sauce.
Notes
Please be aware that the nutritional information below has been automatically generated and does not account for variations in product brands and types, weights of individual ingredients etc.  It should therefore be considered as an estimate.
PointedKitchen.com has calculated Weight Watchers Smart Points based on the individual ingredients used to make this recipe and not from the following nutritional information.
PointedKitchen.com is not responsible for any loss or damage relating to your reliance on this nutritional information.
Nutrition
Nutrition Facts
Shawarma Chicken | Weight Watchers
Amount per Serving
% Daily Value*
* Percent Daily Values are based on a 2000 calorie diet.