This Pumpkin Baked Oatmeal is easy to prepare, is low in Points and tastes fabulous. All the flavours of Fall in one tasty dish!
For those who have oatmeal as one of their Weight Watchers Zero Point foods, this dish is a real must. But even for those who have to track oatmeal, this recipe works out at a very reasonable 5 Points per generous portion.
You can check the how many Points it would be for you by clicking on the blue button in the recipe card!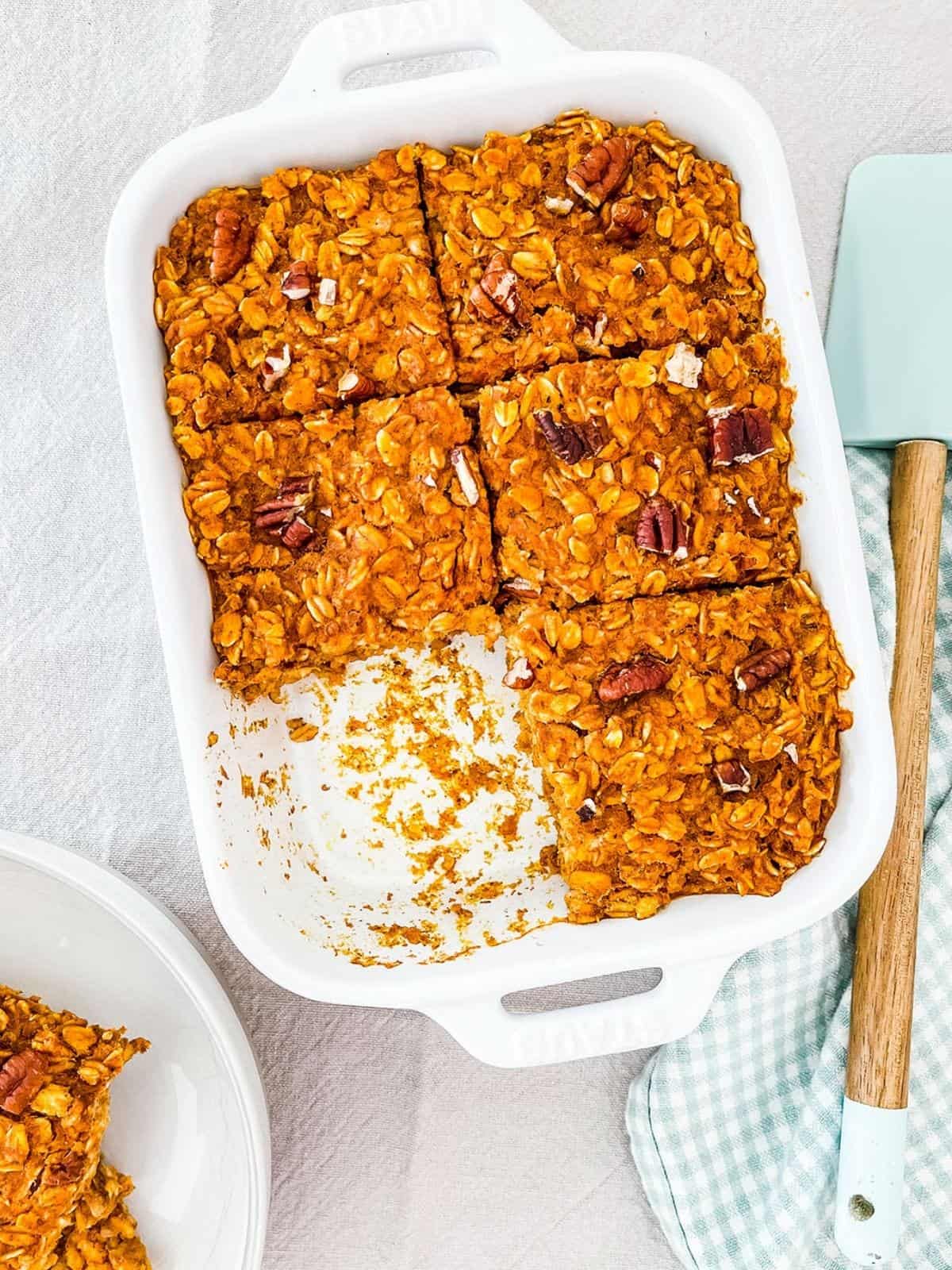 When I started on the Weight Watchers plan (a number of years ago), it quickly became apparent just how important it was for me to eat a filling breakfast.
Eating breakfast meant that I was far less likely to snack throughout the morning. Snacking had always been my downfall .... along with dessert! I would eat far more that I needed in a day in snacks alone.
But eating a filling breakfast curbed my 'need' to snack.
Oatmeal based dishes are a great way to fill you up. They are a good source of dietary fibre. This means that they may keep you satisfied longer than other breakfast cereals do. Oats are also said to contain cholesterol lowering properties. You can read more about the benefits of eating oats in your diet here.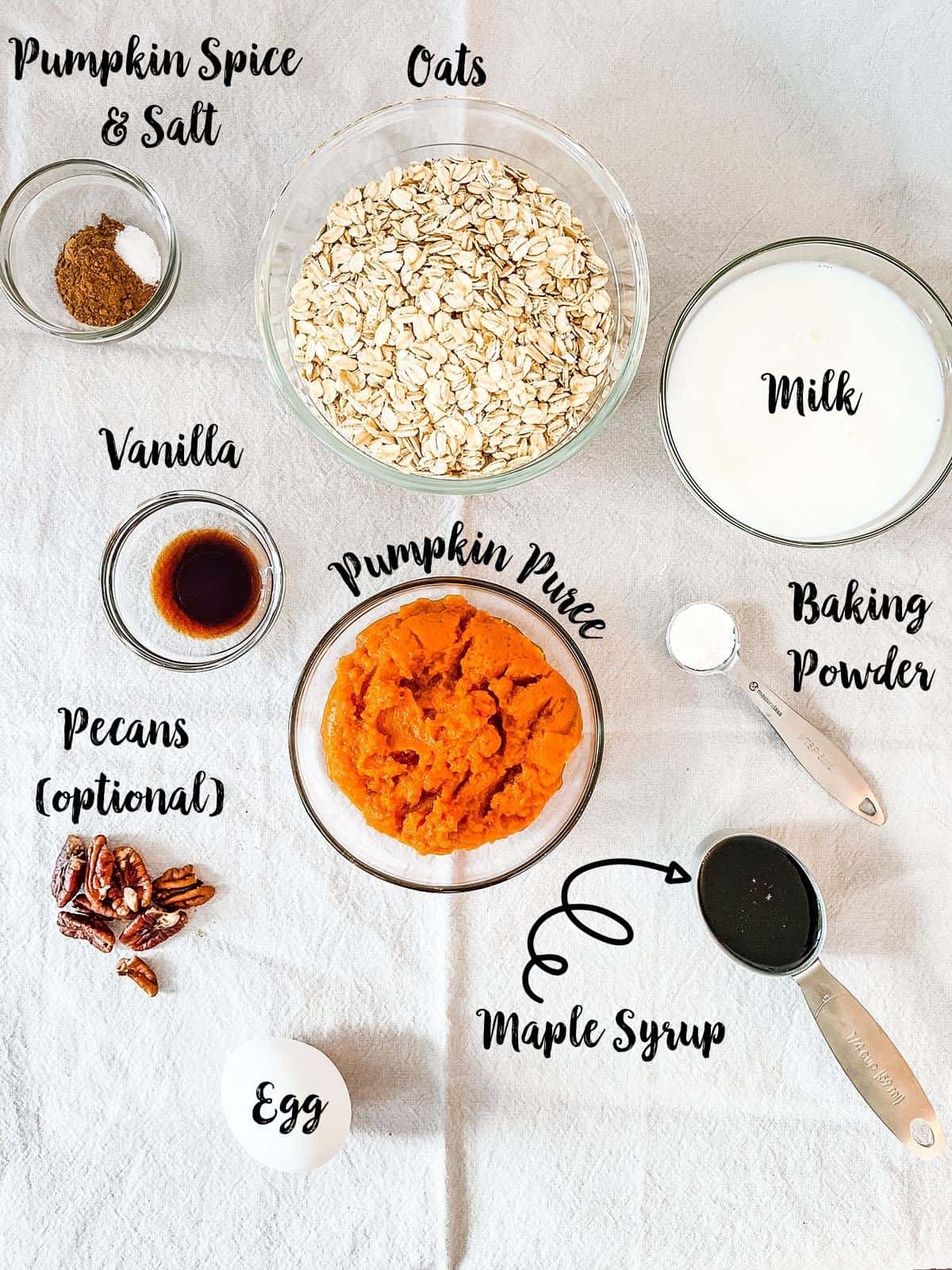 As I said in my intro, this Weight Watchers breakfast dish is like Fall in one tasty dish. To make this baked oatmeal I used
Old fashioned oats
Pumpkin puree
Pumpkin spice
Vanilla
Maple syrup
Baking powder & a little salt
Milk
Egg
Pecan nuts (optional)
But of course you don't have to wait till Fall to enjoy it. The spring is here for me right now & I have just finished a slice warmed through with a drizzle of maple syrup and a dollop of fat free yogurt - yum!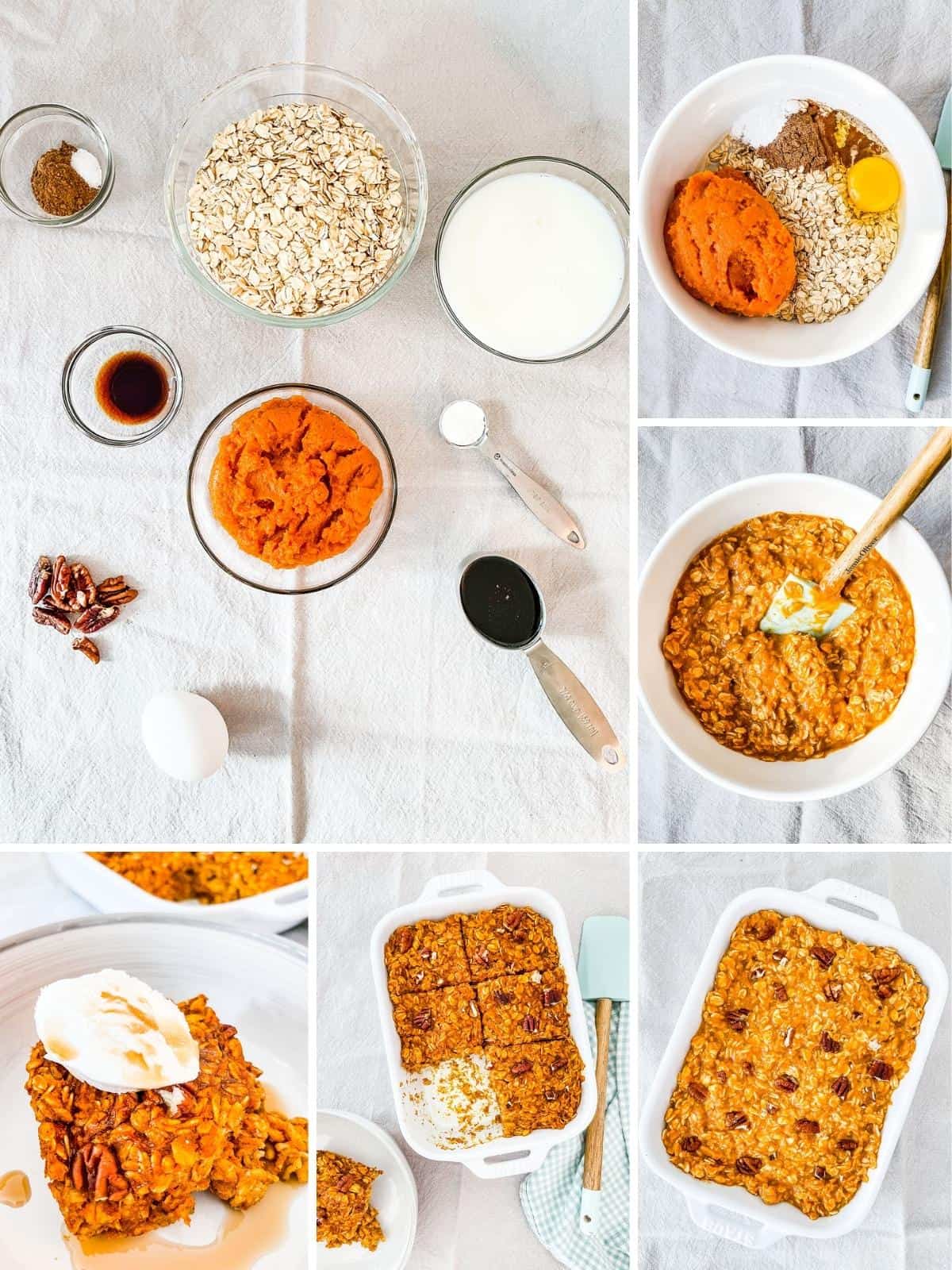 How to prepare Baked Oatmeal
It really is very easy to make! Just place all of the ingredients in a bowl (minus the pecans!) mix together thoroughly and spoon in to an oven proof dish.
You can then sprinkle the top with a few crushed pecans if you want to prior to baking.
The size of the dish that you bake the Pumpkin Baked Oatmeal in isn't too important either. For recipes such as this Baked Oatmeal with Apples I would suggest using the dish size I give in the recipe card, but for this recipe I have used different sized oven dishes all with good results.
If you use a dish that is around 9 inches by 6 inches then your baked oatmeal will be a little 'denser' than if you use a dish measuring 11 inches by 8 inches. I do adjust the time slightly when I bake the oatmeal in a larger dish.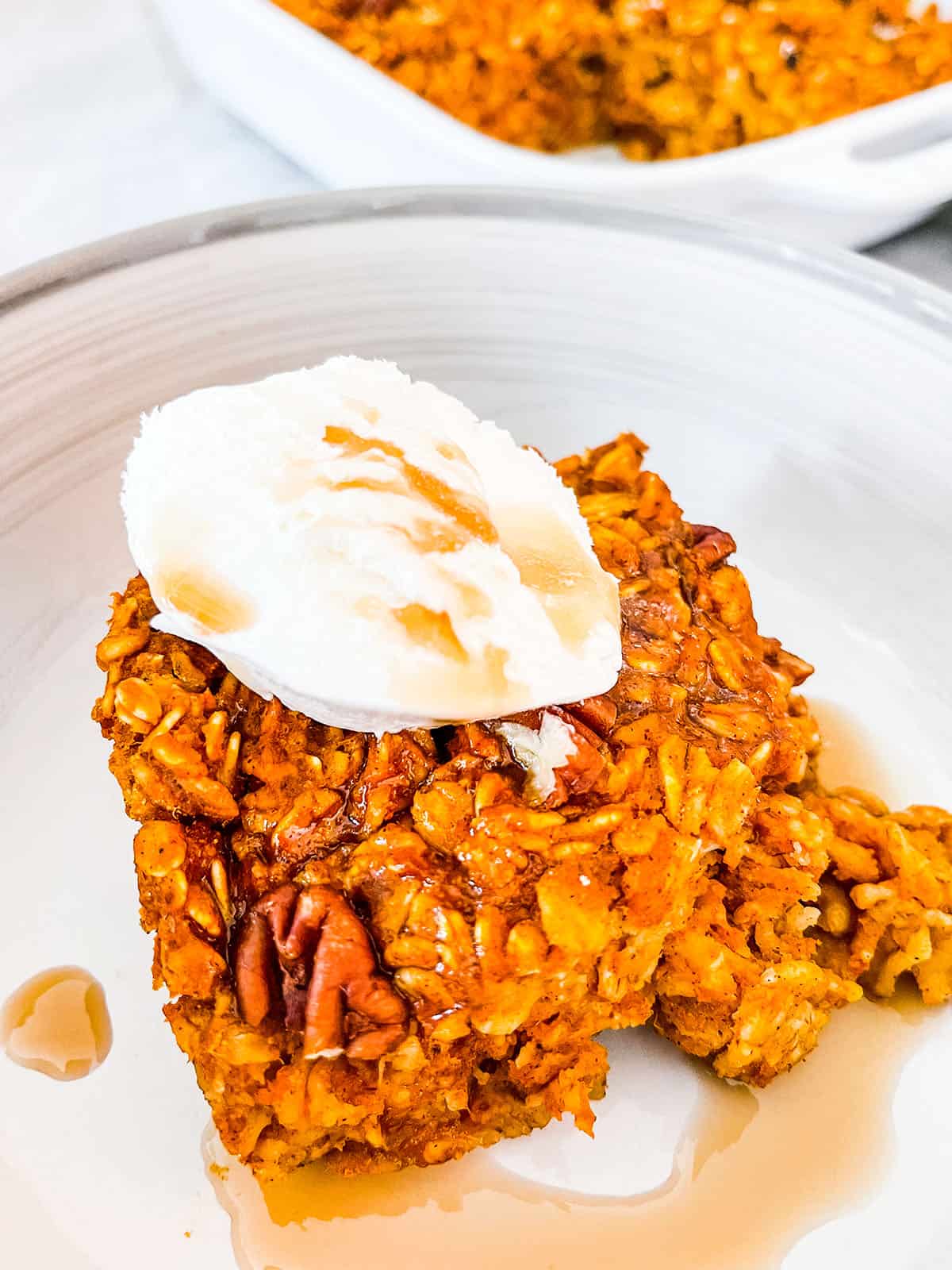 Can you freeze baked oatmeal?
This Baked Oatmeal with Pumpkin can be made ahead, baked then frozen.
You can bake the oatmeal, leave it to cool and then wrap the dish in plastic wrap before freezing. It will freeze for up to 3 months. Just defrost & reheat when you are wanting to serve it.
I like to bake a dish of this and then portion it up for an easy & quick breakfast any day of the week. I wrap the individual portions in plastic wrap and then I place them in the freezer.
It doesn't take long to defrost (which I sometimes do in the microwave) and then I heat it through.
How long does it keep in the fridge?
The baked oatmeal will keep in the fridge for a few days. It can be heated up in the oven or in the microwave.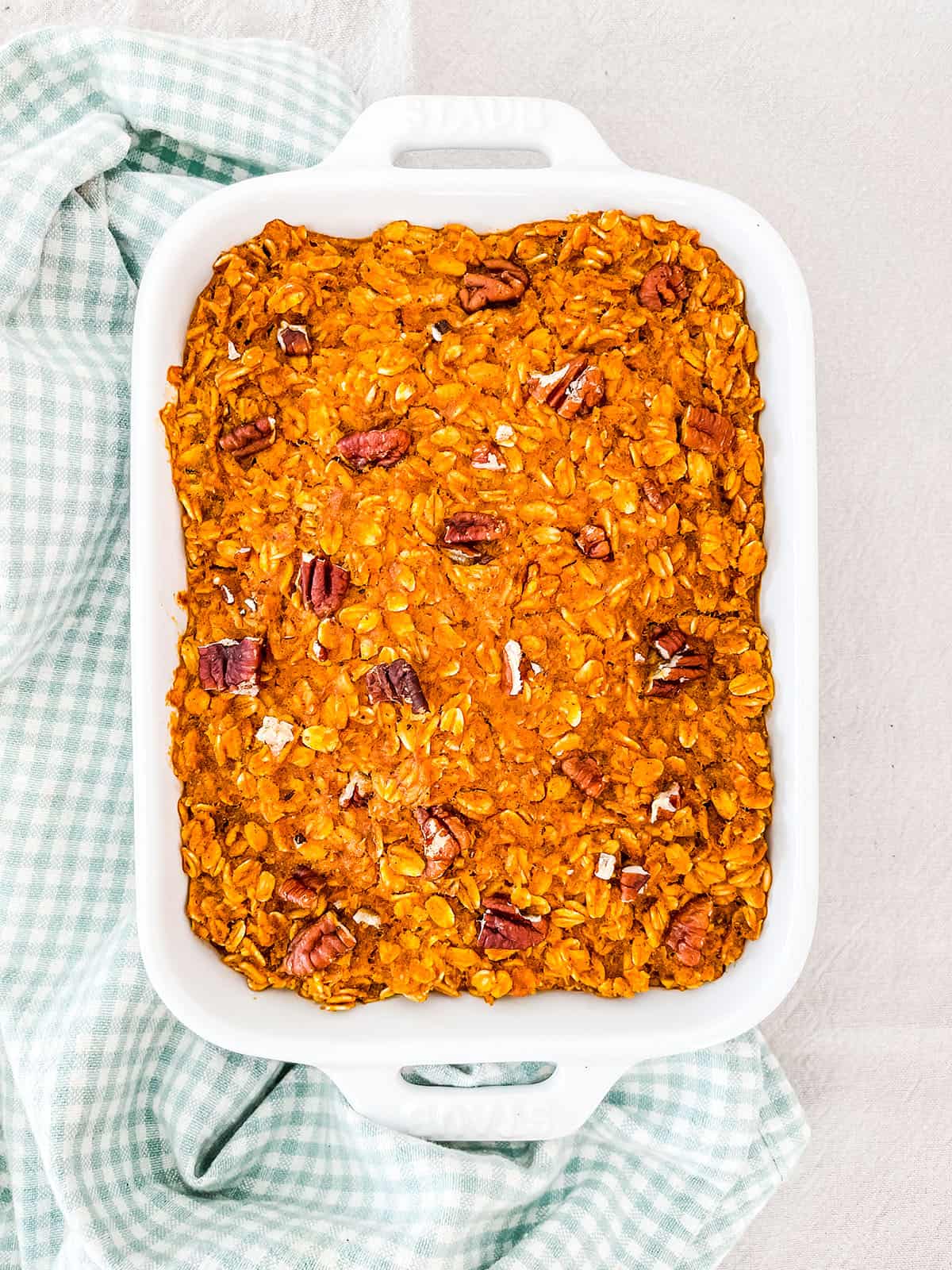 Serving Suggestions
I think this dish is best served warm.
I usually drizzle over a little maple syrup (1 Point for 1 teaspoon) and then spoon on some fat free Greek Yogurt.
Variations
If you click on the WW Personal Points button below (in the recipe card), you can make changes to the recipe and see how the points change for you!
You can swap out the maple syrup for honey (2 Personal Points more per recipe) or sweetener if you want to reduce the Points.
I use unsweetened almond milk in this recipe but you can use low fat milk if you prefer.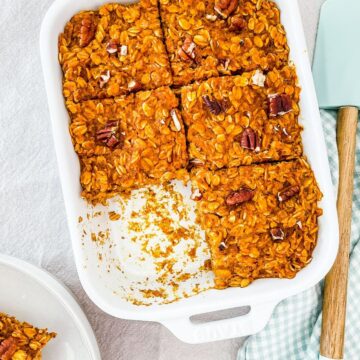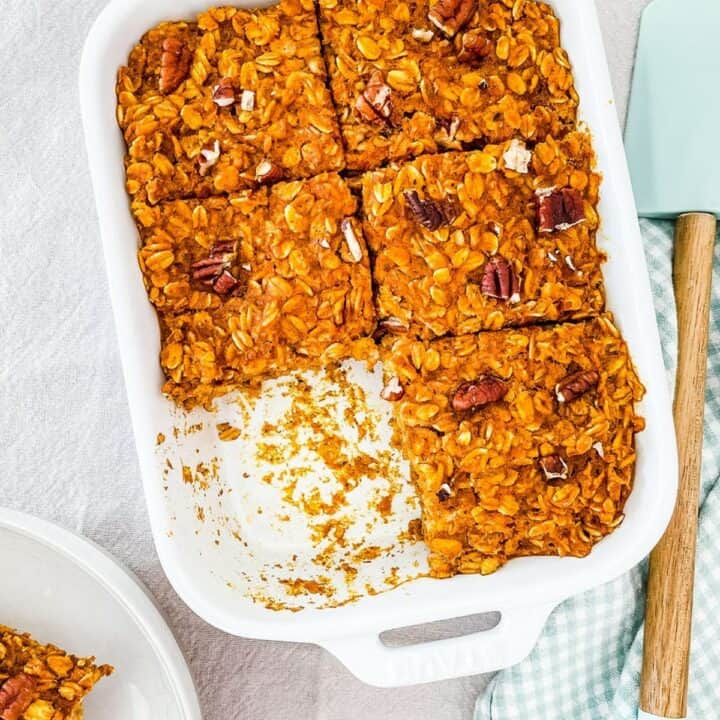 Pumpkin Baked Oatmeal
This simple to make Baked Oatmeal is made with pumpkin and maple syrup making it the perfect Fall recipe for anyone following the Weight Watchers plan. Filling and tasty - a must try! It works out at 3 Points for me but will work out at about 5 Points for you if Oatmeal isn't of your Zero Point foods!
Ingredients
2

cups

old fashioned oats

(180g)

1

cup

pumpkin puree

(225g)

4

tbsp

maple syrup

1

medium

egg

2

tsp

pumpkin pie spice

1

tsp

baking powder

1

cup

unsweetened almond milk

(240ml)

1

tsp

vanilla extract

6

pecan nut halves

(optional - 2 additional points per recipe)

5

sprays

calorie controlled spray oil
Instructions
Preheat the oven to 350°F / 175°C / 160°C fan assisted.

Lightly grease an oven proof dish with a couple of sprays of calorie controlled cooking oil. I used a 8 inch casserole dish to bake this but I have used a slightly larger dish previously with equally good results *.

Mix the oats, pumpkin puree, maple syrup, egg, pumpkin spice, baking powder, almond milk and vanilla extract together until fully combined.

Tip the contents into your lightly greased dish and smooth over the top.

Sprinkle the top with chopped up pecan nuts if using.

Bake in the centre of the oven for 30 - 35 minutes or until the top of the baked oatmeal has turned a golden brown.

Remove from the oven and serve warm.
Nutrition
Nutrition Facts
Pumpkin Baked Oatmeal
Amount per Serving
% Daily Value*
* Percent Daily Values are based on a 2000 calorie diet.