This flavoursome Taco Soup is the perfect recipe for anyone following the Weight Watchers plan. If you are looking for a lunch recipe that is both filling and low in WW Points then look no further.
Simple to make, it works out between 2 and 4 Points on the WW Personal Plan. You can find out exactly how may Points it will be for you personally by clicking on the button in the recipe card below!
Packed full of flavour the Taco Soup is a hearty mix of ground beef, beans, corn and spices - all the flavours you'd find in taco's .... but for a fraction of the Points!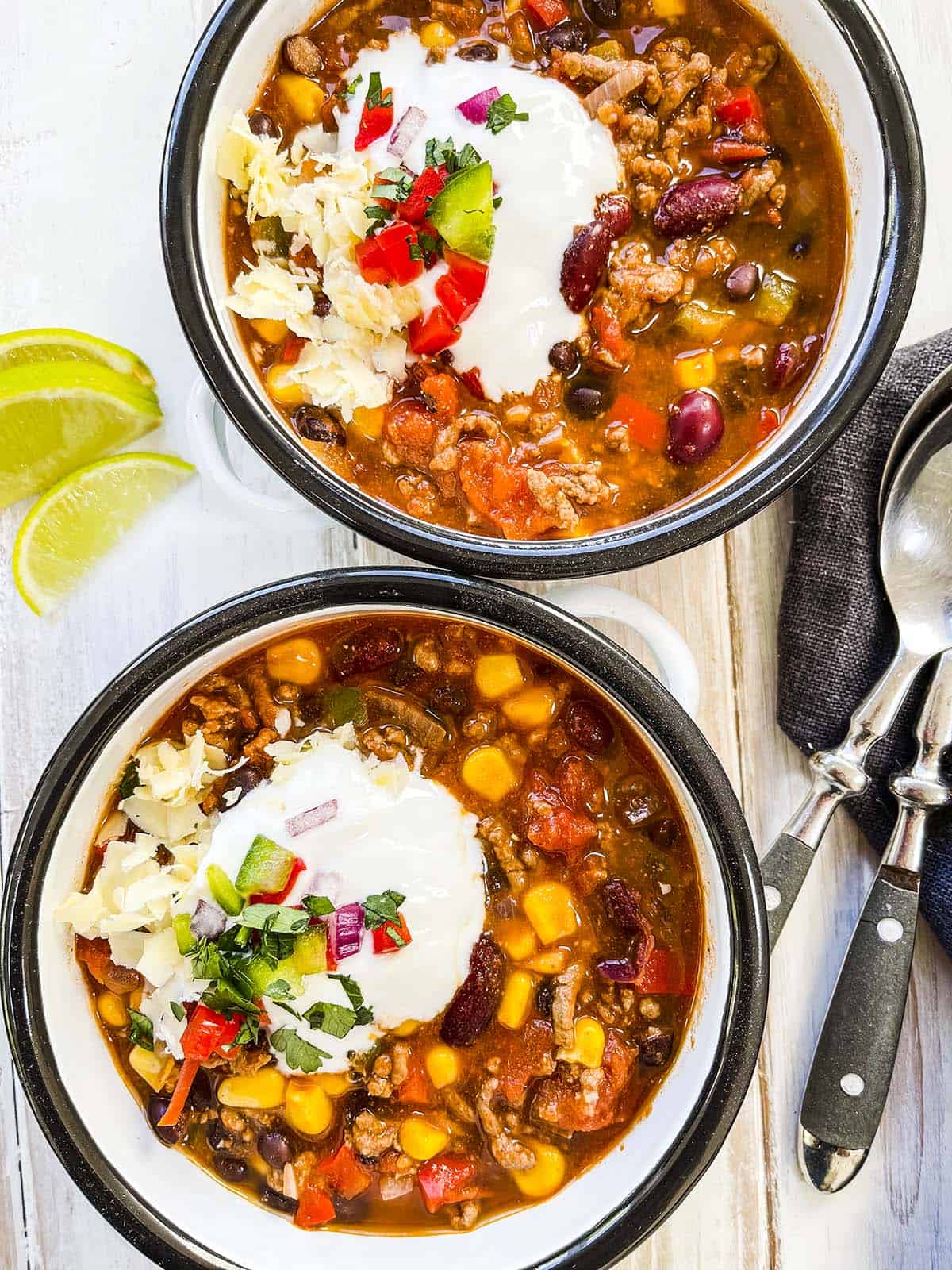 It's easy to make and can be batch cooked and frozen in single sized portions for a quick filling lunch any day of the week.
I decided to use ground beef in this recipe but of course if you wanted to make this recipe even lower in Points then you could use ground turkey breast instead.
The addition of beans means that this recipe really satisfies. A serving of this soup for lunch keeps my hunger at bay till dinner.
Lastly, the addition of plenty of veg means that your Personal Budget grows too. That really is a result!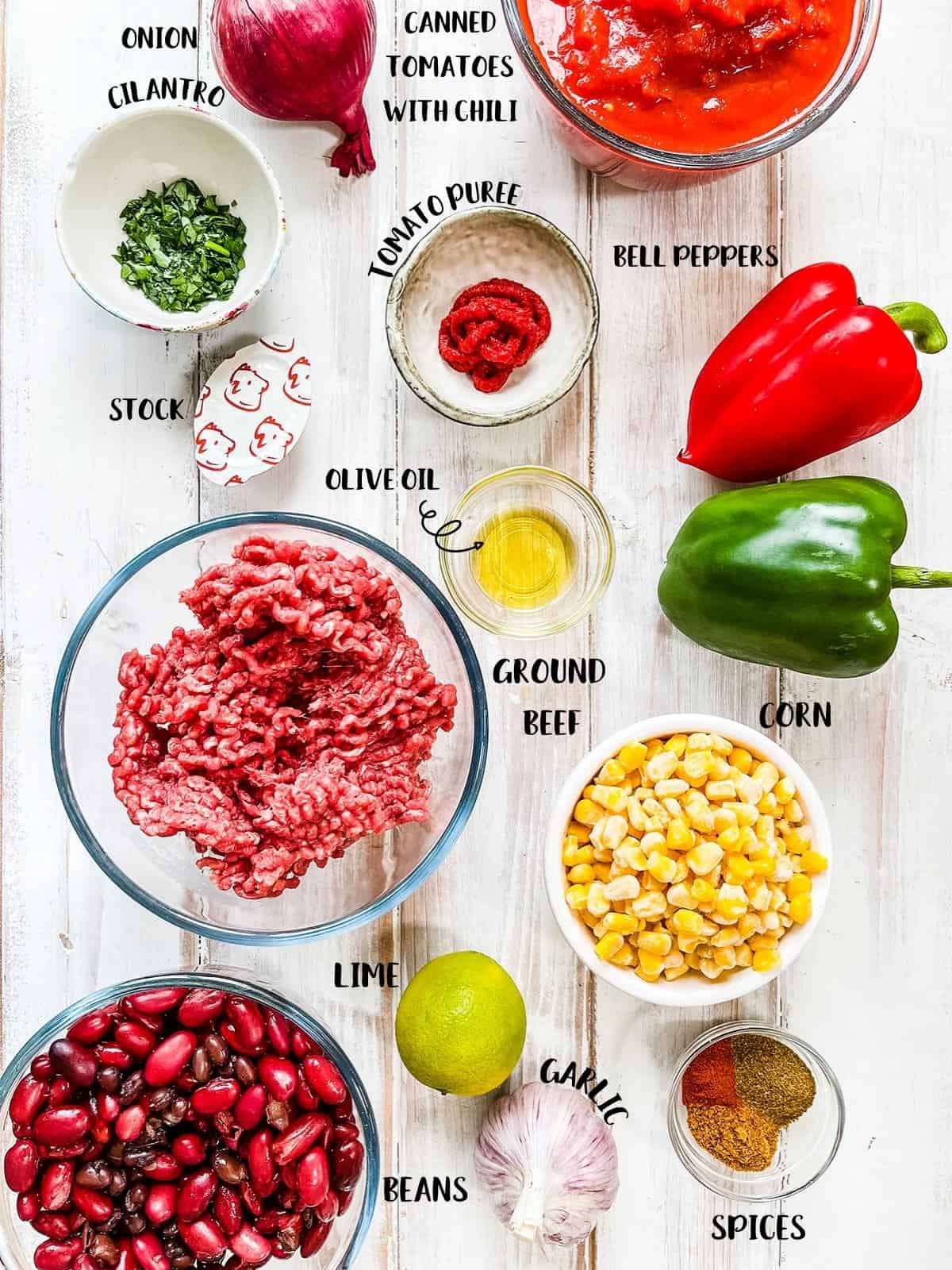 I have kept the Points as low as possible, without compromising on taste.
Using extra lean ground beef means that you really do need to use a little oil to brown the meat.
Having played around with the recipe I have found that 2 teaspoons of olive oil works well - any less I had problems with the ground meat and onions sticking to the bottom of the pan.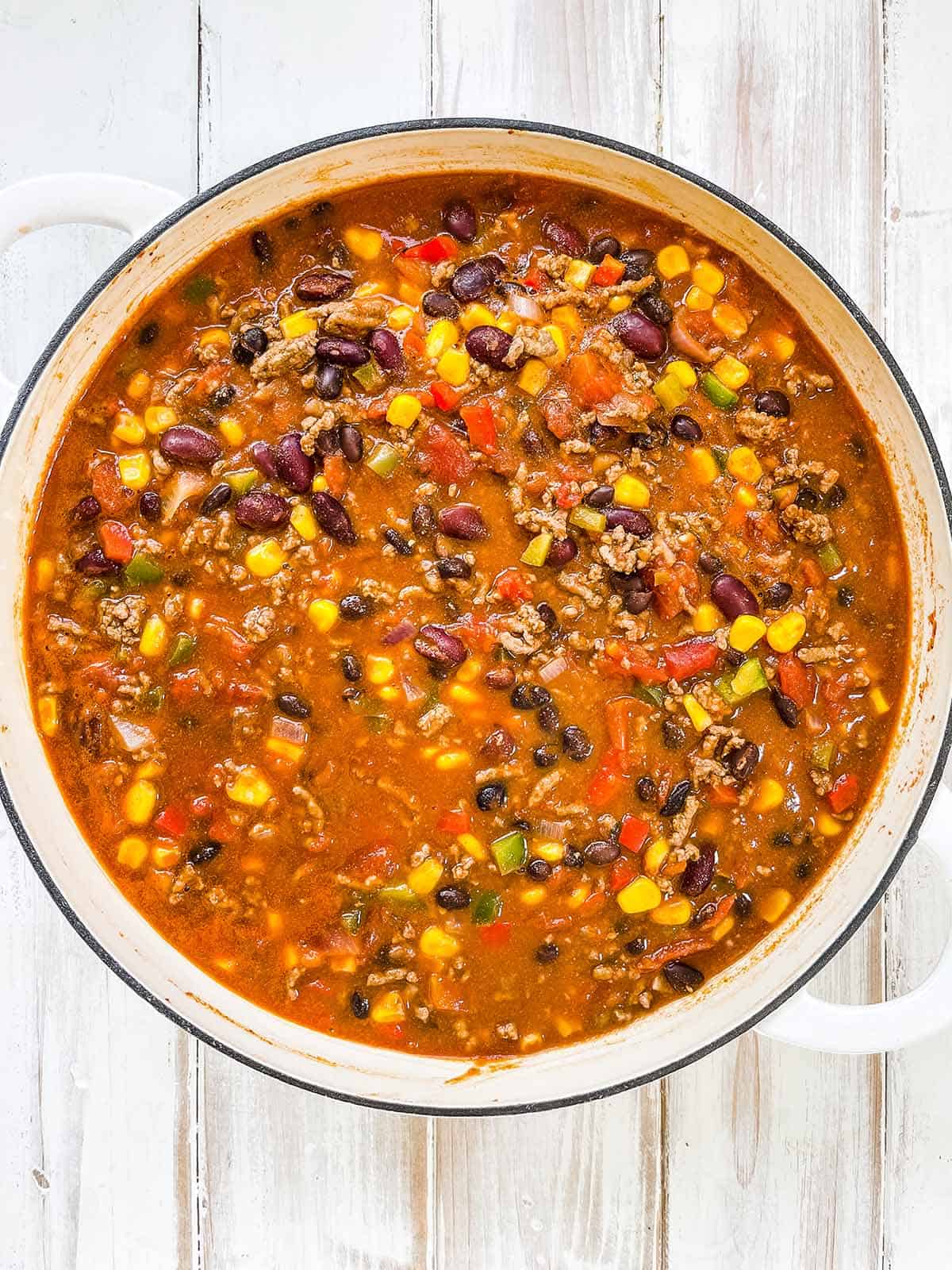 Storage
This soup can be kept in the fridge in an airtight container for up to three days.
The soup can also be stored in the freezer for up to 3 months.
Taco Soup - WW Points
You can discover exactly how many Weight Watchers Taco Soup will be for you by clicking on the blue 'WW Personal Points' button in the recipe card below.
A generous serving of this soup works out at 4 Personal Points for me but it works out less Points for many people.
Toppings that you add such as FF yogurt & cheese will be additional Points.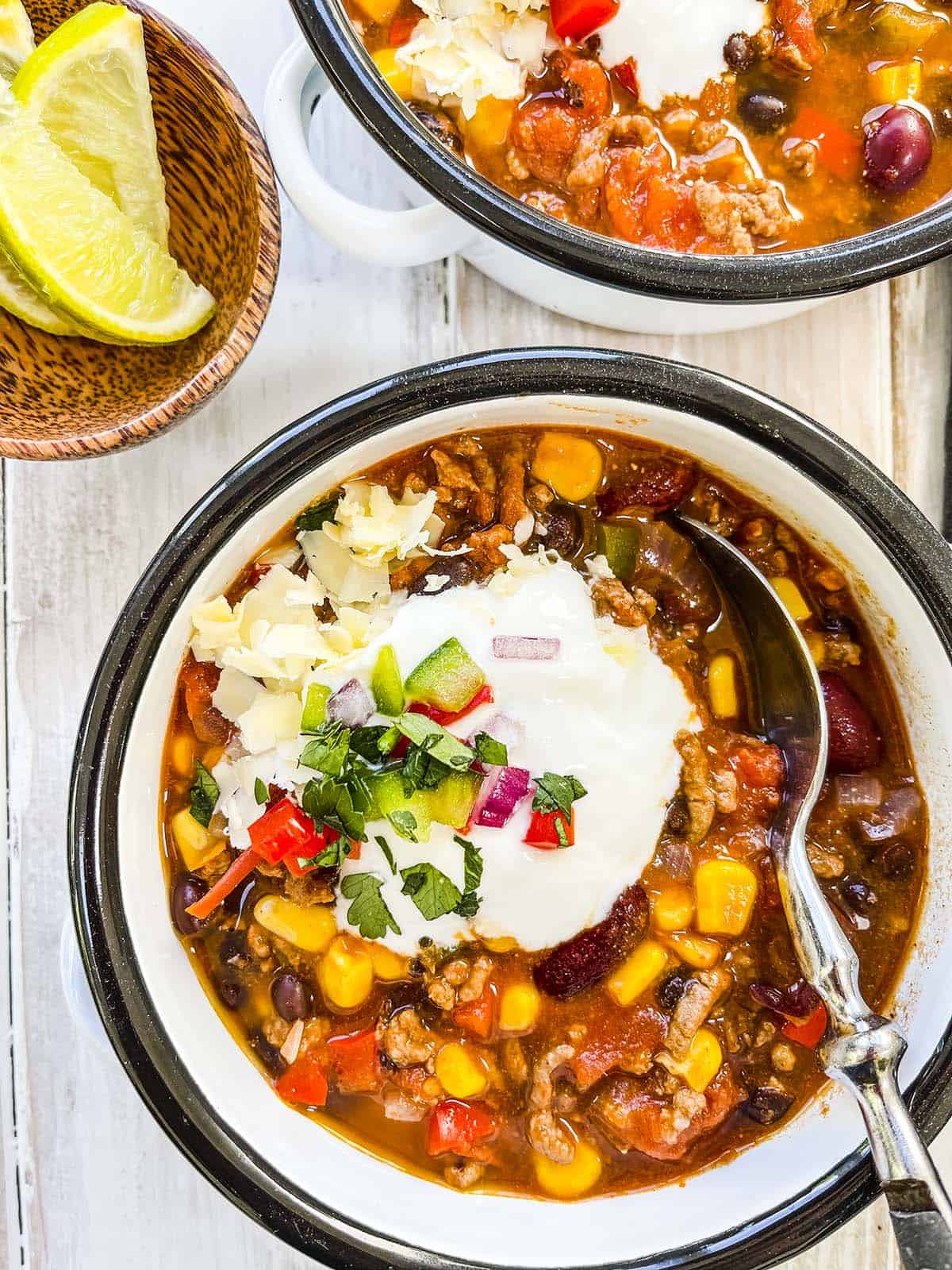 More WW Soup Recipes
If you are looking for Weight Watchers friendly soups why not take a look at these popular recipes.
This Curried Butternut Squash Soup works out between zero and one Points depending on your Personal Point allocation.
This hugely popular Zero Point Cabbage Soup is exactly that .... zero Points!
I am really partial to this Carrot & Coriander Soup.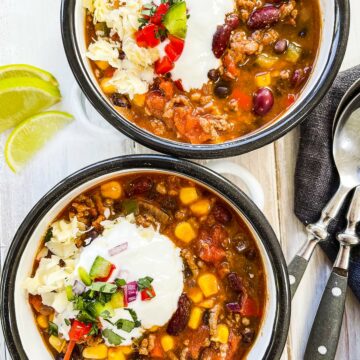 Taco Soup | Weight Watchers
This tasty low Point Taco Soup is packed full of flavour. Working out between 2 & 4 Points per generous serving, depending on your Personal Points allowane, it really is an ideal WW lunch recipe.
Ingredients
2

tsp

olive oil

16

oz

extra lean ground beef

(453g)

1

medium

onion

(1 cup chopped)

3

cloves

garlic

minced

0.5

tbsp

chili powder *

1

tsp

ground cumin

0.75

tsp

ground paprika

2

cans

tomatoes with chili **

2 x 14oz cans

1

tbsp

tomato puree

1

red bell pepper

chopped

2

cups

beef stock

(470ml)

1

green bell pepper

chopped

1

cup

frozen corn

(160g)

1

can

black beans

(14.5oz can drained & rinsed)

1

can

kidney beans

(14.5oz can drained & rinsed)

1

lime

Salt & Pepper

(to taste)
Instructions
Heat a large non stick skillet or soup pan over a medium heat and add the olive oil.

Add the ground beef and chopped onion and mix using a wooden spoon until there is no pinkness left in the meat & the onions have softened.

Add the minced garlic and cook for an additional 1 minute making sure that you don't burn the garlic.

Add a couple of tablespoons of the beef stock into the bottom of the pan and use a wooden spoon to 'clean' any bits that are sticking to the bottom of the pan. This will add flavor and also prevent anything burning to the bottom of the pan once the other ingredients are added.

Stir in the tomato puree and the chili powder, ground cumin and paprika and give a good mix to combine.

Add the canned chopped tomatoes, the rest of the beef stock, the chopped bell peppers and the beans. Give the mixture a stir, place a lid on the skillet and simmer gently for 20 minutes stirring occassionally.

Once the mixture has simmered for 20 minutes, add the frozen corn and simmer for a further 10 minutes.

I sometimes add a little hot water to thin out the soup but this depends on how much liquid has been reduced through simmering.

Add a little lime juice (optional) and stir, taste and then add any salt or pepper that you feel it may need. I have not given quantity suggestions as the amount needed will differ depending on the stock that you have used.

Remove from the heat and serve with toppings of your choice.

I like to serve it with a spoonful of fat free yogurt and a sprinkle of low point shredded cheese and some chopped cilantro!
Notes
* I used ½ tablespoon of chili powder in this recipe - increase this by ¼ tablespoon if you want your soup to have a bit more of a 'kick'. 
** If you can't find canned tomatoes with green chilis you can substitute them for canned tomatoes and just increase the amount of chili powder that you add. 
Nutrition
Nutrition Facts
Taco Soup | Weight Watchers
Amount per Serving
% Daily Value*
* Percent Daily Values are based on a 2000 calorie diet.