This simple to make, tasty Hummus is Zero SmartPoints on the Weight Watchers Blue and Purple plans and 2 SmartPoints per serving on the Green plan.
It makes a healthy, filling and delicious hummus that can be used as a dip, as a spread in sandwiches or, my favourite, as a topping for a low point burger!
Chickpeas (garbanzo beans) really are a Weight Watchers friend as they are zero SmartPoints if you follow the Blue and Purple plans.
They do need to be pointed if you follow the Green plan, but they are good for you, filling and are packed full of protein!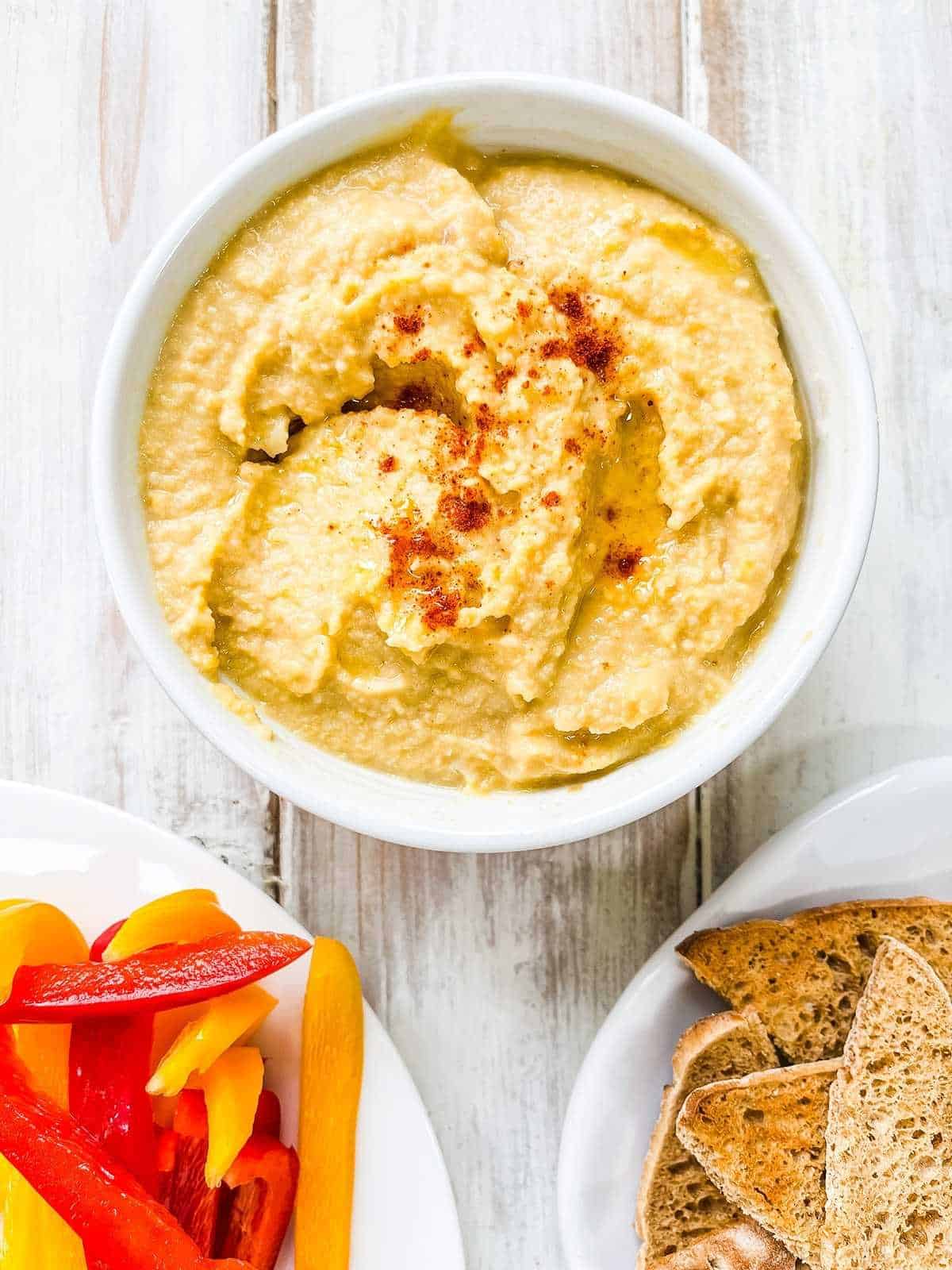 So, traditional Hummus (or Houmous if you'd prefer) contains tahini (sesame seed paste) and olive oil, both of which are quite high in SmartPoints.
My favourite supermarket hummus works out at 3 SmartPoints per tablespoon (& that's not a nice, big heaped tablespoon - that's one of those annoying small level tablespoons ? ).
And if I'm eating hummus I want a good couple of tablespoons worth to use as a dip or spread on my toasted pitta bread.
So I've been making this hummus since I started my WW journey and it's a recipe that I make and eat on a regular basis.
I wanted to make a hummus that was low (or even zero) SmartPoints that I could eat guilt free, that would taste as close to 'traditional' hummus as could be and that was easy to make.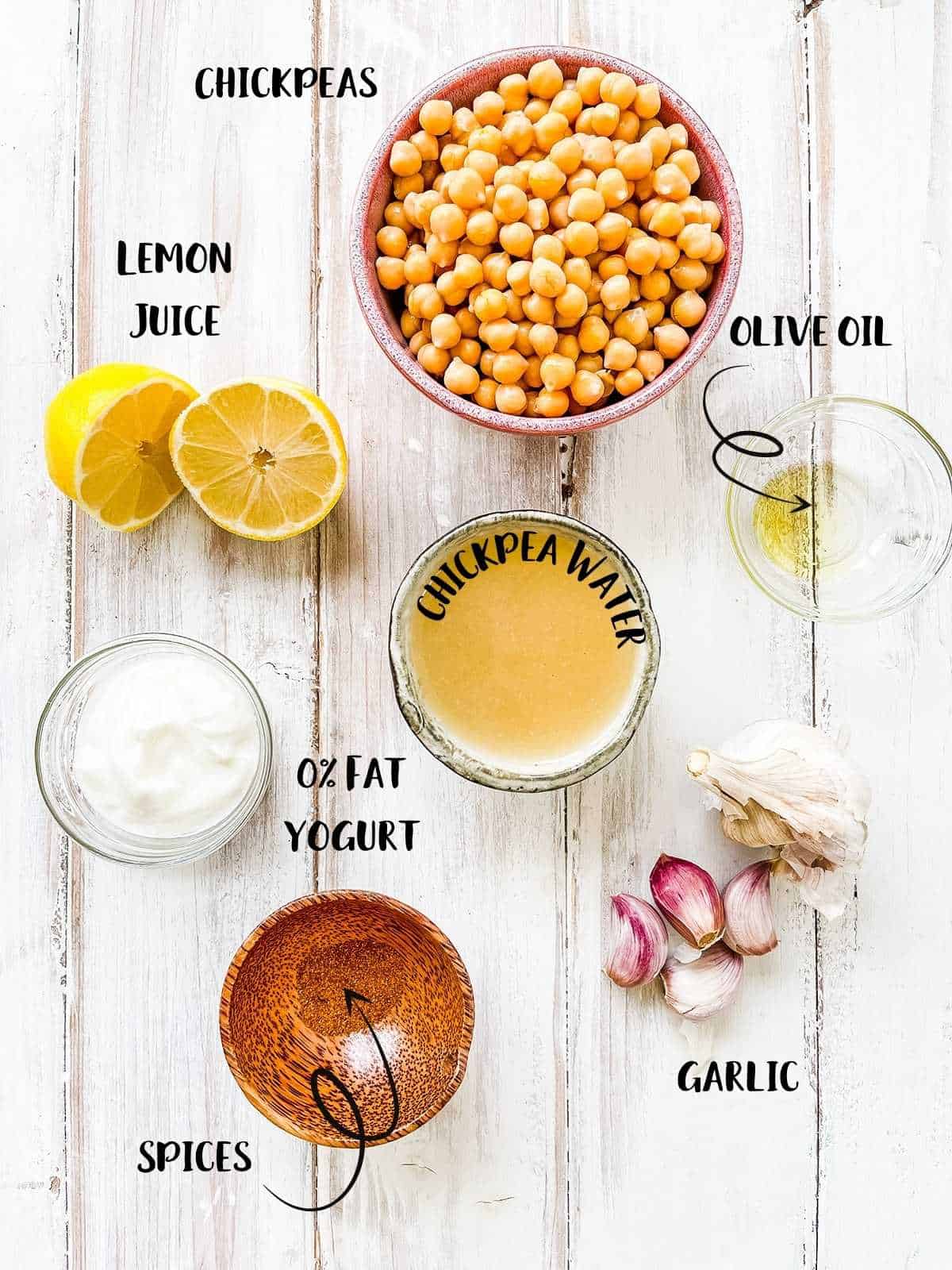 I did try messing around with adding small amounts of tahini to get the sesame taste but without the SmartPoints, but I felt that you needed a good dollop of tahini for that and then, obviously, that increases the SmartPoints!
So, this is the recipe that I came up with!
It doesn't include tahini paste (although you could add some if you'd prefer - for additional SmartPoints) but it does taste good ...
.. and did I mention it is Zero SmartPoints on Blue and Purple!
Do I really need to cook the canned chickpeas first?
Now, one thing that you will notice from this recipe is that I simmer the canned chickpeas for 15 - 20 minutes before I place them in the food processor.
This isn't strictly necessary .... BUT ... I have found that (especially with some of the brands of canned chickpeas) simmering them for 15 - 20 minutes softens them & leads to a smoother hummus.
If you are in a real rush for your Hummus, just leave this step out and just get on and blitz those chickpeas!
How long does it keep?
It should keep for a week in the fridge - just don't keep it any longer than the 'Best Before' date of the yogurt that you have used in the recipe.
Serving Suggestions!
Use as a dip for crudités
Smother on toasted pitta bread
Use as a spread in sandwiches or wraps
Use as a topping on your Turkey Burger!
How I worked out the SmartPoints
Freestyle Plan - 0 SmartPoint per serving
myWW Blue Plan - 0 SmartPoint per serving
myWW Purple Plan - 0 SmartPoint per serving
myWW Green Plan - 2 SmartPoints per serving
I calculated the Weight Watchers SmartPoints for this Hummus using the official WW recipe builder.
The nutritional information in the recipe card below has been automatically generated and will give you an inaccurate SmartPoint value.
This is because it does not account for ingredients, such as the chickpeas, being zero SmartPoints on the Blue & Purple plans.
Use the recipe builder on your WW App and you will see that the SmartPoint values that I have given are correct ?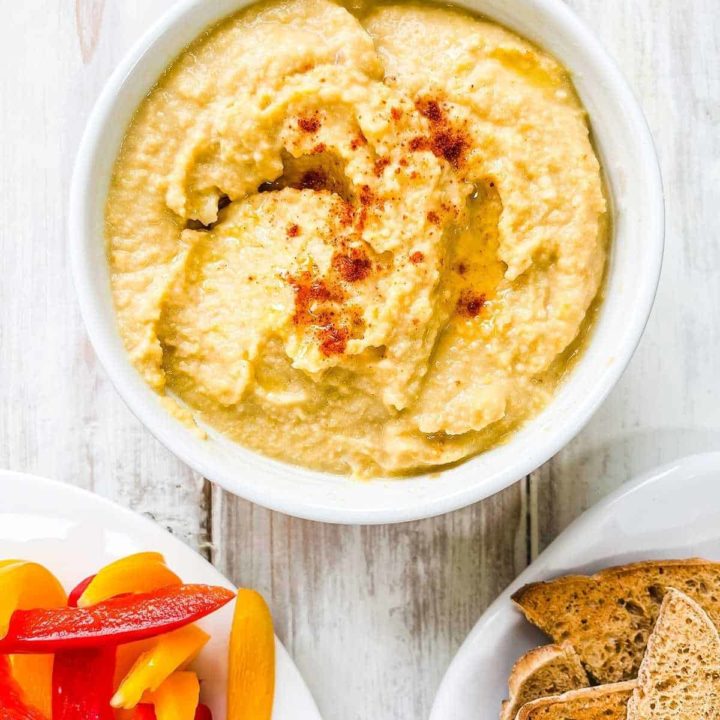 Hummus | Weight Watchers
This easy to make Hummus is Zero SmartPoints on the Weight Watchers Purple, Blue and Freestyle plans. It is 2 SmartPoints per serving on the Green plan.
Ingredients
1 x 15.5 oz can chickpeas / garbanzo beans
2 tbsp fat free natural yogurt
1 tbsp lemon juice
1 cloves garlic (minced)
½ tsp ground sea salt
½ tsp ground cumin
¼ tsp paprika
½ tsp olive oil (optional)
Instructions
Place the chickpeas in their water into a saucepan and bring to a simmer.
Simmer for 15 - 20 minutes.
Once they have simmered for 15 - 20 minutes, remove them from the heat and remove the chickpeas from the saucepan using a slotted spoon.
Make sure to retain the left over water as you will use this later.
Place the chickpeas, yogurt, lemon juice, minced garlic, salt and cumin into the bowl of a food processor.
Blitz until the mixture is smooth.
Add chickpea water tablespoon by tablespoon, blitzing between each addition until you have reached the hummus consistency that you prefer ( I usually add 2 - 3 tablespoons)
Serve sprinkled with the paprika and a drizzle of olive oil.
Recommended Products
As an Amazon Associate and member of other affiliate programs, I earn from qualifying purchases.
Nutrition Information:
Yield:

4
Serving Size:

¼ cup
Amount Per Serving:
Calories:

233
Total Fat:

5g
Saturated Fat:

1g
Trans Fat:

0g
Unsaturated Fat:

3g
Cholesterol:

0mg
Sodium:

570mg
Carbohydrates:

37g
Fiber:

10g
Sugar:

7g
Protein:

12g
Please be aware that the nutritional information above has been automatically generated.  It should therefore be considered as an estimate. The above nutritional information does not account for variations in product brands and types, weights of individual ingredients etc and does not account for many ingredients being zero SmartPoints on the WW plan. Therefore, using these numbers in your WW calculator will often give you an INACCURATE SmartPoint value! PointedKitchen.com has calculated Weight Watchers Smart Points based on the individual ingredients used to make this recipe and not from the following nutritional information. PointedKitchen.com is not responsible for any loss or damage relating to your reliance on this nutritional information.
More Weight Watchers Lunch Recipes
If you are looking for more Weight Watcher lunch inspiration, why not take a look at this Egg Salad recipe, or this popular Mexican Bean Salad recipe!
This Eggplant & Chickpea Stew recipe is also a great lunchtime recipe for any vegan Weight Watchers amongst you!