If you are looking for a new & tasty way to use zero Point ground turkey breast, then this Turkey Burger may be the recipe for you!
The burger is just 1 SmartPoint on Weight Watchers Freestyle plan. It is 1 SmartPoint on the WW Blue and Purple plans and 3 SmartPoints on the Green plan.
If you follow the WW Personal Points plan you can find out exactly how many it will be for you by clicking on the blue button in the recipe card below. You can even track it straight on to your App from their too!
Read on for serving ideas and tips and hints for making this Turkey Burger or simply jump straight to the recipe.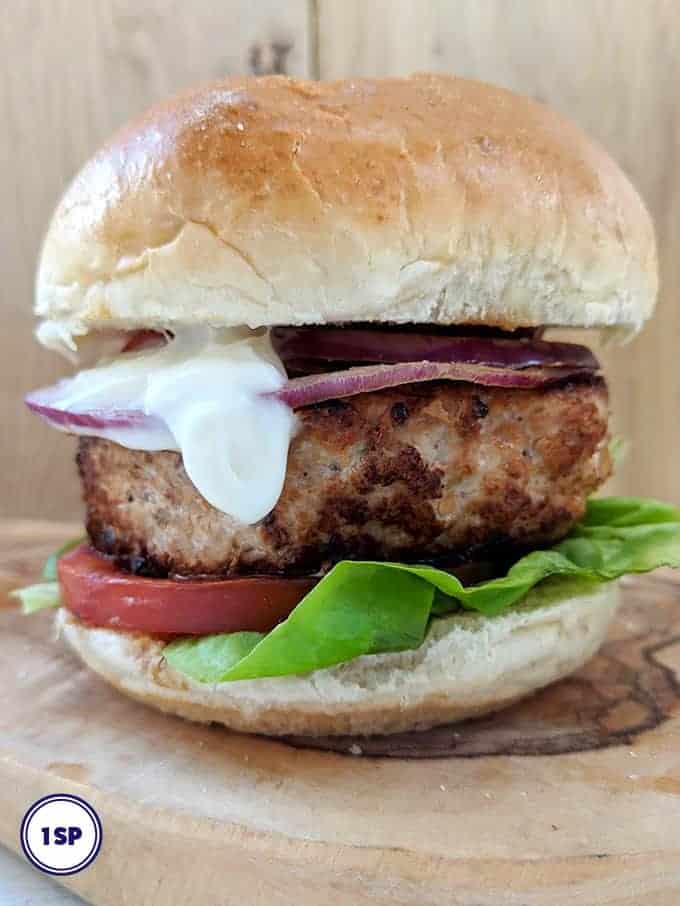 Please be aware that this post was written prior to Weight Watchers changing to the WW Personal Points Plan! You can discover exactly how many Personal Points this recipe will be for you by clicking on the blue 'WW Personal Points' button in the recipe card below.
Serve this Turkey Burger in a low SmartPoint burger bun and top with tomato, onion, lettuce and mayo for a low point, tasty dinner.
Sometimes I just want a burger!
But sometimes (read most times) I don't have the spare 10 - 15 SmartPoints to indulge in one!
That is why I love this burger so much.
It's 1 SmartPoint per burger and if you serve it in a low SmartPoint burger bun with some lower point condiments you can really feel like you are indulging for very few SmartPoints.
My kind of meal 😀
I am sure I am not the only one who finds that ground turkey breast can be kind of dry and tasteless!
Well this ground Turkey Burger is no such thing. It is succulent, tasty and flavoursome.
The ground turkey is mixed with grated shallot and mustard, ketchup and Worcestershire sauce. This gives the burger a good meaty flavour.
So when you are next craving a burger, try it. I am sure you won't be disappointed.
Tips for making this Turkey Burger:
I use shallots rather than onions in this recipe because of their milder flavour. However, I've also made the burgers using a small onion (rather that two shallots) and it worked out just as well. It was just a bit more oniony!
Grate the shallots rather than chopping them for a better flavoured, better textured burger.
If you get any watery liquid from the shallots when you've grated them, discard it and just use the pulp. The burger mix is quite a wet mix so you really don't want any added moisture. I've found that grated shallots give out less liquid than grated onions.
Give the burger mixture a good seasoning with salt and pepper before shaping into patties.
This post may contain affiliate links. As an Amazon Associate I earn from qualifying purchases. Visit this page to see what that means.
Serving suggestions:
There are a number of lower SmartPoint burger buns on the market.
If you live in the UK, Warburton's do a 4 SmartPoint Seeded Burger Bun and Iceland do 4 SmartPoint frozen burger.
From the US? Then, Sara Lee do a 2 SmartPoint 80 Calories & Delightful burger bun and a 4 SmartPoint Whole Grain White Hamburger Bun.
Bulk out your burger with zero point accompaniments like lettuce, tomato and thinly sliced onion
Add a dollop of this Zero Point Spicy Salsa, for a bit of a kick!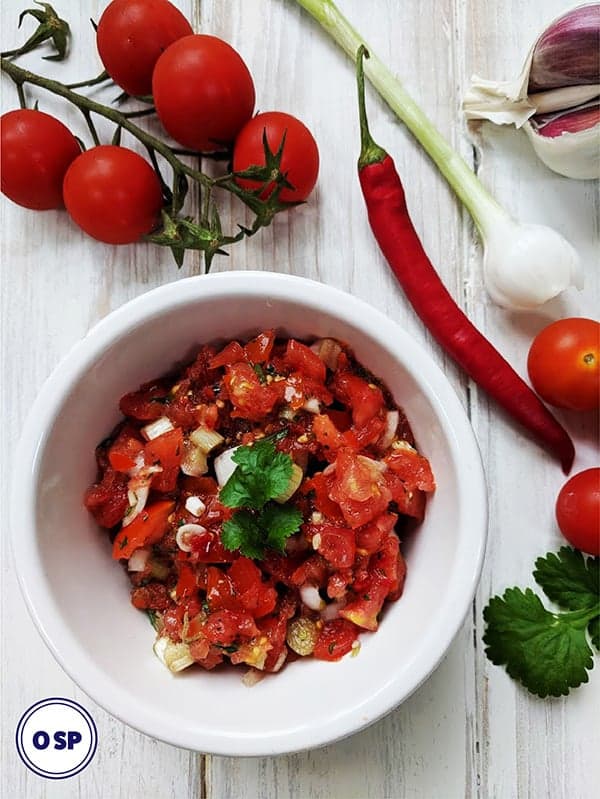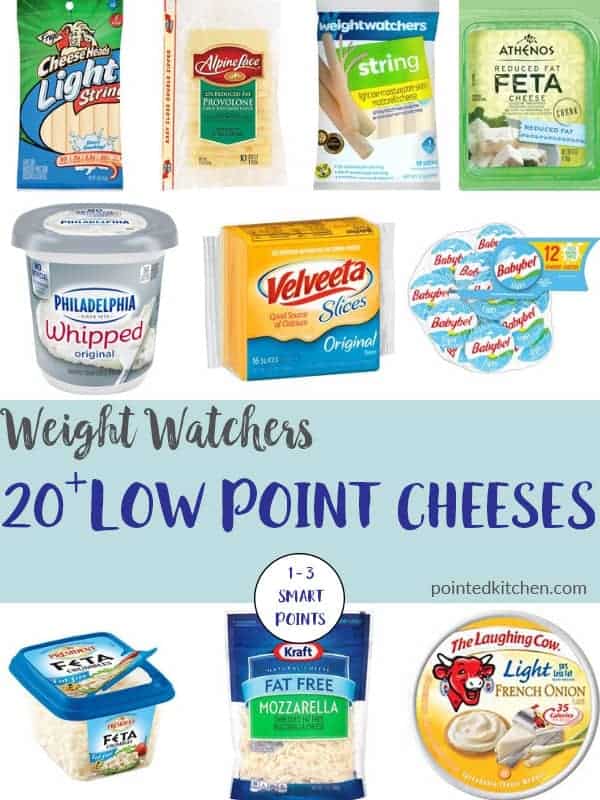 What I used in this recipe:
I used Lea & Perrins Worcestershire Sauce, available from Amazon.
This Dijon Mustard, available from Amazon, is my favourite!
I used Heinz 50% less sugar tomato ketchup which works out at 1 SmartPoint per 2 tablespoons. If you use Heinz No Added Ketchup this also works out at 1 SmartPoint per 2 tablespoons.
Did you try this recipe?
If you did and you loved it please give it a star rating below!
Oh ... and don't forget to share it via the share buttons!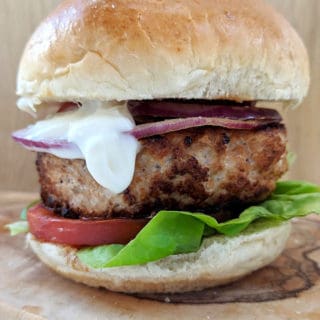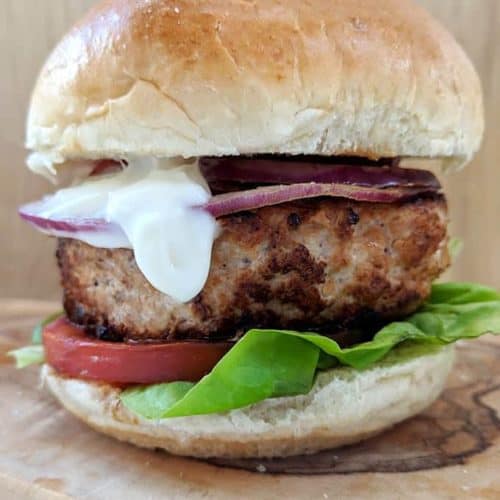 Turkey Burger | Weight Watchers
This Turkey Burger is just 1 SmartPoint on Weight Watchers Freestyle / Flex plan. Place it in a hamburger bun and top with salad and mayonnaise for extra SmartPoints.
Ingredients
2

shallots

grated

1

pound

ground turkey breast

½

tbsp

dijon mustard

2

tbsp

ketchup

reduced sugar

1

tbsp

Worcestershire sauce

salt & pepper

1

tbsp

vegetable oil

for frying
Instructions
Place the ground turkey into a bowl. Add the grated shallots, mustard, ketchup, Worcestershire sauce and salt and pepper. Combine the mixture before shaping into 4 patties.

Heat the oil in a large skillet / frying pan. Once hot, fry the burgers for 4 - 5 minutes each side, moving around the pan to prevent them from sticking. Once they are nicely browned and cooked through, remove from the heat.

Serve in a burger bun, topped with sliced tomato, onion, lettuce and mayonnaise.
Notes
Please be aware that the nutritional information below has been automatically generated and does not account for variations in product brands and types, weights of individual ingredients etc.  It should therefore be considered as an estimate.
PointedKitchen.com has calculated Weight Watchers Smart Points based on the individual ingredients used to make this recipe and not from the following nutritional information.
PointedKitchen.com is not responsible for any loss or damage relating to your reliance on this nutritional information.
Nutrition
Nutrition Facts
Turkey Burger | Weight Watchers
Amount per Serving
% Daily Value*
* Percent Daily Values are based on a 2000 calorie diet.