If you're looking for a tasty but satisfying breakfast then look no further! These Banana Pancakes are so easy to make, they taste delicious and will keep you satisfied for hours. Perfect if you are following any of the Weight Watchers plans as they work out at three Points or under per serving depending on your personal points allowance.
If you follow the WW Personal Points plan you can find out how many Personal Points this recipe will be for you (& track it directly into your WW App) by clicking on the blue button in recipe card below!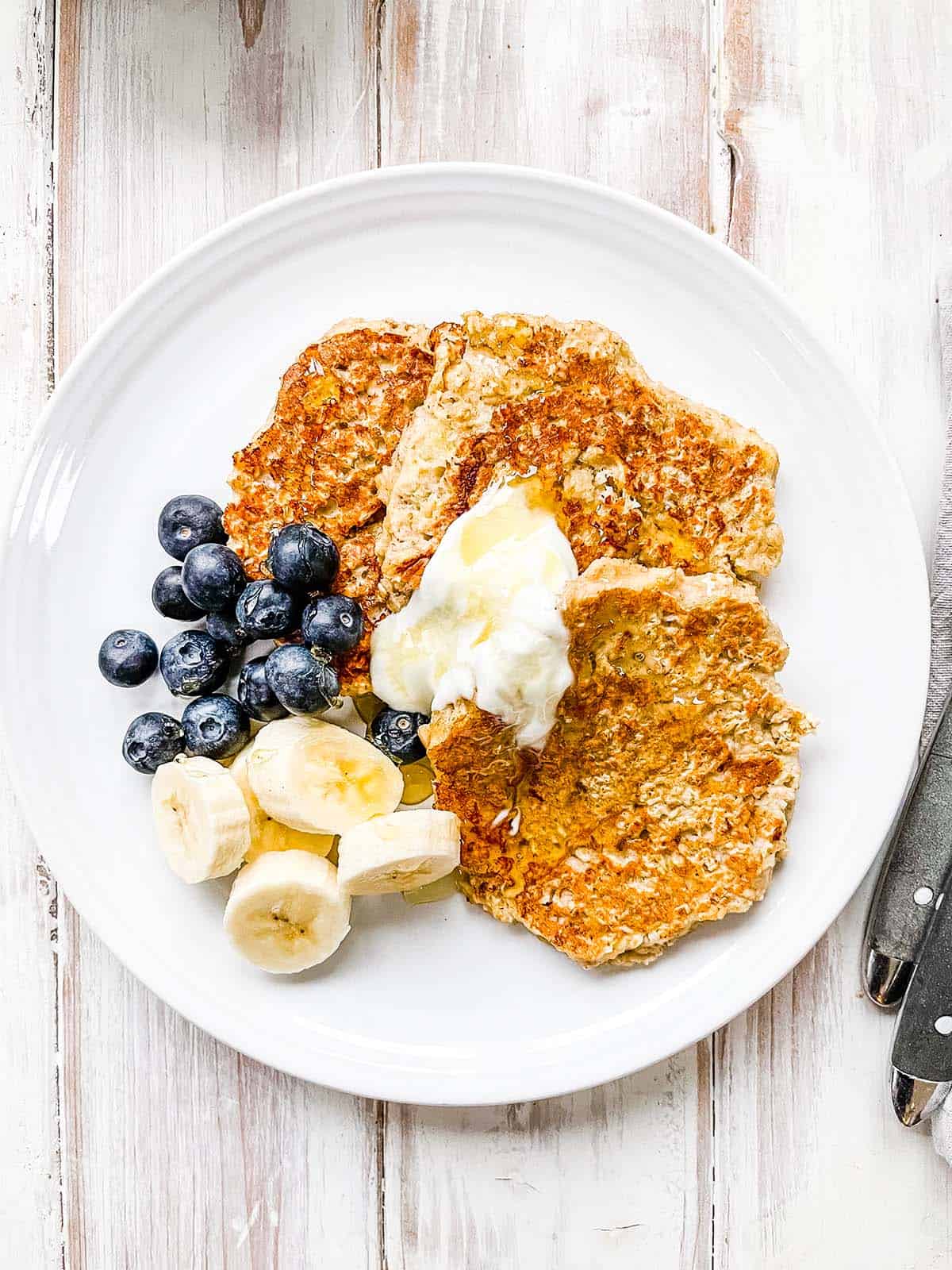 Pancakes are a great way to start your day.... especially these ones as they are so filling (meaning less likelihood of mid morning snacking!).
They are made with mashed banana and oats and don't contain any refined sugar. All the sweetness comes from the banana.
The oats are a good source of protein and are high in fibre, making these pancakes a good healthy alternative to more traditional breakfast pancake recipes.
To keep the Points low choose a Low Point Pancake Syrup and sliced banana and berries as a topping with a spoonful of your favourite fat free yogurt!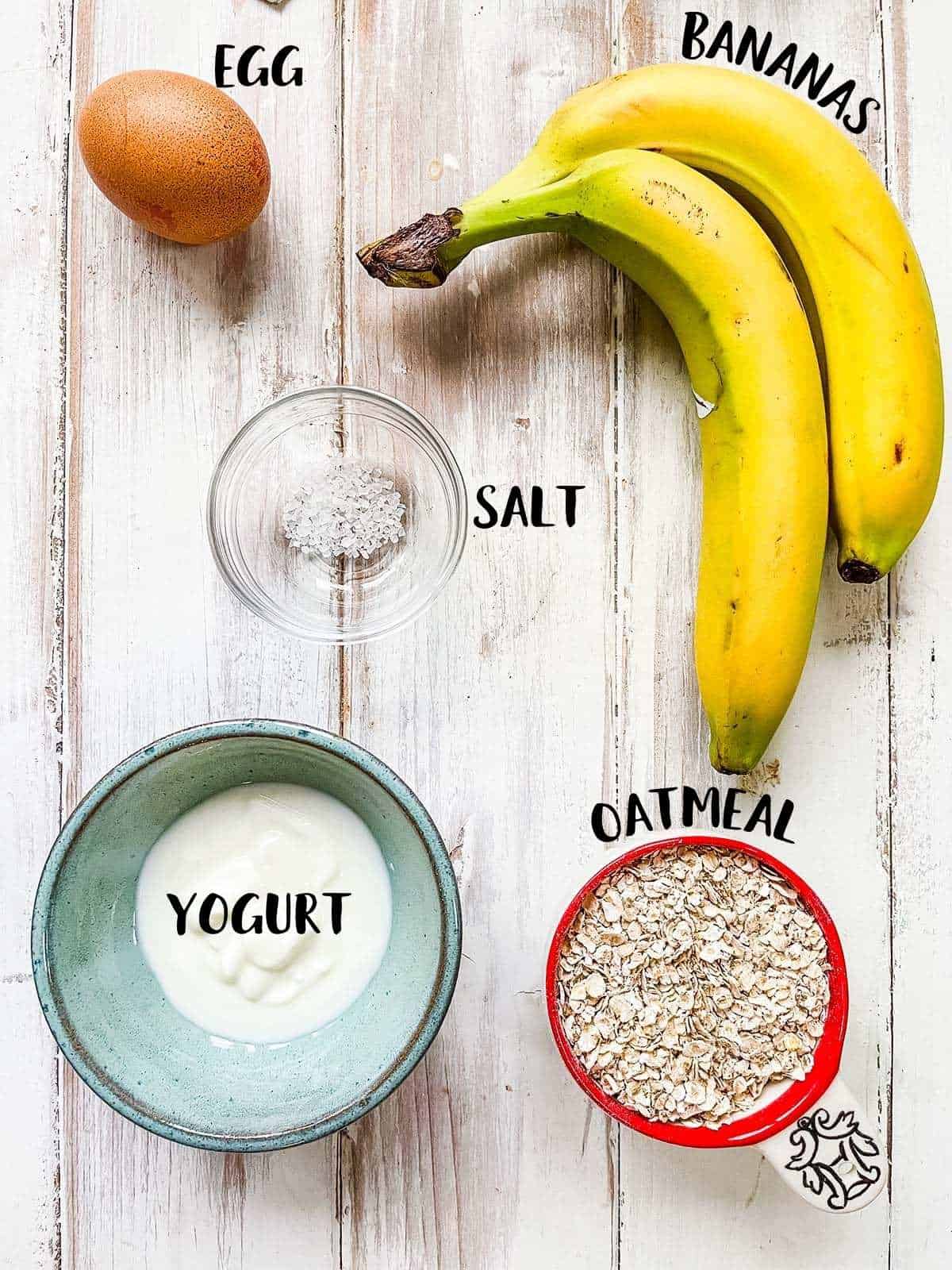 How to make the pancakes
These pancakes are easy to make.
Mash the banana to a smooth consistency and add the whisked egg, yogurt and salt. Mix to combine before adding the oatmeal and giving it a good stir.
You can then cook the pancakes over a medium heat for a few minutes on each side.
They really are that simple!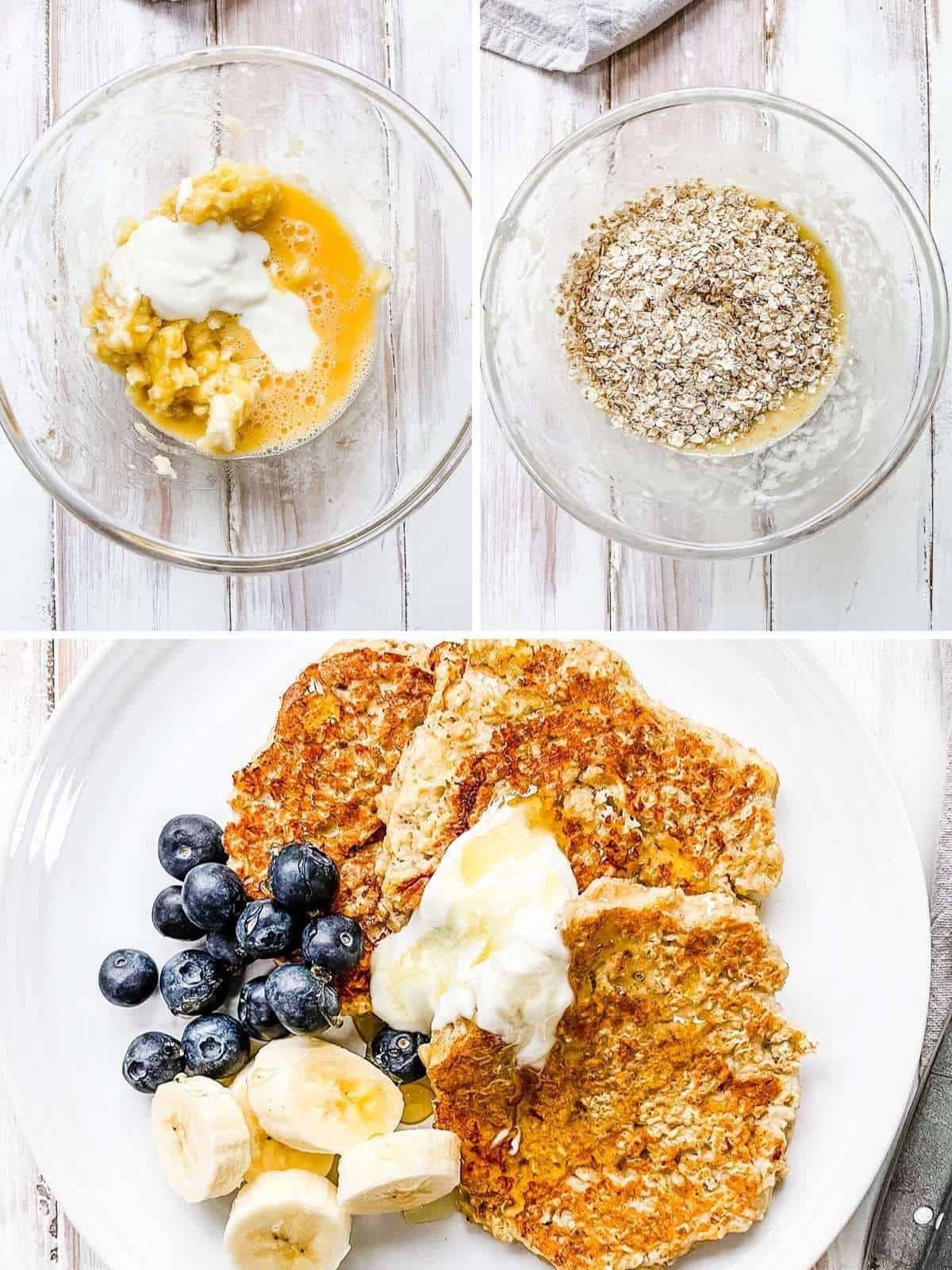 WW Points in Banana Pancakes
The pancakes are particularly good for anyone who has chosen eggs and/or oatmeal as one of their Zero Point foods on the Personal Points plan.
But even if eggs and oats aren't zero points for you these pancakes will still work out as a very low point breakfast option.
To find out how many Personal Points this recipe will be for you & to track it directly into your WW App, click on the blue button in recipe card below!
Calories in Banana Pancakes
Each serving (2 pancakes) works out at less that 230 calories. Served with berries and some sugar free syrup, this recipe makes for an excellent low calorie breakfast.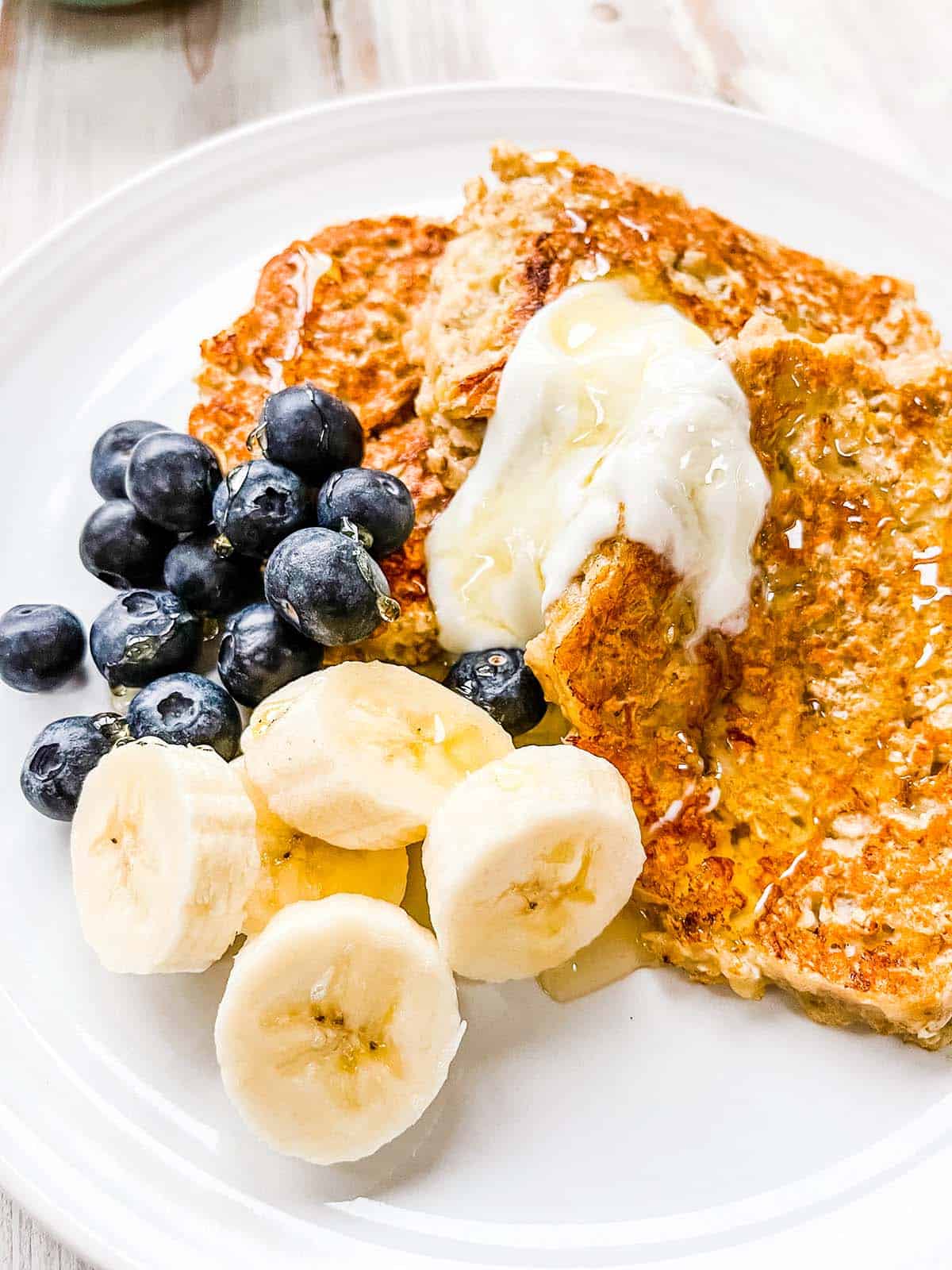 More WW Pancake recipes!
If you like pancakes for breakfast, you may also like these Weight Watchers friendly options: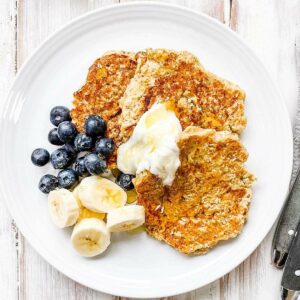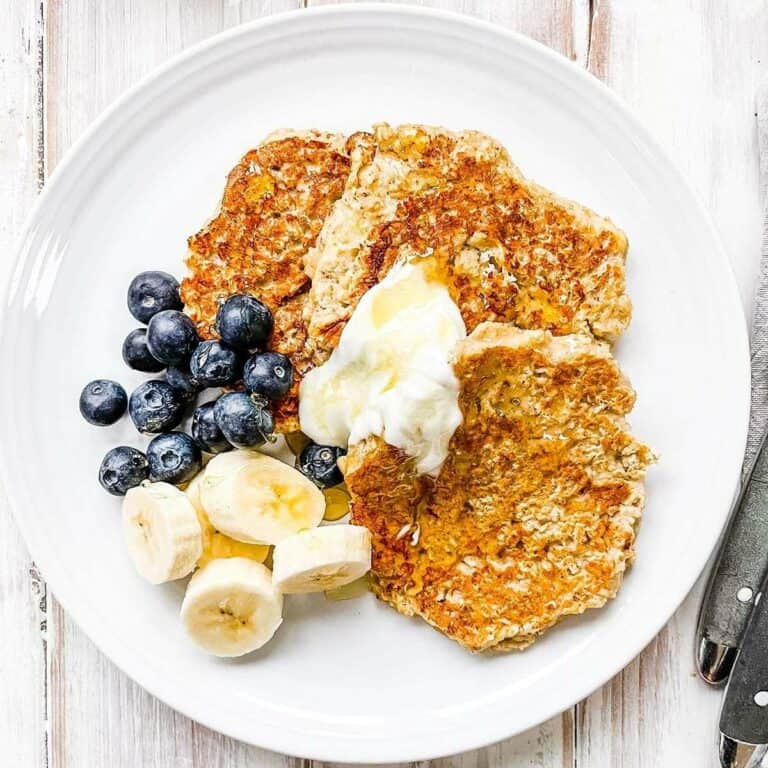 Banana Pancakes | Weight Watchers
An easy pancake recipe made with bananas and oatmeal that is both filling and tasty. A perfect low point breakfast for anyone following the Weight Watchers program.
Ingredients
2

medium

bananas

1

egg

whisked

2

tbsp

fat free yogurt

⅛

tsp

salt

½

cup

old fashioned oats

(40g)

5

sprays

calorie controlled spray oil
Instructions
Mash the bananas in a bowl using a fork.

Once the bananas are nice and smooth, add the whisked egg and mix thoroughly.

Stir in the yogurt and salt.

Add the oats and stir to combine.

Heat your griddle / frying pan over a medium heat. Use a few pumps of calorie controlled spray oil or a little canola oil wiped thinly over the cooking surface *

Once the griddle / frying pan is hot, spoon a tablespoon or so of the pancake mixture for each pancake. There is enough mixture in this recipe for 4 pancakes.

Allow the pancakes to cook for about 2 or 3 minutes until you see tiny bubbles around the edges & the middle of the pancake has firmed up a bit.

Carefully flip the pancakes over. You may need to turn down the heat at this point if you find that they are browning too quickly.

Cook for a further 2 or 3 minutes before removing from the heat.

Serve with some fresh berries, sliced bananas and syrup of your choice.
Notes
* some cooking surfaces may react badly to spray oil. If you know that your griddle or frying pan may react use a little canola oil wiped on with a paper towel. 
Nutrition
Nutrition Facts
Banana Pancakes | Weight Watchers
Amount per Serving
% Daily Value*
* Percent Daily Values are based on a 2000 calorie diet.