This easy to make, tasty Ginger Beer Chicken is just 2 SmartPoints per portion on Weight Watchers Blue and Purple plans. It is 3 SmartPoints per portion if you follow the Green plan.
If you are looking for an easy dinner recipe then you can't really go wrong with this dish.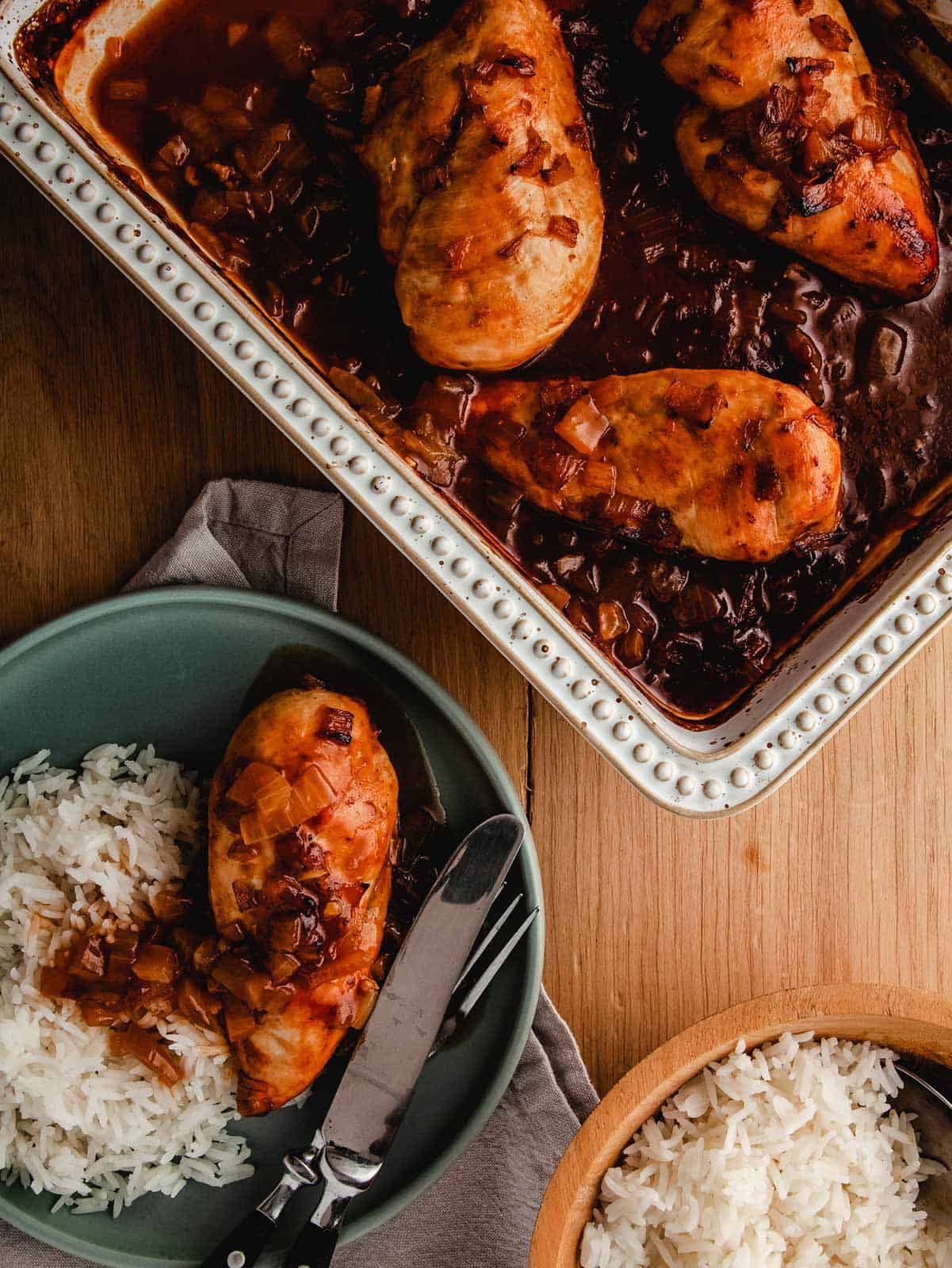 Using 5 ingredients (plus a bit of salt and pepper), it takes about 15 - 20 minutes to prepare and then it's just a matter of baking it in the oven till the chicken has cooked through and the sauce has reduced to a nice sticky consistency!
I tend to serve it over a small portion of rice but it's also really good spooned on top of a serving of smooth mashed potato with some garden peas on the side!
OK .... I'm getting hungry just writing this now 😀
So on with the important part ...
Tips for making this recipe!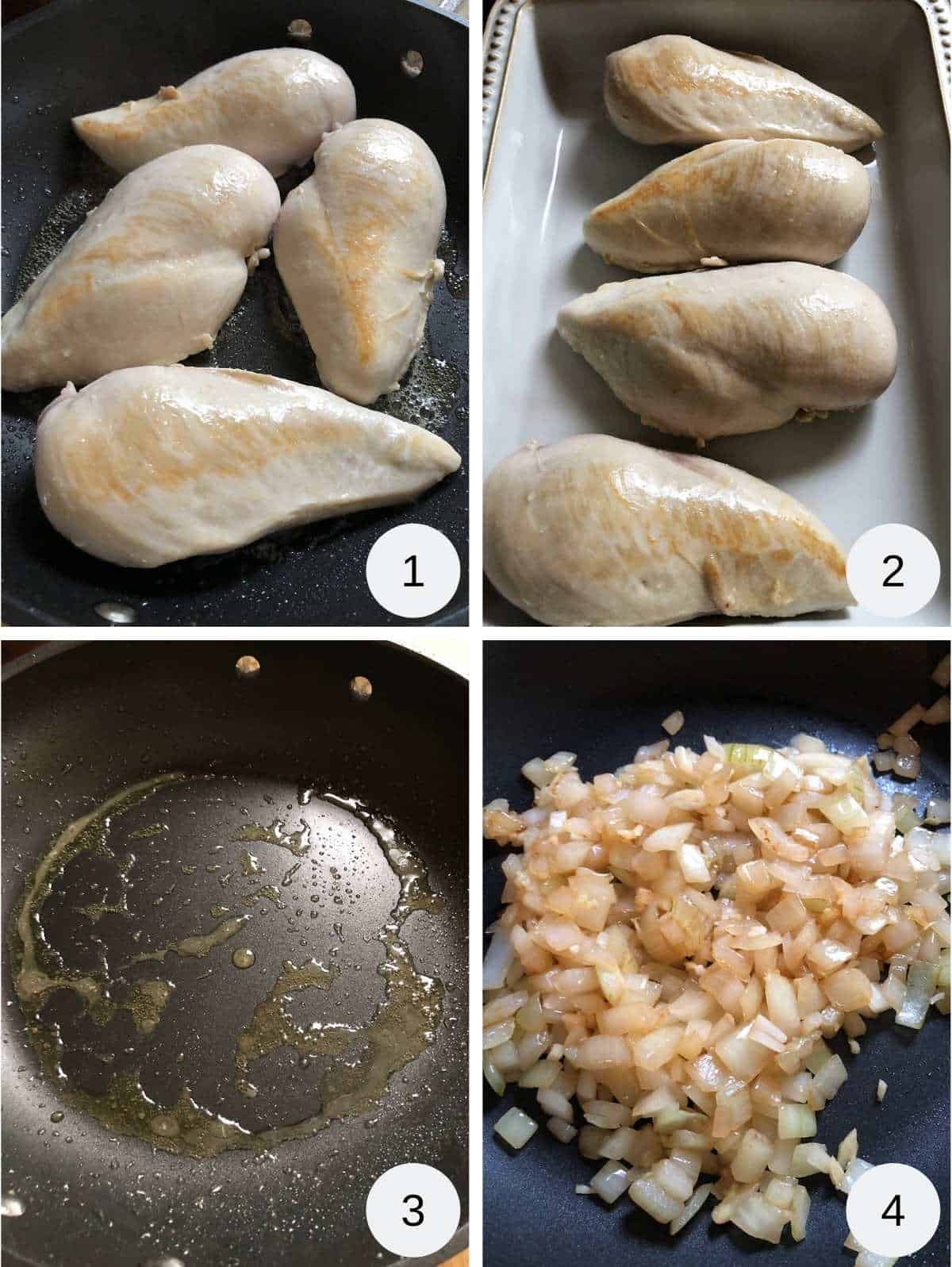 You can scroll to the bottom for the recipe but I'd suggest just reading through these tips first!
When I cook dishes like this, where the chicken is going to be baked in the oven, I tend to sear the chicken first. This seals the chicken & ensures it stays nice and juicy and succulent rather than drying out when it bakes in the oven.
I sear the chicken in half of the oil. Do this by heating the oil in the pan, adding the chicken breasts and cooking on both sides for a couple of minutes each side. Just enough time for the chicken to lose it's pink colour (picture 1)
The chicken will not be cooked through when you transfer it to the oven proof dish (picture 2) but that's ok because it will be cooked in the oven later.
I then add the remaining oil into the skillet (picture 3) and cook the onions until they have started to soften and have begun to colour a little (picture 4).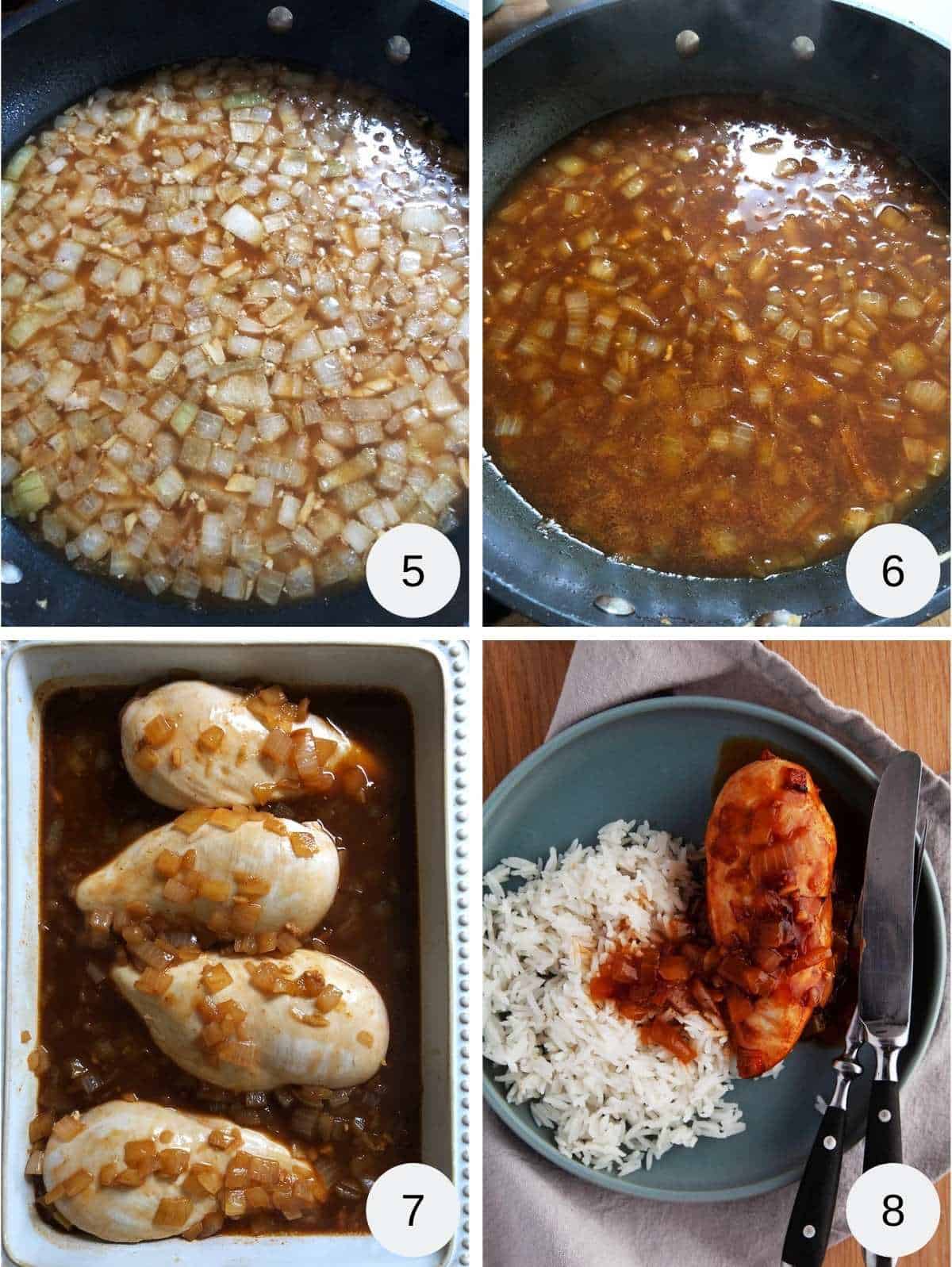 Once the onions are nice and soft and have caramelised a little I add the Worcestershire sauce & the ginger beer (see below for some recommendations on brands that do sugar free / diet versions). I then bring it to a boil.
I then reduce the heat so that the sauce is simmering quite fast.
I let it simmer until the sauce has reduced by about a third.
The liquid starts to thicken a little and takes on a slightly darker colour. This can be seen in pictures 5 and 6.
Once the sauce has reduced I remove it from the heat and pour it over the chicken breasts (picture 7).
I then bake it in the oven until the chicken has cooked through.
I use a meat thermometer to check that the chicken is cooked through. This is done by inserting the thermometer through the thickest part of the chicken breast.
I love this Ginger Beer Chicken with a portion of white rice!
Diet & sugar free ginger beers
There are a number of brands that make diet or sugar free ginger beer.
I haven't tried all of them so can't vouch for them - but below are some diet brands that are available either to purchase from Amazon or from larger grocery stores!
Goslings Diet Stormy Ginger Beer
Bundaberg Diet Ginger Beer
Royalty Diet Ginger Beer
Old Jamaica Diet Ginger Beer
This post may contain affiliate links. As an Amazon Associate I earn from qualifying purchases. Visit this page to see what that means.
Can I substitute the Worcestershire sauce?
If you don't have Worcestershire Sauce in your kitchen cupboard take a look at this article for 10 Worcestershire Sauce substitutes.
Just be aware that you may need to work out the points for any substitutes.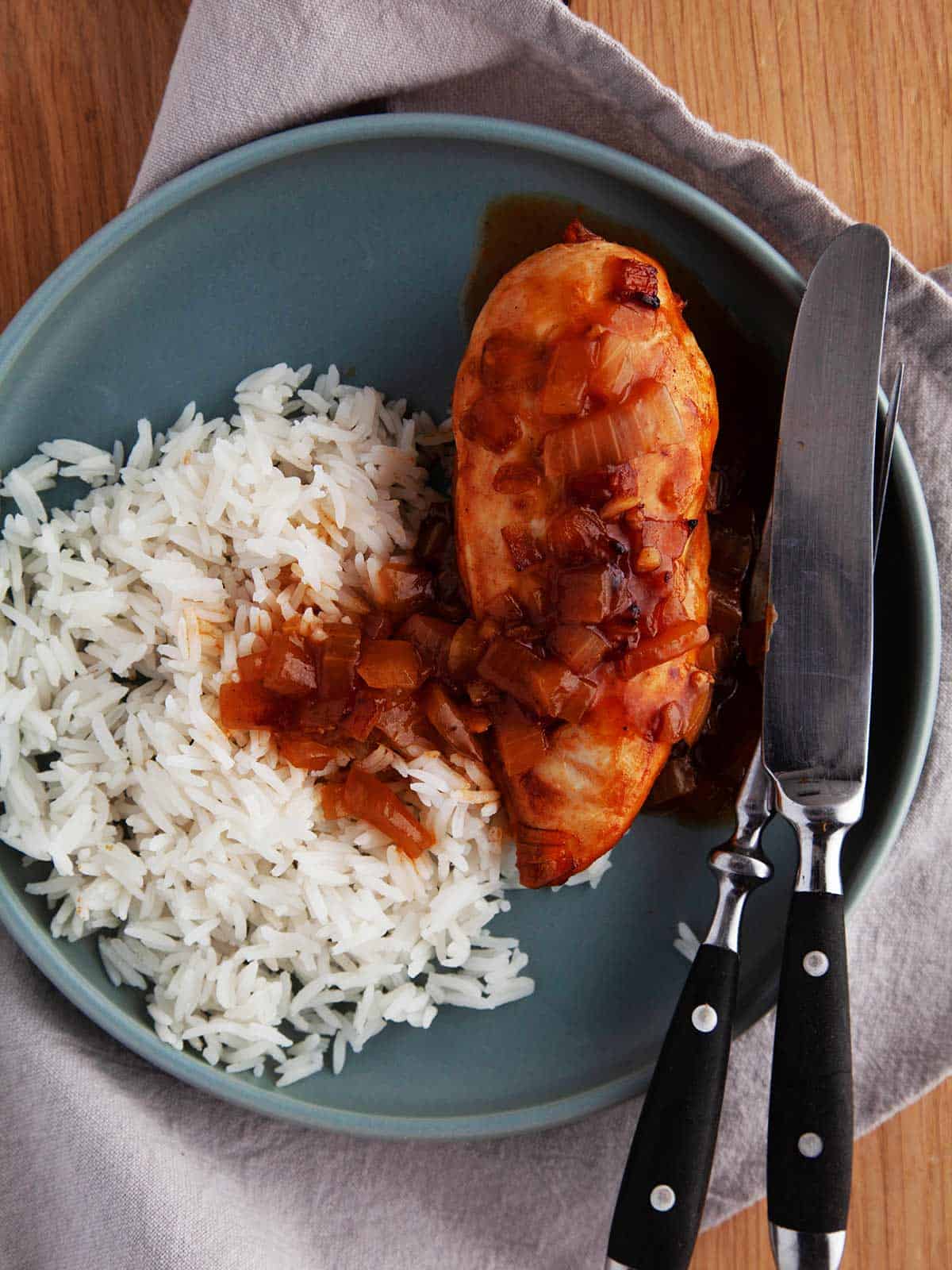 More WW dinner recipes
If you are looking for tasty, low point WW dinner recipes then you may like this hugely popular recipe for the Best Meatloaf or for these fab Swedish Meatballs.
Looking for a comforting, warming dinner then you can't beat this Chicken Pot Pie recipe.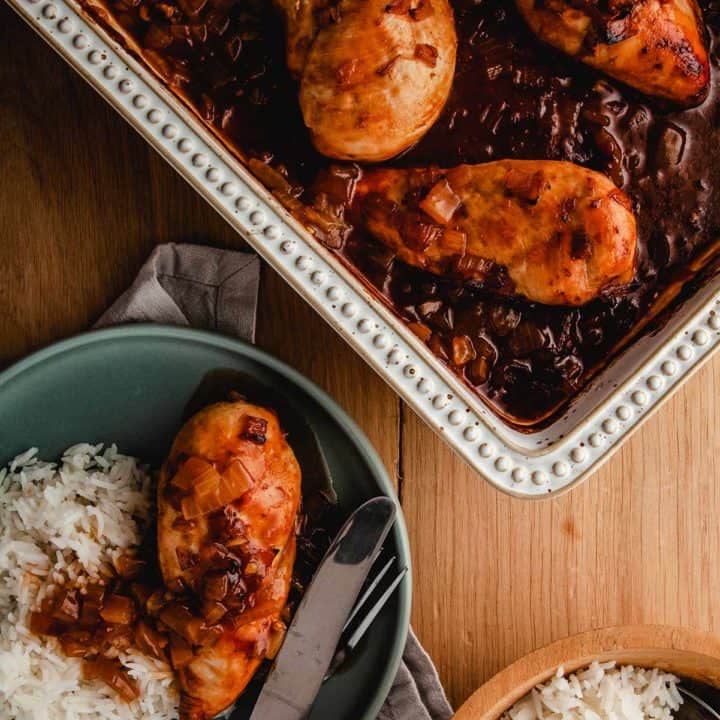 Ginger Beer Chicken | Weight Watchers
This Ginger Beer Chicken is simple to make, tastes delicious and is just 2 SmartPoints per portion on Weight Watchers Blue and Purple plans and 3 SmartPoints on the Green plan. Succulent and tasty this chicken is full of flavour and is perfect served over rice or mashed potato!
Ingredients
1

tbsp

vegetable oil

4

medium

chicken breasts

boneless & skinless

1

medium

onion

finely chopped

2 - 3

tbsp

Worcestershire sauce

1

can

sugar free ginger beer

12floz

Salt and pepper
Instructions
Preheat the oven to 170°C / 325°F

Place ½ tablespoon of the oil in a skillet and heat over a medium to high heat.

Place the chicken breasts in the skillet and sear for a couple of minutes before flipping over to sear the other side. You are not cooking the chicken through at this stage - you will do this in the oven later. The purpose is to brown the chicken slightly so that when it is baked in the oven later it retains it moisture and is juicy and succulent!

Remove the chicken breasts from the skillet and place in an oven proof dish. Cover with kitchen foil and set aside.

Using the skillet that you used to cook the chicken, add the remains of the oil and then add the chopped onions.

Cook the onions over a medium heat, stirring often, until they have softened and have started to brown.

Once the onions have begun to brown and are nice and soft add the can of ginger beer, the Worcestershire sauce and a little salt and pepper.

Bring the sauce to a boil then reduce the heat to a simmer and cook for approx 15 minutes or until the sauce has reduced by ⅓ or so. You want the sauce to have started to thicken slightly and darken in colour a little.

Remove from the heat, remove the kitchen foil from the chicken and pour the sauce over the chicken breasts,

Place in the centre of your preheated oven.

Bake for 35 to 45 minutes until the sauce has thickened and the chicken is cooked through (use a meat thermometer to check this - the internal temperature needs to be 165°F).

Serve, enjoy and track!
Notes
Please be aware that the nutritional information below has been automatically generated.  It should therefore be considered as an estimate.
The above nutritional information does not account for variations in product brands and types, weights of individual ingredients etc and does not account for many ingredients being zero SmartPoints on the WW plan. Therefore, using these numbers in your WW calculator will often give you an INACCURATE SmartPoint value!

PointedKitchen.com has calculated Weight Watchers Smart Points based on the individual ingredients used to make this recipe and not from the following nutritional information.
PointedKitchen.com is not responsible for any loss or damage relating to your reliance on this nutritional information.
Nutrition
Nutrition Facts
Ginger Beer Chicken | Weight Watchers
Amount per Serving
% Daily Value*
* Percent Daily Values are based on a 2000 calorie diet.