These easy to make Tuna & Sweetcorn Fish Cakes are 3 SmartPoints per fish cake on the Purple plan and 5 SmartPoints on the Blue plan.
If you follow the Green plan then each fish cake will be 8 SmartPoints!
They make a filling and tasty Weight Watchers dinner to try today!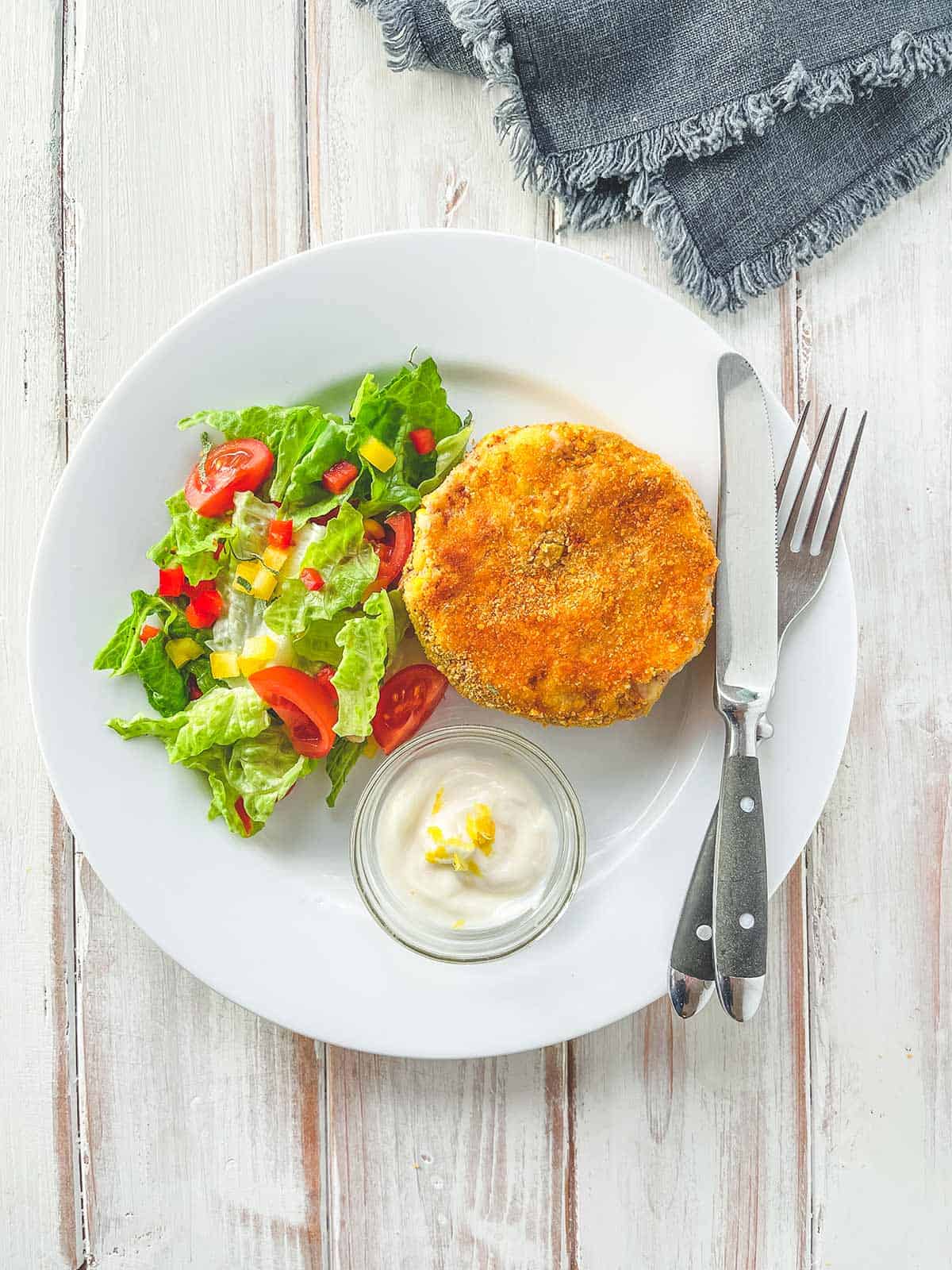 Tuna & sweetcorn is like a match made in heaven.
Add some potato and mayo into the mix and you have some seriously tasty, comfort food.
And a tasty, comfort food that really isn't that high in SmartPoints!
In fact they work out at just 3 SmartPoints per fish cake if you are following the Purple plan as both tuna and potatoes are classed as zero point foods.
They work out at 5 SmartPoints per fish cake on the Blue plan as tuna is zero SmartPoints on that plan but potatoes aren't.
And they work out at 8 SmartPoints on the Green plan as neither potatoes or tuna are zero points on that plan.
Whichever plan you follow, these tasty fishcakes will fill you up and keep you satisfied for many hours.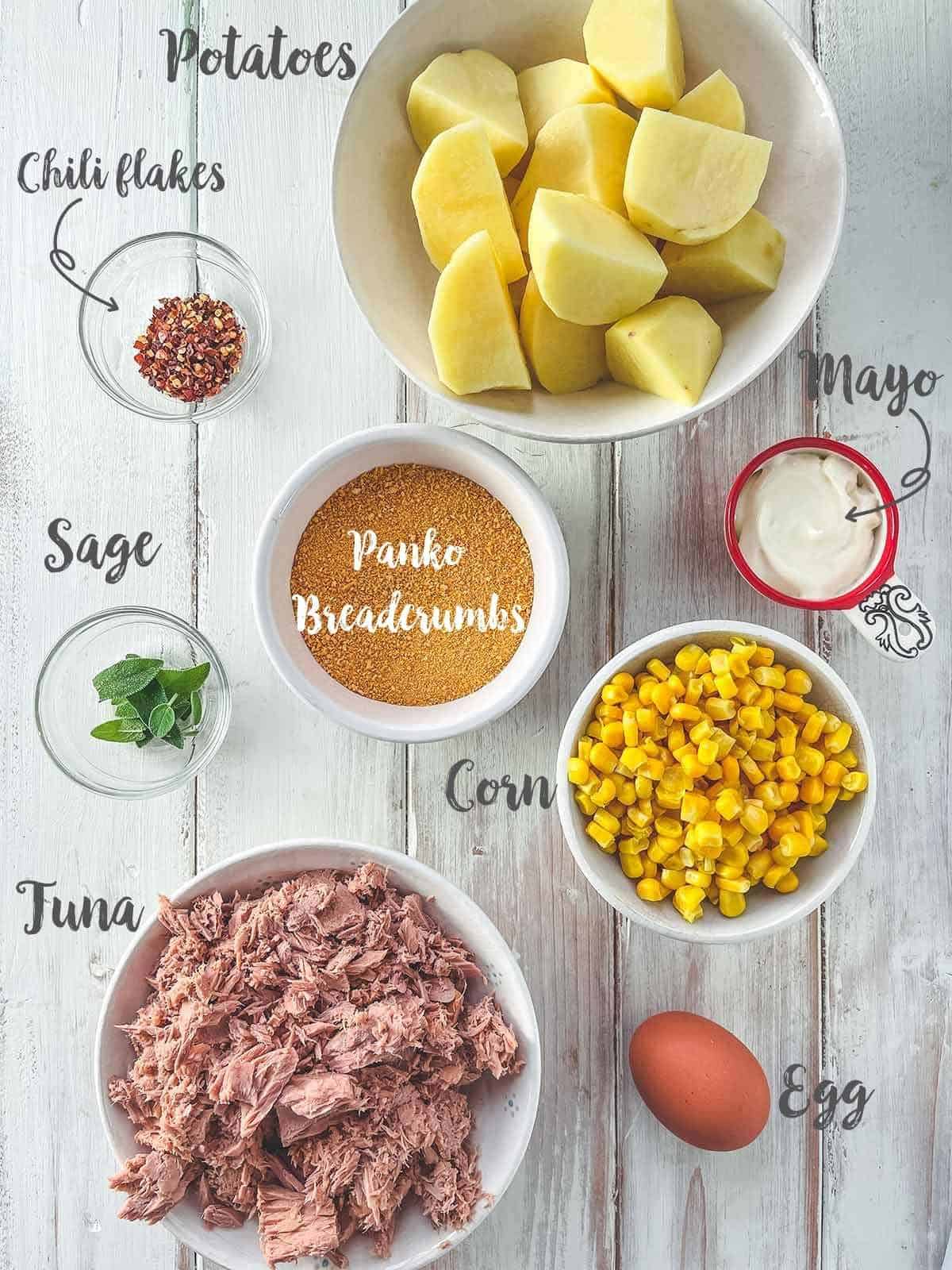 What herbs can I use in this recipe?
I've made these fish cakes a number of times, sometimes using fresh herbs, sometimes using dried herbs and sometimes not using herbs at all.
If you would like to add herbs to this recipe, I would suggest parsley, oregano or sage - all work well with tuna.
If you use dried herbs, I would use a scant teaspoon of herb so as not to overwhelm the fishcake.
If you use fresh chopped herbs, you can use a little more than that!
I do like to add a pinch of dried chili flakes as I feel that this gives the fishcake a nice but subtle 'kick'. Omit if you don't like chili flakes but you may need to season a little more with salt & pepper.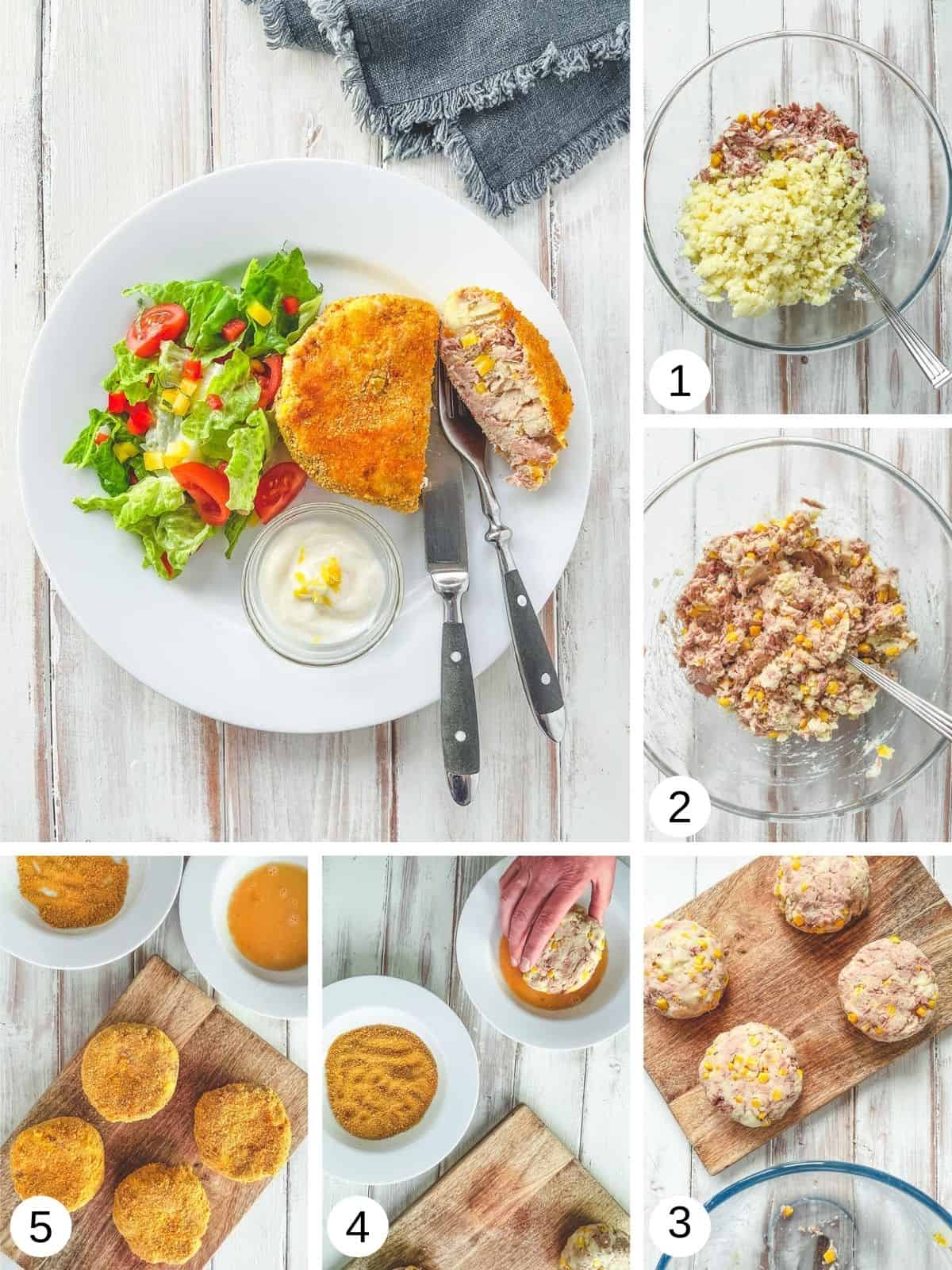 Tips for making the fish cakes
These fish cakes really are so simple to make.
Mix the tuna, sweetcorn, mayo etc together before adding the mashed potato - I find that you get a better 'mix' that way (pictures 1 & 2).
Taste the mixture and add seasoning if required.
Shape the patties using your hands - I make each patty about 4 inches in diameter and about 1 inch thick (picture 3)
Place the panko crumbs in one shallow bowl and the whisked egg in another shallow bowl. Dip the patties in the egg before dipping in the panko breadcrumbs (picture 4).
You can use you fingers to sprinkle any breadcrumbs over any bald spots for good coverage (....on the fish cakes that is!).
Place the dipped fish cakes on a board (picture 5) or plate and cover with some cling film and place in the fridge for an hour or so to chill.
This firms them up and ensures that the breadcrumbs stick and don't all fall off in the pan when cooking.
I tend to cook them for about 3 minutes each side until they are nice and golden brown.
Don't use a high heat to cook the fish cakes, all this will do is to brown the crumb fast but the middle of the fishcake won't warm through.
Do they freeze?
Yes these Tuna & Sweetcorn Fish Cakes do freeze.
They will keep in the freezer, suitably wrapped, for up to three months.
Defrost in the fridge overnight before using.
How long do they keep in the fridge?
These fish cakes will keep in the fridge, suitably covered, for up to 2 days.
Can I prepare them in advance?
Yes you can prepare these fishcakes up to two days in advance.
Serving suggestions
I like to serve them with a side salad and with a side of mayonnaise or some of this Zero Point Tartar Sauce.
Alternatively, serve them with vegetables of your choice ... peas are my faves!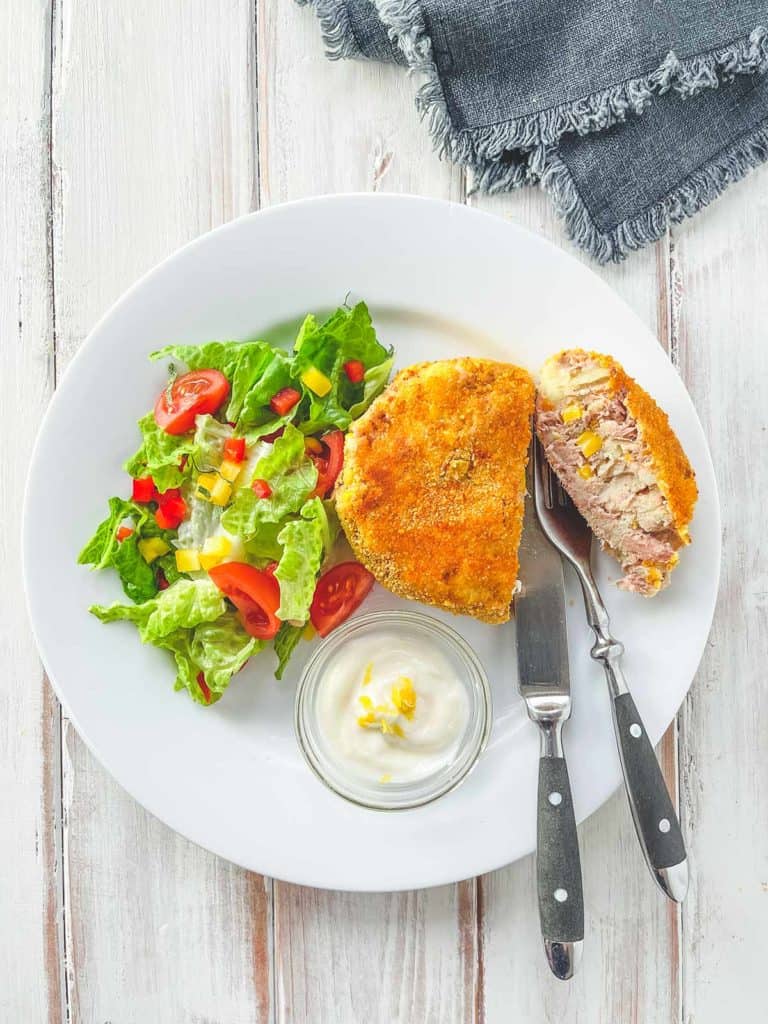 How I worked out the SmartPoints
I calculated the Weight Watchers SmartPoints for these Tuna & Sweetcorn Fish Cakes using the official WW recipe builder.
Please note that the nutritional information in the recipe card below has been automatically generated and will give you an INACCURATE SmartPoint value.
This is because it does not account for any ingredients being zero SmartPoints on the WW plan. Nor does it account for variations in product brands and types, weights of individual ingredients etc.
Use the recipe builder on your WW App and you will see that the SmartPoint values that I have given are correct 😀 !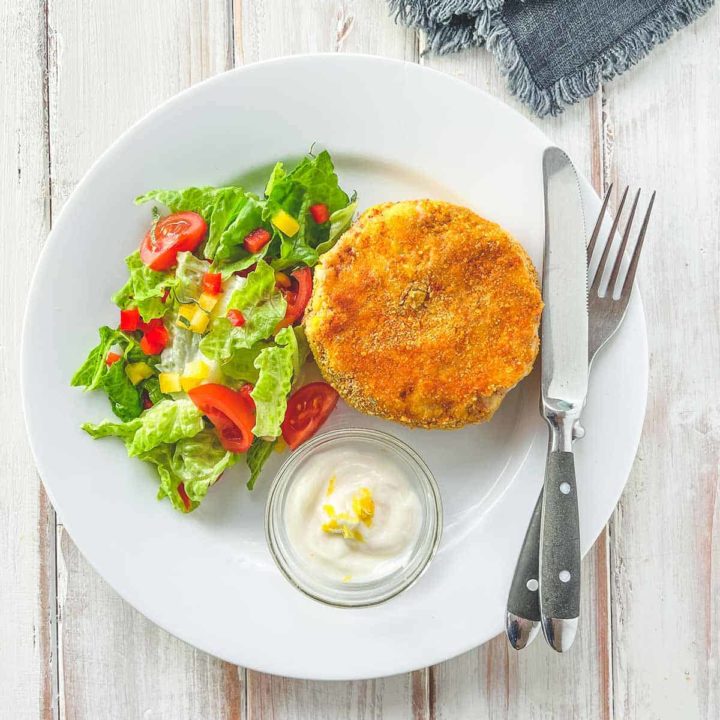 Tuna & Sweetcorn Fish Cakes | Weight Watchers
Total Time:
1 hour
40 minutes
These easy to make tuna & sweetcorn fish cakes work out as 3 SmartPoints on the Purple plan, 5 SmartPoints on the Blue plan and 8 SmartPoints on the Green plan.
Ingredients
1lb ( 450g) potatoes [mashed - makes approx 2 cups]
4 tbsp mayonnaise [Kraft Fat Free or Hellmann's Lighter than Light]
2 x 5oz (142g) cans tuna [drained]
1 cup (165g) sweet corn
Pinch of crushed chili flakes
1 egg
½ cup (50g) panko breadcrumbs
2 tsp vegetable oil
Salt & pepper [to taste]
1 teaspoon fresh chopped sage / parsley / oregano [optional]
Instructions
Peel the potatoes and cut them up into equal sized chunks.
Place in a saucepan and cover with cold water making sure there is at least one inch of water covering them.
Add ½ teaspoon of salt.
Heat over a high heat until the water starts to boil.
Boil the potatoes for 10 - 12 minutes or until a knife inserted into the thickest part of the potato goes in easily.
Whilst the potatoes are boiling place the drained tuna and sweetcorn into a medium sized bowl.
Add the mayonnaise, the chili flakes and any herbs that you are using and give them a good mix to combine.
Once the potatoes are done remove them from the heat and drain off the water.
Mash the potatoes until smooth and add to the tuna mixture.
Mix until all of the ingredients are combined.
Have a taste and if you feel it needs seasoning, add a little salt and pepper.
Next, take a quarter of the tuna / potato mixture and use your hands to shape it into a patty.
Repeat with the rest of the mixture so that you end up with 4 patties in total.
Lightly cover the patties in cling film (saran wrap) and place in the fridge for an hour or so to chill.
Once the patties have chilled remove them from the fridge.
Place the panko breadcrumbs into a shallow bowl or plate.
Whisk the egg and place it in another shallow bowl or plate.
Dip each patty in the egg (both sides) and then into the panko breadcrumbs so that all sides of the patty is lightly covered in breadcrumbs.
Repeat with the rest of the patties.
You could use tongs to do this but I prefer to use my hands - a little messier but easier to control!
Heat the vegetable oil in a large skillet over a medium heat.
Add the patties and cook on both sides for approx 3 minutes or until the breadcrumbs have turned a golden brown colour.
Remove from the heat and serve with a side salad or vegetables of your choice.
Recommended Products
As an Amazon Associate and member of other affiliate programs, I earn from qualifying purchases.
Nutrition Information:
Yield:

4
Serving Size:

1 fishcake
Amount Per Serving:
Calories:

227
Total Fat:

15g
Saturated Fat:

2g
Trans Fat:

0g
Unsaturated Fat:

12g
Cholesterol:

72mg
Sodium:

229mg
Carbohydrates:

9g
Fiber:

1g
Sugar:

2g
Protein:

16g
Please be aware that the nutritional information above has been automatically generated.  It should therefore be considered as an estimate. The above nutritional information does not account for variations in product brands and types, weights of individual ingredients etc and does not account for many ingredients being zero SmartPoints on the WW plan. Therefore, using these numbers in your WW calculator will often give you an INACCURATE SmartPoint value! PointedKitchen.com has calculated Weight Watchers Smart Points based on the individual ingredients used to make this recipe and not from the following nutritional information. PointedKitchen.com is not responsible for any loss or damage relating to your reliance on this nutritional information.
More WW Fish recipes!
If you like searching for more Weight Watchers friendly fish recipes then take a look at the Fish & Seafood section of this website for further recipes that include fish!