These tasty little Sausage Rolls are just one SmartPoint per roll on the Weight Watchers Blue and Purple plans and 2 SmartPoints per piece if you follow the Green plan.
To find out how many Personal Points this recipe will be for you & to track it in the WW App, click on the blue button in recipe card below!
Read on to find out more about the ingredients I used to make these wonderful low SmartPoint snacks.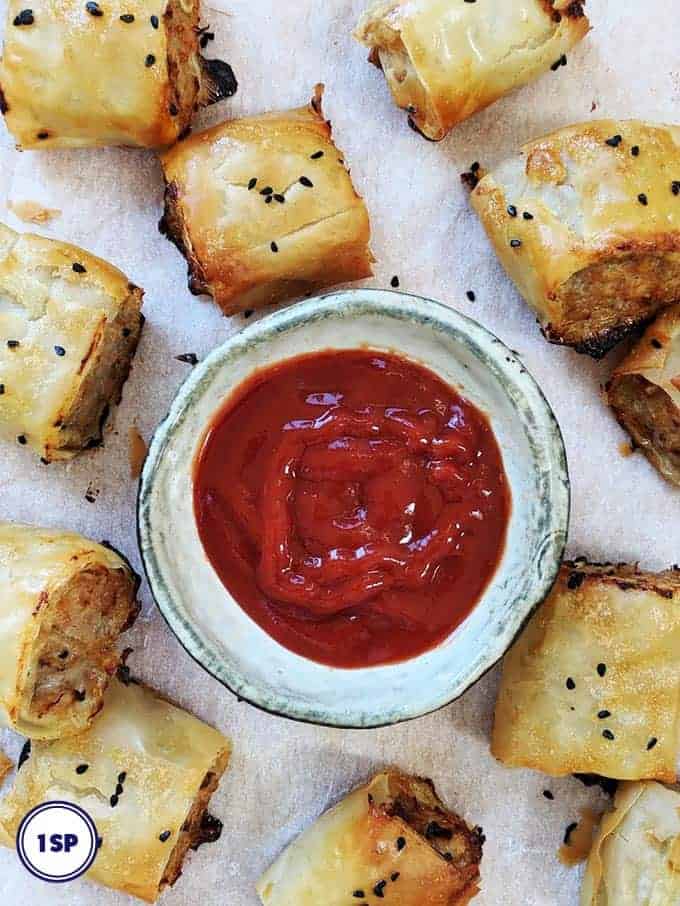 If you love Sausage Rolls then you will love these Weight Watchers friendly ones! They are tasty, simple to make and Low in SmartPoints! So, what's not to love!
Shop brought Sausage Rolls can be very high in SmartPoints. For example, one Tesco snack size sausage roll is 3 SmartPoints.
And nobody eats just one sausage roll!
Do they?
These filo pastry sausage rolls are 1 SmartPoints per roll, or your can have 2 for 3 SmartPoints on the Purple and Blue plans.
You could even push out the boat and have 4 Sausage Rolls for 4 SmartPoints 😀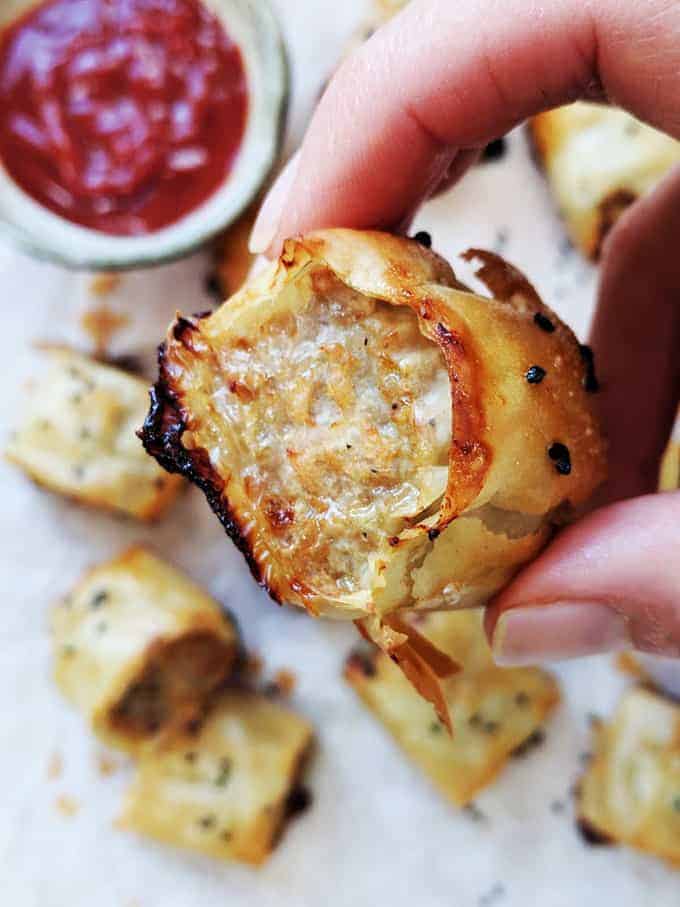 How about having 4 Sausage rolls with some of these Zero Point Baked Beans and some butternut squash fries for a filling 5 SmartPoint meal!
They would also make a great canape to serve over the holiday period. Nobody would guess that they are Weight Watchers friendly!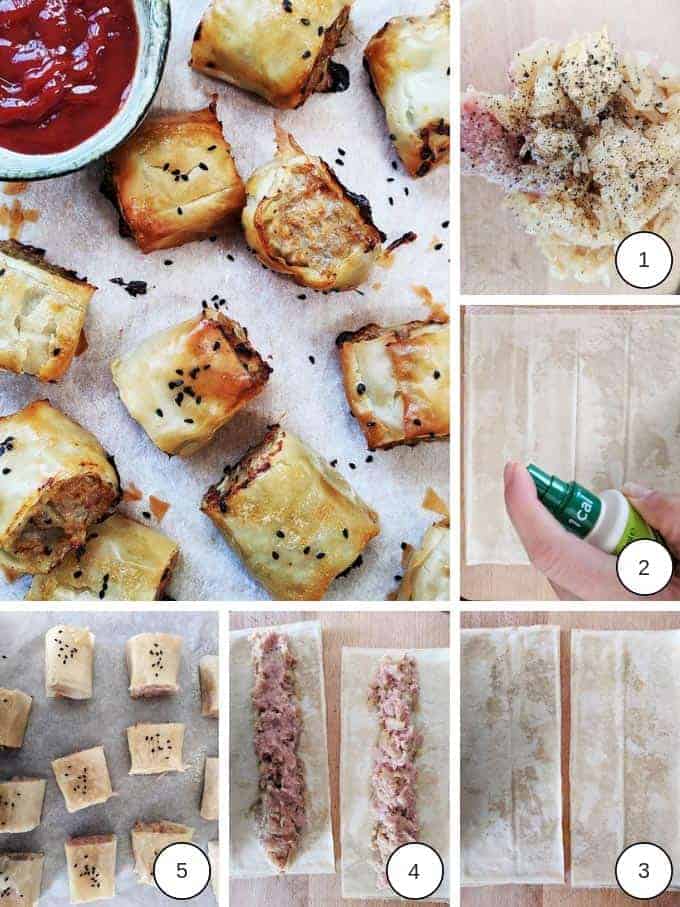 Tips & Trick for making these Sausage Rolls:
Give the sausage meat and onions a good seasoning of salt & pepper for a really tasty sausage roll (pic 1)
It is typical to brush butter between sheets of filo pastry. However, as butter is so high in SmartPoints, I used spray oil instead. Liberally spray each sheet of filo pastry with 6 - 8 pumps of oil (pic 2).
I have made this recipe a number of times, using varying amounts of filo pastry. I have found that two large sheets of filo pastry is adequate. One sheet is sprayed with oil and the other sheet is laid on top. The large rectangular sheet of pastry is then cut in half and one half is placed on top of the other half! This means that each sausage roll has four layers of filo pastry! Perfect! This square of pastry is then cut in half (pic 3) to make 2 rectangular strips.
Lay the sausage meat down the middle of the rectangular strips (pic 4). Brush down the long edges of the pastry with egg. This helps the pastry to stick when rolled up. You can then carefully turn the rolls over so that they are joint side down. Cut each roll into 6 individual sausage rolls, brush with egg and sprinkle with nigella seeds (pic 5).
This post contains affiliate links. As an Amazon Associate I earn from qualifying purchases. Visit this page to see what that means.
What I used to make these Sausage Rolls:
I used Jus-Rol filo pastry.
You could also use Athens Fillo Dough (although the sheets are smaller - read below for more info)
I used M&S skinny sausages to make these Sausage Rolls. They worked out as 6 SmartPoints for 4 sausages (approx 270 g of sausage meat)
I used this Jamie Oliver pastry brush, available from Amazon, to brush the sausage rolls with egg wash. I love it as it doesn't shed hairs and looks pretty too 😀
Serving Suggestions:
Alternatives:
Swap the 6 M&S skinny sausages for 8 Heck Chicken Italia Sausages.
I have yet to find a low SmartPoint pork sausage meat in the US. I would therefore suggest that if you are in the US you use Turkey breakfast sausage for the same points.
If you use Athens Fillo Pastry, the sheets are a slightly smaller size than the Jus Rol sheets.
Layer 4 sheets of pastry dough on top of one another, spraying each layer with oil.
Cut the square of dough in 2 width ways and then you are ready to get filling!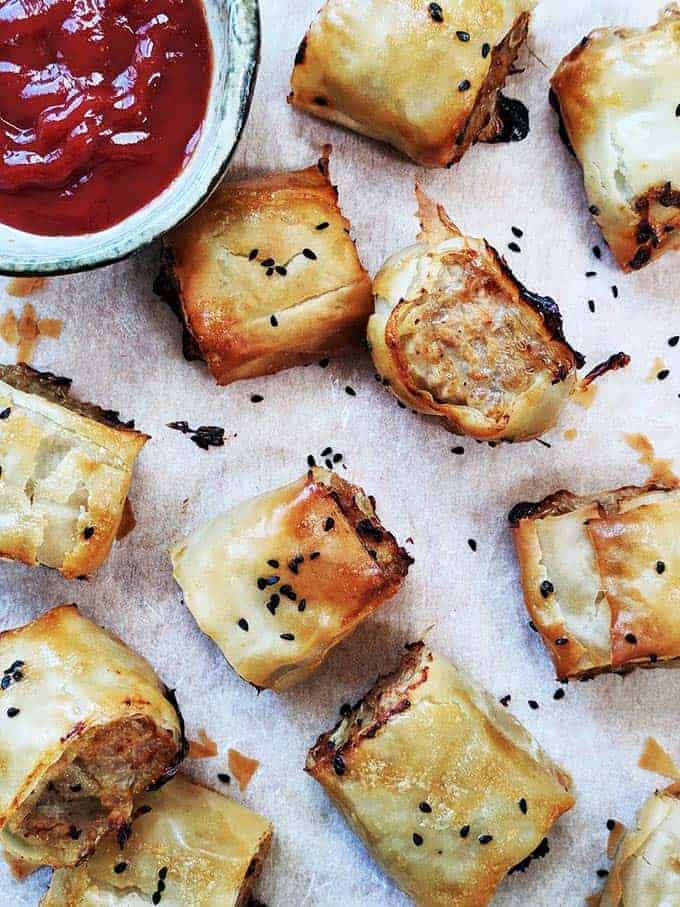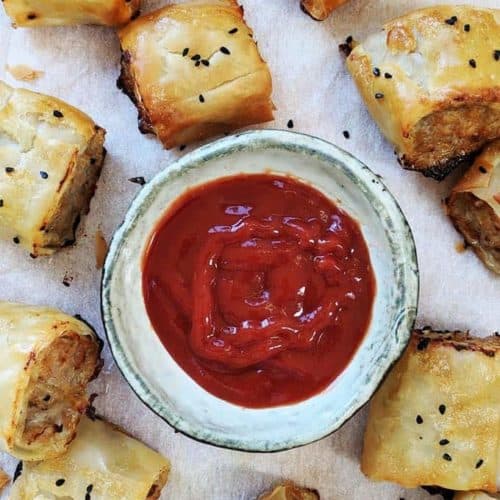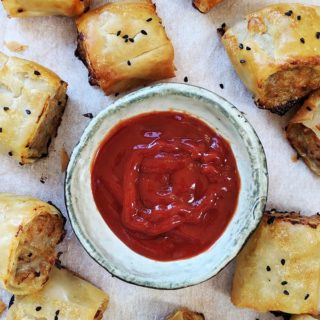 Sausage Rolls | Weight Watchers
These tasty sausage rolls are just 1 SmartPoint per roll (or 3 SmartPoints for 2) on Weight Watchers Freestyle & Flex plans.
Ingredients
2

sheets

phyllo pastry / filo pastry

I used Jusrol

4

reduced fat sausages

I used M&S skinny sausages

30

sprays

Frylight / Pam

1

onion

finely chopped

1

tbsp

dijon mustard

salt & pepper

1

egg

beaten

1

tsp

nigella seeds

optional
Instructions
Preheat the oven to 200oC / 180oC Fan / Gas 6 / 400oF

Use 10 pumps of spray oil in a frying pan and add the chopped onions. Saute for 6 - 8 minutes, stirring all the time to prevent sticking, until the onions have turned translucent and have started to turn golden. Remove from heat.

Run a knife along the length sausages and remove the sausage meat from the skin. Discard the skins. Place the meat in a bowl with the onions and mustard. Season well with salt and pepper & then mix to combine all of the ingredients. Set aside.

Carefully place one sheet of filo pastry on a clean work surface. Spray the sheet with 6 - 8 pumps of spray oil. Place the other sheet of filo pastry on top and spray with another 6 - 8 pumps of spray.

Cut this rectangle of dough in half so that you have two squares. Lay one square on top of the other square. This will give you one square of filo pastry, 4 sheets thick. Cut this square in half and you will be left with 2 rectangular strips of filo pastry.

Divide the sausage mixture in two and place the meat down the middle of the two strips of filo pastry. Brush the edges of the pastry with some of the beaten eggs and gently roll up.

Gently turn the rolls over so that the joins are bottom down. Now using a sharp knife, cut each roll into 6. Place on a baking sheet lined with parchment paper. Brush the sausage rolls with the egg wash and sprinkle with a few nigella seeds.

Bake in the preheated oven for 20 - 25 minutes until they are cooked through and have turned a golden brown. Remove from the oven and allow to cool for a bit on a wire rack.
Notes
Please be aware that the nutritional information below has been automatically generated and does not account for variations in product brands and types, weights of individual ingredients etc.  It should therefore be considered as an estimate.
PointedKitchen.com has calculated Weight Watchers Smart Points based on the individual ingredients used to make this recipe and not from the following nutritional information.
PointedKitchen.com is not responsible for any loss or damage relating to your reliance on this nutritional information.
Nutrition
Nutrition Facts
Sausage Rolls | Weight Watchers
Amount per Serving
% Daily Value*
* Percent Daily Values are based on a 2000 calorie diet.