This Pissaladiere which originates from France, is 6 SmartPoints per portion on the Weight Watchers Flex / Freestyle program.
It is made with a layer of lower fat pastry crust, is filled with caramelised onions then topped with homemade passata and decorated with salty anchovies and olives.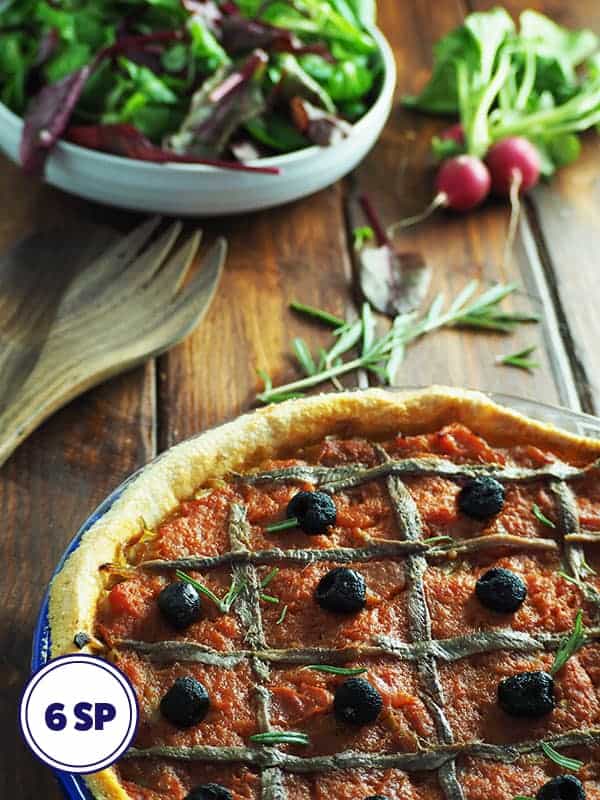 Pissaladiere has to be one of my favourite tarts. I love it!
I was really pleased to be able to make a few changes to my Mums 1980's recipe and reduce the Weight Watcher Points to 6 SmartPoints per slice.
That is low value enough to allow me to eat a slice for lunch, guilt free with a big pile of salad.
Like many of the tastiest recipes, it is not the quickest of recipes to make but if you are cooking lunch for friends this summer then this is a really impressive dish and they will not believe it is Weight Watchers friendly.
I made the passata that tops this tart. If you wanted to save a bit of time you could always use a shop brought passata and reduce it down so that it is a thicker consistency.
Shop brought passata can vary in taste, consistency and texture. Although I use shop brought in a lot of my recipes, I wanted to avoid the 'tang' that you get from some of the shop brought ones so I made my own.
By making your own with fresh de-seeded and peeled tomatoes you can ensure that the topping of this tart is very sweet and fresh tasting.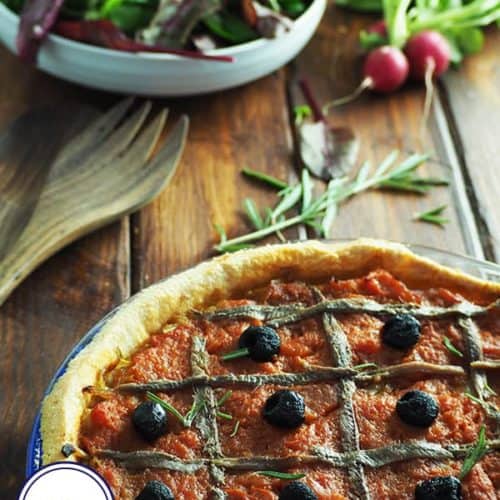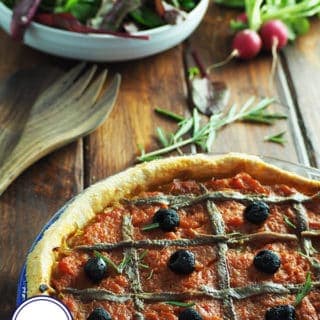 Pissaladiere
6 Smart Points per slice on Weight Watchers Flex / Freestyle
Ingredients
Lower Fat Pastry
1

cup

all purpose flour

3

tbsp

hard margarine

chilled

2 - 3

tbsp

water

cold
Filling
1

egg yolk

2

tbsp

olive oil

6

tomatoes

large & ripe

2

tbsp

tomato puree

3

onions

large

2

tbsp

hard margarine

1

sprig

rosemary or tarragon

2

tbsp

parmesan

grated

6

anchovy fillets

to decorate

6

black olives

to decorate
Instructions
Preheat the over to 200oC / 400oF

Place the flour in a large bowl. Add the chilled margarine and mix together using your fingers until the mix resembles bread crumbs. Add the water 1 tablespoon at a time until a workable dough forms. You can make the pastry in a food processor but be careful to not overwork it.

Turn the dough out onto a lightly floured surface and roll out to approx 12 inch circle. Press the dough into the bottom and sides of a 9 inch pie dish. Prick the pastry all over with a fork and then brush with beaten egg yolk and bake for 10 - 15 minutes, just long enough to set the crust without browning. Remove from the oven and allow to cool.

Whilst the pastry case is in the oven you can start preparing the tomatoes. Make an X on the bottom of your tomatoes with a sharp knife and cover with boiling water for a few minutes. Remove with a slotted spoon and plunge them briefly into a bowl of cold water. The skins should peel off easily. Cut the tomatoes into quarters and discard the seeds before chopping into small pieces.

Heat the olive oil in a saucepan and add the chopped tomatoes and the tomato puree and cook to form a puree. This will take 20 - 30 minutes. You want the puree to be smooth and thick enough to coat the back of a spoon.

Slice the onions thinly and place in a saucepan with the margarine and a sprig of rosemary or tarragon. Cook until the onions are soft and golden.

Remove the onions from the heat and remove the rosemary / tarragon sprig.

Sprinkle the bottom of the pastry case with the Parmesan cheese, spread the onions evenly on top and cover with the tomato puree.

Arrange the anchovies in a lattice on top of the tart and decorate with black olives.

Cook in a moderate oven 190oC / 375oF / Gas mark 5 for about 30 minutes.

Serve warm or cold with salad.
Notes
Please be aware that the nutritional information below has been automatically generated and does not account for variations in product brands and types, weights of individual ingredients etc.  It should therefore be considered as an estimate. PointedKitchen.com has calculated Weight Watchers Smart Points based on the individual ingredients used to make this recipe and not from the following nutritional information. PointedKitchen.com is not responsible for any loss or damage relating to your reliance on this nutritional information.
Nutrition
Nutrition Facts
Pissaladiere
Amount per Serving
% Daily Value*
* Percent Daily Values are based on a 2000 calorie diet.