With Christmas just around the corner, who doesn't want a mince pie or two? These Filo Mince Pies are just 2 SmartPoints per 'pie' on Weight Watchers Freestyle plan.
Please be aware that this post was written prior to Weight Watchers changing to the WW Personal Points Plan! You can discover exactly how many Personal Points this recipe will be for you by clicking on the blue 'WW Personal Points' button in the recipe card below.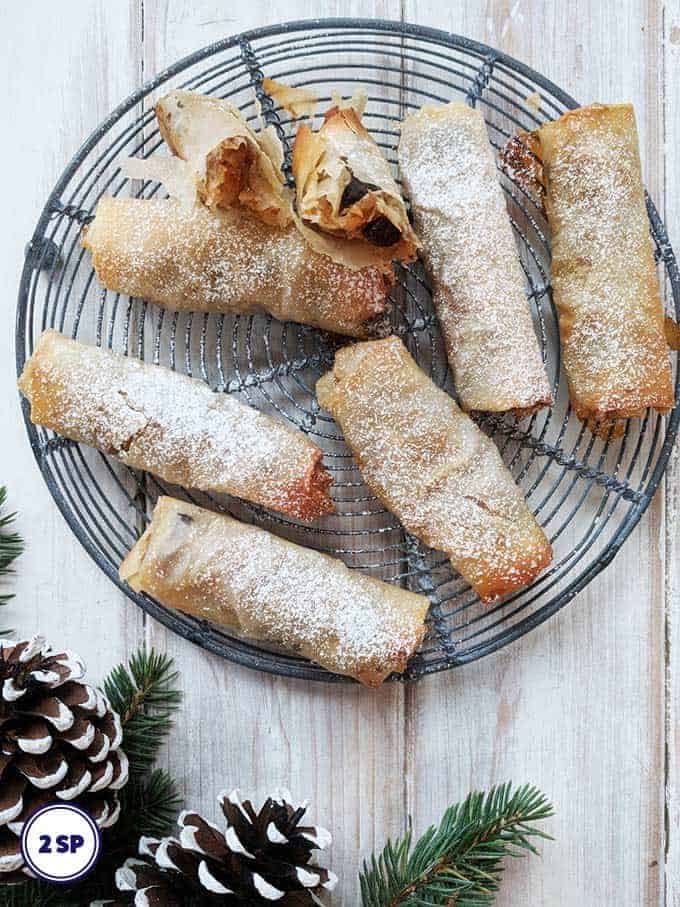 For the Mince Pie newbies amongst you, they are a sweet pie of British origin that are traditionally served around Christmas. The sweet pastry case is filled with mincemeat, a mix of chopped dried fruit, spices and brandy, rum or whisky.
Most mincemeat also includes suet or vegetable shortening.
Not that Weight Watchers friendly really!
And just to add a few more SmartPoints to the mix, traditionally mince pies are made with a buttery, rich shortcrust pastry.
Because of this, shop brought mini mince pies tend to work out between 3 and 6 SmartPoints per pie.
Normal size mince pies generally range between 8 to 19 SmartPoints per pie.
If you are interested to see the Point values of some of the most popular brand mince pies, this list of Mince Pie SmartPoints is well worth taking a look at!
So these Filo Mince Pies are just 2 SmartPoints per 'pie'!
Yes, I know that they are not strictly 'pies' but I prefer the term 'pie' to 'cigar' or 'roll'.
To make them so low in SmartPoints, I bulked out the mincemeat with grated sweet apple and used filo pastry rather than shortcrust pastry.
I used shop brought mincemeat but you could use homemade (although it may be trickier to work out the points if you do).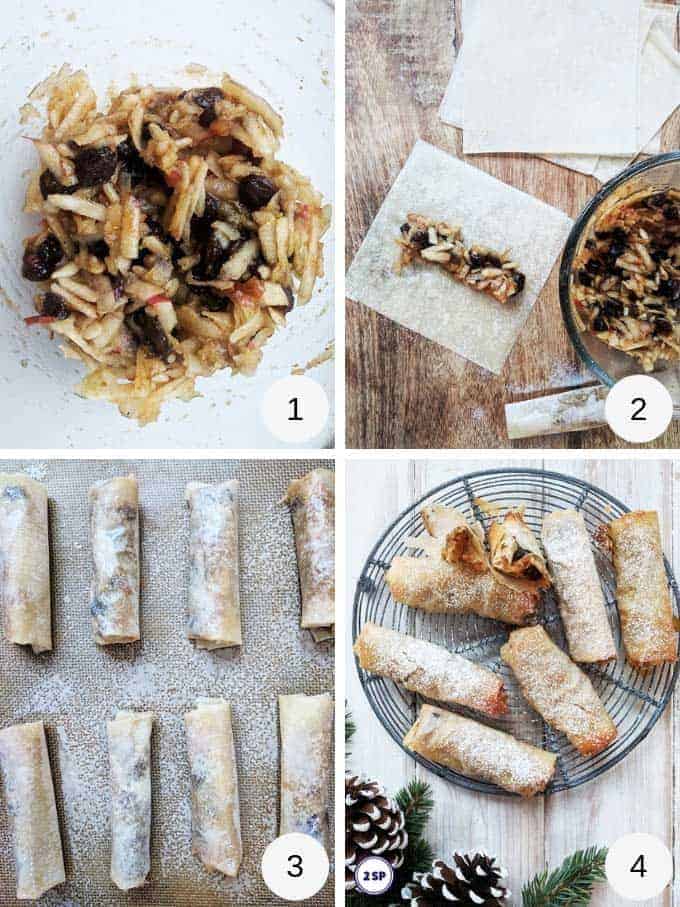 How I made these Filo Mince Pies:
Grate the apple using a coarse grater (pic 1).
Depending on the juiciness of the apple you use, you may need to soak up excess juice with a piece of kitchen paper. You don't want the mincemeat to be so wet that it seeps out the pie when baked.
I didn't peel the apple, but do so if you wish.
I used 2 sheets of filo pastry in this recipe. Place one sheet on a clean work surface, spray it with calorie controlled spray, then carefully place the other piece on top.
The Jus-Rol filo pastry sheets that I used lent themselves perfectly to being cut into eight squares.
Place a heaped teaspoon of the mincemeat down the middle of the square of filo. Don't place the mincemeat right up to the edges of the pastry (pic 2) as you want to fold these over, before rolling into the cigar shape. This will prevent the mincemeat from oozing out whilst they are baking.
Place them on a baking tray lined with a silicone mat or parchment paper and mist with a calorie controlled spray oil (pic 3).
Bake till the pies are golden brown.
Serve sprinkled with a little icing sugar (pic 4).
What I used to make these pies:
This post contains affiliate links. As an Amazon Associate I earn from qualifying purchases. Visit this page to see what that means.
I used Jus Rol Filo Pastry Sheets. This brand is widely available in the UK.
I used Waitrose brand mincemeat, which worked out at 10 SmartPoints per 100g.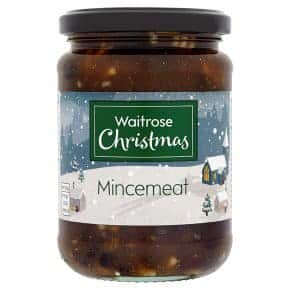 If you are in the US you can by Robertson Classic Mincemeat from Amazon. Beware, though, as it works out at 15 SmartPoints per 100g so each Filo Mince Pie would be 3 SmartPoints.
I use a Silpat silicone mat, available from Amazon, to line the baking sheet when making these pies.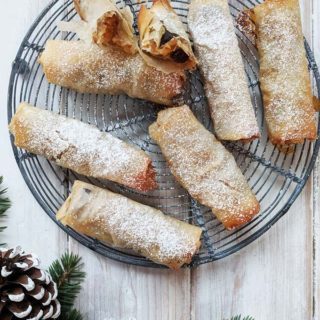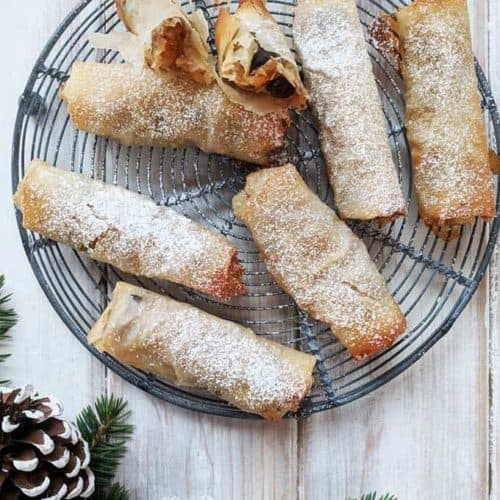 Filo Mince Pies | Weight Watchers
These tasty Filo Mince Pies are just 2 SmartPoints per portion on Weight Watchers Freestyle plan.
Ingredients
6

tbsp

mincemeat

(100g) I used Waitrose own brand

1

apple

cored and roughly grated

2

phyllo / filo pastry sheets

I used Jus-Rol

calorie controlled spray oil

I used Frylight

1

tsp

icing sugar / powdered sugar
Instructions
Grate the apple into a bowl. If the apple is very juicy, you may like to mop up any excess juice with a bit of kitchen paper. Mix in the mincemeat.

Lay one piece of filo pastry on a clean work surface and mist with calorie controlled spray oil. Lay the other sheet of filo on top. Cut the sheets of pastry into 8 squares.

Place a heaped teaspoon of the mincemeat and apple mixture down the centre of the square making sure that it does not reach to the edge of the pastry. Fold these edges in, before rolling up into cigar shapes.

Place them join side down on to a baking tray lined with a silicone mat or some parchment paper. Mist with some more calorie controlled spray, before baking in the oven for 12 - 15 minutes or until the pastry is crisp and golden brown.

Best served warm sprinkled with a fine dusting of icing sugar.
Notes
Please be aware that the nutritional information below has been automatically generated and does not account for variations in product brands and types, weights of individual ingredients etc.  It should therefore be considered as an estimate.
PointedKitchen.com has calculated Weight Watchers Smart Points based on the individual ingredients used to make this recipe and not from the following nutritional information.
PointedKitchen.com is not responsible for any loss or damage relating to your reliance on this nutritional information.
Nutrition
Nutrition Facts
Filo Mince Pies | Weight Watchers
Amount per Serving
% Daily Value*
* Percent Daily Values are based on a 2000 calorie diet.