These banana fritters take minutes to make and are a tasty & satisfying Weight Watchers dessert . Each banana fritter is 4 SmartPoints on the Weight Watchers Blue, Purple and Green plan.
If you still follow along to the Freestyle or Flex plan they are 4 SmartPoints per fritter.
Of course you can reduce these values even further by finding even lower point wraps - the ones I used were 3 SmartPoints per wrap!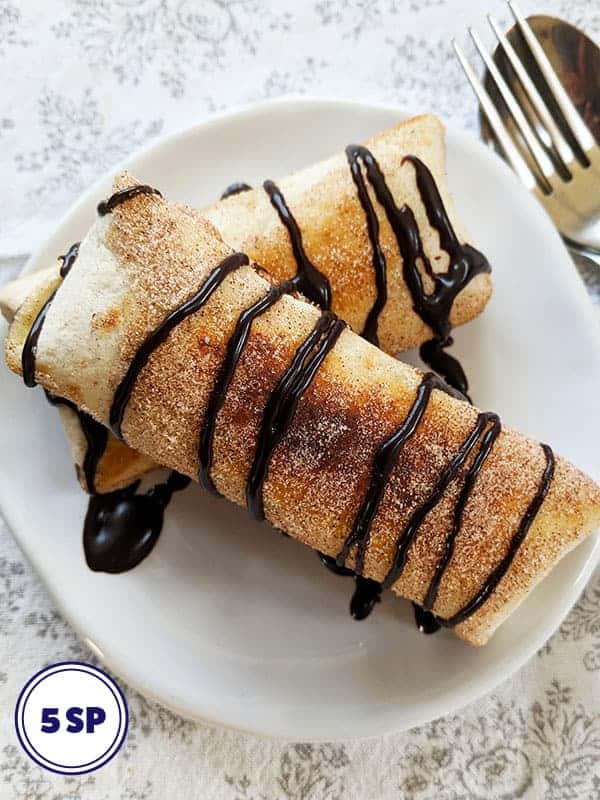 By substituting the sugar with granulated sweetener you can reduce the points further.
I used mini tortilla wraps from Co-op at 3 Smart Point per wrap.
I cut a large banana in half and wrapped each half in a wrap, secured it with cocktail sticks and then fried them lightly in a teaspoon of vegetable oil.
I have tried these banana fritters using a calorie controlled cooking oil spray to fry, but the fritters turned out better with vegetable oil.
I've also just discovered Deli Kitchens Skinni Wraps, a bigger wrap for the same SP value as the Co-op mini ones, so you may want to try those out for more fritter for your buck!
The fritters needed turning often to ensure that they didn't catch on the bottom of the pan. Once they were golden brown and crunchy looking I took them out of the frying pan and rolled them in the sugar / cinnamon mix.
I used sugar rather than granulated sweetener for this recipe, but obviously you could reduce the SP value even further by substituting the sugar for sweetener.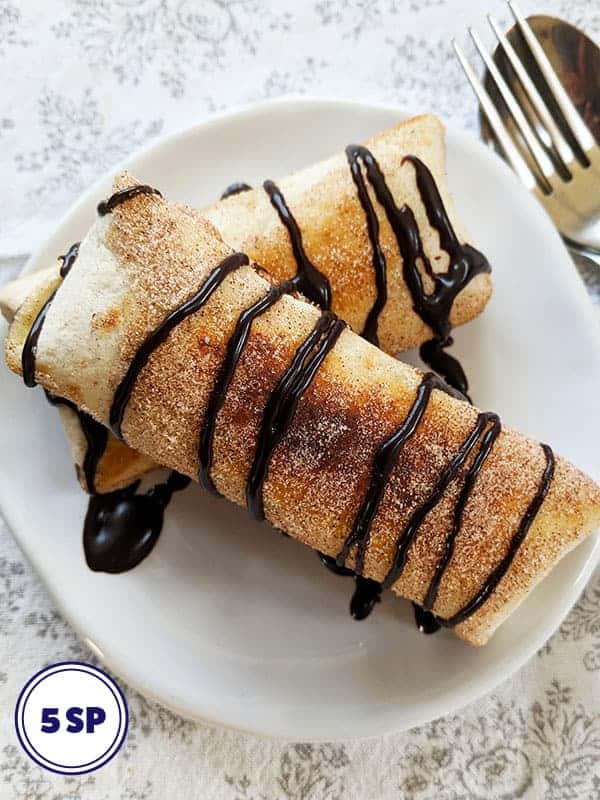 This post may contain affiliate links. As an Amazon Associate I earn from qualifying purchases. Visit this page to see what that means.
Ways to reduce the Smart Points in this recipe!
Use one Deli Kitchens Skinni Wrap (3SP) to wrap the banana, cut fritter in half - each half 4 Smart Points
Swap the granulated sugar for granulated sweetener
Once the banana fritters were coated in sugar and cinnamon I plated them up & then drizzled them with Sweet Freedom Choc Shot !
Delicious!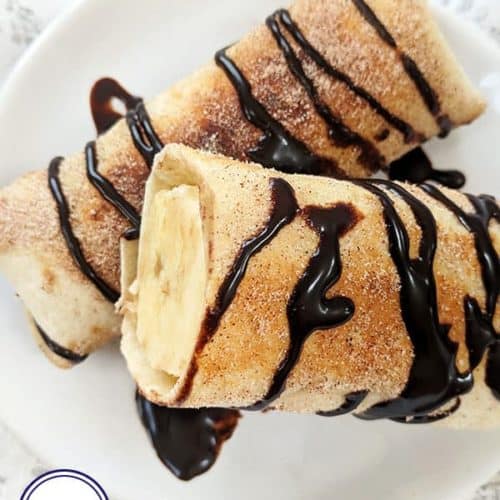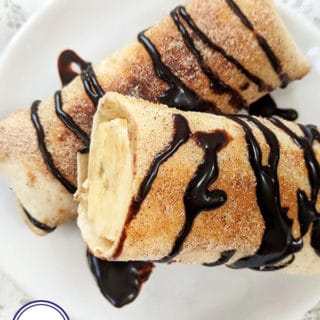 Banana Fritter
5 Smart Points per fritter on Weight Watchers Flex / Freestyle
Ingredients
1

banana

large

2

mini tortilla wrap

I used co-op

1

tsp

vegetable oil

1

tsp

sugar

you could use granulated sweetener

1

tsp

cinnamon

1

tsp

choc shot

or other sugar free syrup
Instructions
Mix together the sugar and cinnamon on a small plate and set aside.

Cut the banana in half and wrap each piece with a mini tortilla wrap, securing the ends with cocktail sticks.

Heat a tsp of oil in a medium frying pan and fry the wrapped bananas, turning often, until all sides are golden brown.

Remove from the heat and immediately roll in the sugar/cinnamon mix until coated.

Remove the cocktail sticks from the fritters and serve warm, drizzled with choc shot.
Notes
Please be aware that the nutritional information below has been automatically generated and does not account for variations in product brands and types, weights of individual ingredients etc.  It should therefore be considered as an estimate. PointedKitchen.com has calculated Weight Watchers Smart Points based on the individual ingredients used to make this recipe and not from the following nutritional information. PointedKitchen.com is not responsible for any loss or damage relating to your reliance on this nutritional information.
Nutrition
Nutrition Facts
Banana Fritter
Amount per Serving
% Daily Value*
* Percent Daily Values are based on a 2000 calorie diet.